Golden Door Recipe: Soft Rosemary-Lemon Polenta with Sweet Corn, Oyster Mushrooms, and Rainbow Chard
---
With daylight savings in full swing, relish in the evening with Golden Door's cozy and satisfying creamy polenta. This straight-forward recipe pairs tart lemon and warm rosemary polenta with sweet corn, meaty oyster mushrooms, and earthy, in-season rainbow chard. Add some roasted tomato sauce and a drizzle of a simple balsamic reduction to enhance this soothing and hearty meal, perfect to brighten and warm any dark, cold evening.
Soft Rosemary-Lemon Polenta with Sweet Corn, Oyster Mushrooms, and Rainbow Chard (Makes 4 servings)
For the Polenta:
4 cups vegetable stock or store-bought low-sodium broth
Olive oil spray
½ small onion, diced small (¼ cup)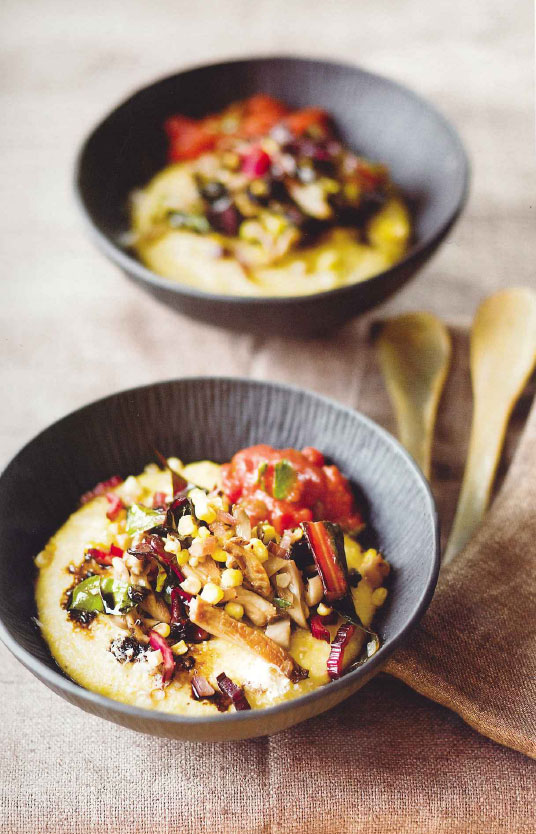 2 garlic cloves, minced
1 cup coarse stone-ground cornmeal
2 tbsp grated Parmesan cheese
1 tbsp extra-virgin olive oil
1½ tsp finely chopped fresh rosemary leaves
1 tsp grated lemon zest
½ tsp kosher salt, or to taste
¼ tsp freshly grated black pepper, or to taste
For the Vegetables:
Olive oil spray
9 oz. oyster mushrooms, cleaned and sliced (3 cups)
1 cup fresh corn kernels (from about 2 ears corn)
¼ small red onion, diced (¼ cup)
4 oz. rainbow chard, leaves cut bite-size, stems thinly sliced (2 cups)
2 tsp fresh lemon juice
1 ½ tsp extra-virgin olive oil
Pinch of kosher salt, or to taste
Pinch of freshly ground black pepper, or to taste
½ cup roasted tomato sauce, warmed
Balsamic reduction for serving
Instructions
Preparing the polenta:
Bring vegetable stock to a boil in a medium saucepan. Meanwhile, spray a small sauté pan with olive oil and heat over medium-high heat.
Add the onion and garlic and cook, stirring until slightly translucent and fragrant, but not at all brown, about 2 minutes. Scrape the onion and garlic into the stock.
Whisking constantly, pour in the cornmeal in a slow, constant stream. Reduce heat and simmer on low, stirring often, until thick and creamy, 10-20 minutes.
Stir in Parmesan, olive oil, rosemary, thyme, and lemon zest. Season with salt and pepper. Cover and set aside.
While the polenta is cooking, prepare the vegetables:
Spray a large skillet with olive oil and heat over medium-high heat. Add the mushrooms, corn, and red onion and cook, stirring occasionally, until the mushrooms soften and the corn is cooked through, 4-5 minutes.
Add the chard and cook until just wilted and beginning to release liquid, about 2 minutes.
Remove pan from heat and stir in lemon juice and olive oil. Season with a pinch of salt and pepper, or to taste.
To serve, divide polenta among four plates or wide, shallow bowls. Spoon the sautéed mushroom, corn, and rainbow chard mixture on top or alongside polenta. Spoon 2 tablespoons of tomato sauce on top of polenta or vegetables, and drizzle a little balsamic reduction.
Most recent from Recipes