Protein-Packed & Gluten-Free: Spa Eastman's Four-Spice Quinoa
---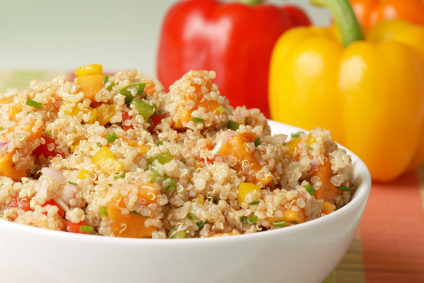 Against a backdrop of cedar, birch and pine trees, rolling meadows and streams, the setting of Quebec's Spa Eastman isn't the only beautiful and invigorating thing about Canada's first destination spa – the cuisine is too. Featuring many regional and homemade dishes such as yogurts, tabouleh, jams, muffins and broth, Spa Eastman stringently avoids all genetically altered ingredients. Dairy and cream are replaced with soy and rice milks. Organic ingredients are used whenever possible, and many of the fresh vegetables and produce come from the gardens right outside. The resort's French influence extends to the occasional glass of wine, hand-selected from the owner's collection.
We love the basic simplicity of the spa's Four-Spice Quinoa recipe. Quinoa, an ancient "grain" native to South America, is chock-full of protein; complete proteins to be exact, which means it includes all nine essential amino acids that are needed for tissue growth and repair. Besides protein, which makes it a satisfying choice for vegetarians and vegans, it's also full of manganese, a cancer-fighting antioxidant, fiber, calcium, riboflavin, copper and potassium. And for those who are watching their gluten intake, eat up – quinoa is definitely gluten-free.
Fun fact: While most think of quinoa as a grain, it is actually the seed of the beautiful chenopodium plant (see photo below), which is a relative of beets, spinach and chard. Since quinoa is not technically a cereal grain, like rice, wheat or oats, the Whole Grains Council calls quinoa a "pseudo-cereal" – a name for foods that are cooked and eaten like grains and have a similar nutrient profile.
As with any recipe, feel free to use any veggies and spices in this one – we personally might throw a little kale in, along with some delicious mushrooms, to complement this nutty, meaty dish!
Four-Spice Quinoa (Serves 4)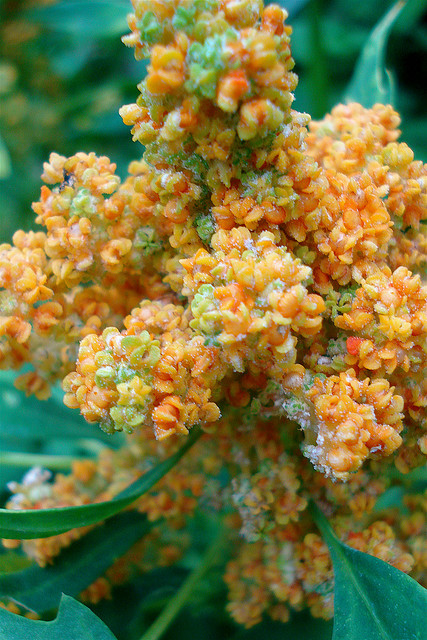 Ingredients:
½ cup quinoa
3 tbsp organic canola oil
1 medium onion, finely chopped
1 clove garlic, minced
1 red bell pepper, diced (or your favorite bell pepper)
2 pinches cayenne pepper
½ tsp turmeric
½ tsp ground cumin
2 pinches sea salt
1 tbsp organic sesame seeds, toasted
1 tbsp pistachios, coarsely ground
3 green onions, thinly sliced (for garnish)
Instructions:
Rinse quinoa well in a strainer to remove the saponin (soap-like) coating.
In a large sauté pan over medium-high heat, add the oil and sauté the onion, garlic and pepper for 2 minutes. Add the quinoa and stir well.
Add ¾ cup water and all the spices. Cook for 5 minutes; then add about ½ cup water and continue to cook for another 5 minutes.
Transfer to a bowl and add the sesame seeds and pistachios. Garnish with green onion.
Nutritional information per serving: 248 calories | 28 g carbohydrates | 0 mg cholesterol | 14 g fat | 6 g protein
Most recent from Recipes