Spa Recipes We Love for Thanksgiving Dinner: Maple Pecan Pumpkin Pie
---
A recipe from Green Mountain at Fox Run
(Serves 10)
Use your favorite pie dough recipe, just mixing the pecans into the flour mix before adding the water. Or, to save time, use a ready-made refrigerated crust. Green Mountain provides an 'in-between' version below, using a boxed mix for the crust.
Ingredients:
1 box pie crust mix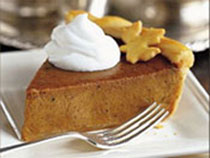 2 large eggs
½ cup ground pecans                 ¼ cup Vermont maple syrup
¼ cup sugar                                  1 can (15 ounces) pumpkin
½ tsp salt                                       1 can (12 fluid ounces) evaporated skim milk
1 tsp ground cinnamon              ½ cup chopped pecans
½ tsp ground ginger                   Maple Whipped Cream, if desired (see below)
¼ tsp ground cloves                    Chopped pecans for topping, if desired
Instructions:
1. Preheat oven to 425°F. Following package directions, measure out enough pie crust mix to make one 9-inch pie crust. Stir in ground pecans. Follow package directions to make pie crust dough, roll it out and place in pie plate.
2. In mixing bowl, mix together sugar, salt and spices. Slightly beat eggs, then add to sugar-spice mixture and mix well.
3. Stir in maple syrup and pumpkin and mix well. Gradually stir in evaporated skim milk. Pour into unbaked pie shell and sprinkle with chopped pecans.
4. Place in oven and bake for 15 minutes. Reduce heat to 350°F and bake another 50-60 minutes or until knife inserted in center comes out clean. Cool before serving.
5. Top with a tablespoon or two of Maple Whipped Cream and sprinkle with a few pieces of chopped pecans, if desired.
Maple Whipped Cream (Makes at least 10 servings)
1 cup whipping cream
2 tablespoons maple syrup
1. In chilled bowl, add cream and syrup; mix.
2. Whip with electric beater until firm peaks form.
Most recent from Recipes