Spa Recipes We Love for Thanksgiving Dinner: Apple Parsnip Soup
---
Year after year, we've all developed our favorite Thanksgiving dishes, but why not branch out and give one of these healthy spa-inspired Thanksgiving recipes a try?
SpaFinder picked out three spa recipes that sound like great potential additions to mix things up for this year's Thanksgiving dinner repertoire – Apple Parsnip Soup, Grilled Figs with Creamy Honeyed Ricotta and Almonds, and last but not least, a Maple Pecan Pumpkin Pie.
Apple Parsnip Soup (Serves 4)
A recipe from The Lodge at Woodloch
Ingredients: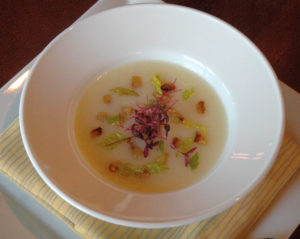 1½ pounds parsnips             4 cups vegetable stock
2 Granny Smith Apples         4 fresh sage leaves
½ yellow onion                        ½ cup light cream
1 stalk celery                           Salt and pepper to taste
2 tbsp olive oil                         Juice of ½ lemon
Instructions:
1. Cut parsnips, onions and celery into 1-inch pieces. Peel and seed apples and cut into 1 inch pieces as well.
2. Place olive oil in large sauce pan and turn to medium heat. Add parsnip, apples, onion and celery and sweat the vegetables until they are soft. You want to make sure that the vegetables do not brown in pot.
3. Add the stock and sage to the vegetables and apples and simmer over medium-low heat until parsnips soften. Remove from heat and let cool slightly. Pour into a blender and puree until smooth.
4. Strain back into pot and bring back to full heat. When ready to serve, stir in the cream and season with salt, pepper and lemon juice.
Go to the next post for a Thanksgiving-worthy recipe from Rancho La Puerta.