Spa Recipes: Red Mountain Resort & Spa, Grilled Eggplant Rolls and Pumpkin Cheesecake
Published: Wednesday, October 28th 2009
in Recipes
---
SpaFinder recently held our inspiring 9th annual Red Mountain Event, centered on transformation and wellness.  The event featured Joan Lunden, famed television journalist, who shared her personal journey through change.
As guests can attest, the food at Red Mountain Spa & Resort is delicious with a healthy flair.  Here's a taste of two seasonal recipes that originated from this breathtakingly beautiful getaway spa in St. Ivins, Utah.  For an easy dinner, try Red Mountain's Grilled Eggplant Rolls for and for that sweet tooth, indulge in Pumpkin Cheesecake with graham cracker crumb crust.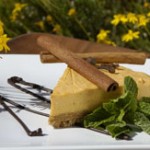 Pumpkin Cheesecake
Ingredients for the Crust
| | |
| --- | --- |
| 1 ¼ C | GRAHAM CRACKER CRUMBS |
| ¼ C | WATER |
Ingredients for the Cheesecake
| | |
| --- | --- |
| 18 oz | NEUFCHATEL CREAM CHEESE |
| 1 ¼ C | FRUCTOSE |
| ⅓  C | SKIM MILK |
| 2 t | CINNAMON |
| ⅓  t | NUTMEG |
| ½ t | CLOVE |
| 8 sheets | GELATIN |
| 4 C | PUMPKIN, CANNED |
Yield: 68 oz
Servings: 16
Serving Size: 4 ½ oz
Directions for the Crust
Combine water and cracker crumbs.
Press into a 10-inch cake pan and set aside.
Directions for the Cheesecake
Cream together cream cheese and sugar.
Fold in the pumpkin.
Soften the gelatin in warm skim milk.
Quickly fold into the cheese mixture.
Pour into prepared pan and refrigerate overnight
Nutrient Analysis, Single Serving
Calories: 207
Fat: 8g
Sodium: 233mg
Carbohydrate: 32g
Saturated Fat: 4g
Total Dietary Fiber: 1g
Protein: 5g
Cholesterol: 12mg
NC-P-F Ratio:
58-10-32
Grilled Eggplant Rolls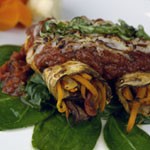 Ingredients:
2 large   EGGPLANTS, PEELED & SLICED 1/2″ THICK LENGTHWISE
2 medium            RED BELL PEPPERS, JULIENNE
1 medium            RED ONION, JULIENNE
1 C          CARROTS, JULIENNE
1/2 C      PORTABELLO MUSHROOMS, JULIENNE
1 T          GARLIC, MINCED
8 oz.       FRESH SPINACH
2 C          MARINARA SAUCE
6 oz.       MOZZARELLA CHEESE SUBSTITUTE (such as Soy Kaas)
OLIVE OIL
to taste                SALT & PEPPER
Directions for Prep:
Lightly spray eggplant with olive oil. Place on hot broiler until eggplant is soft enough to roll without tearing.
Sauté the mushrooms, bell peppers, onions, carrots, celery, and garlic until just tender.
Add spinach. Take off heat and place in mixing bowl.
Toss in 2 to 3 tablespoons of pasta sauce and shredded soy cheese.
Place some of mixture on each eggplant slice and roll.
Directions for Cooking:
Place eggplant rolls in lightly oiled sauté pan. Top with marinara sauce and small amount of shredded cheese.
Bake in oven until hot through.
Recipe Nutrient Analysis, Single Serving
Calories: 180
Learn more about Red Mountain Spa & Resort
Most recent from Recipes