Spa Recipes: Salad Sensations
Published: Wednesday, September 2nd 2009
in Recipes
---
Pair protein with summer freshness and enjoy these salad sensations from two top getaway spas.  The Curry Chicken Salad recipe fromGreen Mountain at Fox Run and the Crab and Watermelon Salad with Ginger Gelée recipe from  The Phoenician are sure to leave you wanting to eat more salad – and feeling healthy!
Curry Chicken Salad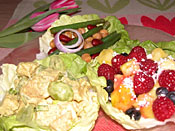 Recipe from Green Mountain at Fox Run
Serves 4
A favorite entrée served at Green Mountain is something called a Tri-Salad Plate. The star of that combo is the Curry Chicken Salad. Here it's featured with two other colorful side salads — the Marinated Bean Salad (from our Recipes for Living cookbook) and a simple fresh fruit salad that we've garnished with a bit of feta cheese. Enjoy!
1/2 cup light mayonnaise
2 tablespoons honey
2 tablespoons minced scallions
2 teaspoons curry powder
1/2 pound (about 2 cups) cooked, cubed chicken
1 cup halved green or red seedless grapes
Salt
Pepper
Lettuce for garnish
Mix all ingredients together in medium sized bowl, including salt and pepper to taste. Serve in lettuce cup. (Or salad can be refrigerated for several hours or overnight).
Crab and Watermelon Salad with Ginger Gelée
Recipe from  The Phoenician
Serves 6
1/4 cup mayonnaise, preferably homemade
1 tsp grated ginger
Zest of 1 lemon, finely chopped
1 tsp chopped chervil
1 tsp chopped chives
1 tsp chopped parsley
3/4 lb crabmeat, picked clean of shells
Salt and pepper to taste
1 small red watermelon, cut into thin 2″ triangles, seeds and rinds removed, plus approximately 1 cup reserved
1 small yellow watermelon, cut into thin 2″ triangles, seeds and rinds removed*
1 small orange watermelon, cut into thin 2″ triangles, seeds and rinds removed*
2 Tbsp brown sugar
1/2 Tbsp gelatin, softened in cold water
1 1″ piece of ginger, peeled, juiced, and strained
Salt to taste
Olive oil to taste
1 1/2 cups arugula (micro or baby is best)
Sherry Vinaigrette (recipe follows)
*If you can't find different varieties of watermelon, substitute red.
1. In a small bowl, combine the mayonnaise, ginger, lemon zest, and herbs. Fold in the crab and season to taste with salt and pepper. Refrigerate.
2. Puree the reserved watermelon and strain through a coffee filter to obtain a clear juice. Set aside 1 cup.
3. In a small saucepan, combine the brown sugar and 1 tablespoon of the melon juice and heat over low heat until the sugar dissolves. Add the gelatin and dissolve. Remove from heat. Stir in the remaining melon juice and the ginger juice. Pour into a shallow pan and refrigerate until set, about 1 hour.
4. Brush the watermelon triangles lightly with olive oil and sprinkle with salt.
5. In a bowl, toss the arugula with the vinaigrette. To serve, stack the crab and watermelon horizontally on a platter. Start the stack with watermelon and end with crab. Place the green salad at the end of the platter.
Sherry Vinaigrette
1 Tbsp sherry vinegar
1 small shallot, minced
3 Tbsp vegetable oil
1 Tbsp olive oil
Salt and pepper to taste
In a small bowl, combine the vinegar and shallot. Whisk in the oils and season with salt and pepper.
Most recent from Recipes