SpaFinder Recipe: Watermelon & Tomato Salad with Feta & Fresh Basil
---
With summer in full swing, in-season produce is at its peak, vibrant with colors and flavors teeming with energy and nutrients. After checking out Mark Bittman's Watermelon and Tomato Salad recipe on NYTimes.com, I thought I'd make a variation of my own, using the fresh basil I have growing in my apartment. I've also been having a bit of a love affair with feta cheese as of late, which is reflected in the recipe below, but your favorite crumbly cheese will also work – Bittman's recipe uses blue cheese, cilantro and parsley, among other ingredients.
I love that this incredibly refreshing, easy and esthetically pleasing salad only calls for a few ingredients, which really highlights the flavors – and colors – of each and every one of them. Bittman's call for cayenne pepper in his recipe caught my eye, so I decided to follow suit and throw some in my recipe as well for a little added kick. Serve it in a blue bowl for Bastille Day festivities!
With fresh ingredients, this hydrating and flavorful salad can be modified to your liking – use a different herb or a different kind of vinegar. After all, that's where the fun is in cooking, isn't it?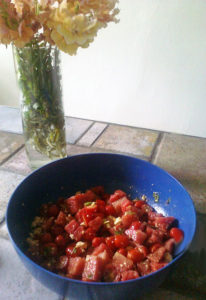 Watermelon & Tomato Salad with Feta & Fresh Basil (Serves 4)
2½ cups cubed seedless watermelon
2 cups or 1 pint cherry or grape tomatoes, cut in half
½ cup or 4 oz. crumbled feta cheese
¼ cup fresh basil leaves, shredded or torn into pieces
2  tbsp extra virgin olive oil
2 tbsp balsamic vinegar
Salt and pepper to taste
Pinch of cayenne pepper (optional)
Combine watermelon, tomatoes, feta cheese and basil in a large bowl.
Add the extra virgin olive oil, balsamic vinegar, salt, pepper and cayenne pepper (optional) to the fresh ingredients.
To keep from breaking into the watermelon pieces (which can make them lose their juices), use your hands to toss this salad – I personally feel that using your hands for recipes like this makes you feel closer to your food, and creates food that emotes a sense of love that you can taste. Serve immediately and enjoy (this salad will hold up for one day if you have leftovers though)!
P.S. In case you're curious, the flowers pictured are snapdragons, one of my favorites! Your local farmer's market should be brimming with them this month.