Stuff It & Grill It: Sanoviv's Stuffed Zucchini Recipe
---
It's zucchini season and grilling season, which begs the question—how else can I grill zucchini besides on a kabob or flat on the grill? Your answer—and meal—is served with this healthy and satisfying stuffed zucchini recipe from Sanoviv Medical Institute in Playas de Rosarito, Mexico.
While the instructions in this recipe say to bake the zucchini in a 350° F oven, you can easily take this dish to the grill: Simply place the stuffed zucchini on a grill turned to medium heat, cover and cook for 8-10 minutes, or until zucchini is tender. Chef's tip: Place the raw zucchini on the grill (or in the oven) for a few minutes before stuffing—it'll help speed up the tenderizing process after it's stuffed.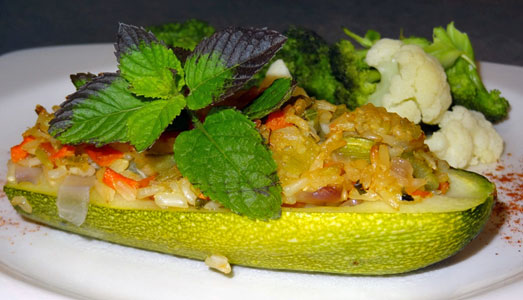 Sanoviv Medical Institute Recipe: Stuffed Zucchini (Serves 4)
Ingredients:
4 zucchini, cut in half and seeded
2 cups brown rice, cooked
½ cup celery, minced
¼ onion, minced
¼ cup carrots, minced
1 clove garlic, minced
¼ tsp unrefined sea salt (Celtic Salt)
1 tsp olive oil
Fresh mint for garnish, optional
Instructions:
Sauté garlic in olive oil for 10 seconds.
Add onion, celery, carrots and salt and continue to sauté for 5 minutes.
Mix with the cooked brown rice.
Fill zucchini halves and bake for 15 minutes at 350° F. (Or, grill on medium heat, covered, for 8-10 minutes, or until tender.)
Garnish with fresh mint and serve.
Nutritional information per serving: 140 total calories |4 g protein | 2 g fat | 27 g carbohydrate | 3 g fiber
If you like this recipe, give these a try, too!
Most recent from Recipes