Stuffed Like a Turkey? Not This Year!
Published: Wednesday, November 11th 2009
in Recipes
---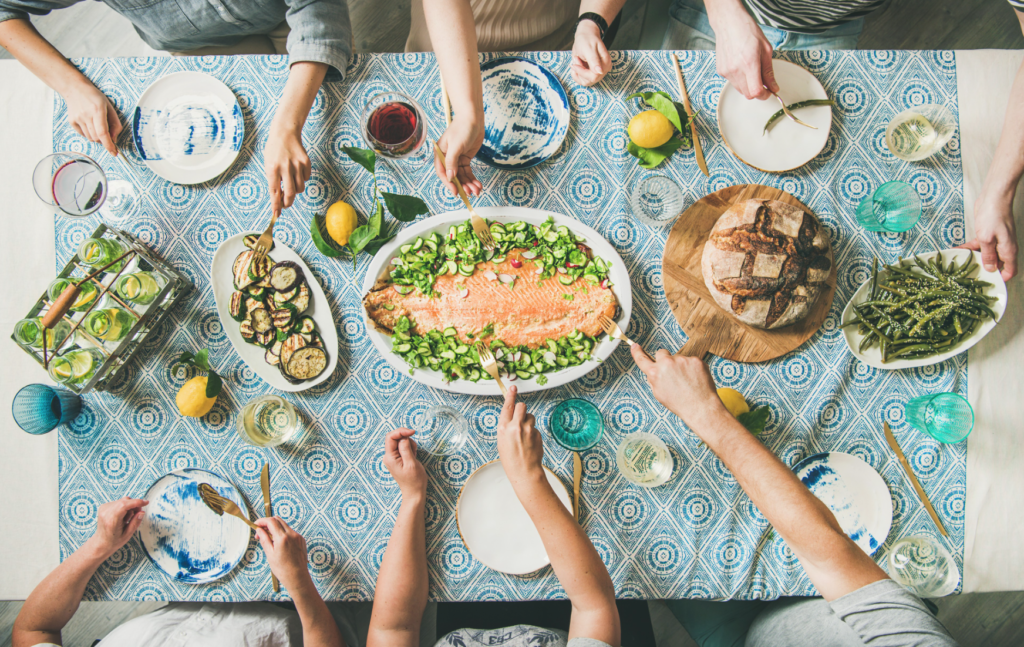 Many people think of Thanksgiving as a time to gorge yourself silly on the caloric, decadence of holiday fare, at home with your relatives. Well, it doesn't have to be! This year, why not escape nearby to a spa? Many spas offer guests healthy and delicious menus for Thanksgiving – and special holiday packages. Give yourself some R&R and a chance to revive and feel good. What better thanks can you give your body? These are our Top 10 Getaways for a Healthy (and Delicious!) Thanksgiving:
Executive Chef Joseph Humphrey is celebrating Thanksgiving dinner at Cavallo's Murray Circle restaurant. Located at the foot of the Golden Gate Bridge, Cavallo Point offers an exceptional range of accommodations, amenities, and experiences – plus stunning city, Bay, and Bridge views.
Get Cavallo Point's Potato and Celery Root Gratin recipe.
Just 45 minutes north of San Francisco in Napa Valley lies Silverado, a historic 1,200-acre destination resort in the rolling hills of wine country. The Mansion, a California landmark built in the early l870's in the Italian and French styles, stands as the welcome check in.  Save US$276 per Person- Silverado Holiday Celebration Packages!
3. Chiva-Som Hua Hin, Thailand
If you want to celebrate Thanksgiving abroad, you'll enjoy the spa cuisine at Chiva-Som. For centuries, kings came to rest and revive in Hua Hin, the beachside location of Chiva-Som, whose name means 'Haven of Life.' When Chiva-Som opened in 1995, it was one of the first destination spas in Asia. The spa, whose services and architecture merge Eastern and Western influences, has a worldwide reputation. Guests come to sample a full range of beauty, medical, and wellness treatments from the extensive spa menu. Over l50 choices range from Ayurveda to acupressure to Thai massage. These are offered by a staff of 85 estheticians, medical doctors, complementary health providers, nutritionists, and personal fitness trainers.
The Nemacolin Woodlands Resort, offers a full menu of Thanksgiving weekend activities for the entire family. The special package  includes family portraits, Thanksgiving Day brunch, Safari Wild Animal Tours, Elf Tuck-ins, lighting festivities, chorales, visits with Santa and Mrs. Clause, Gingerbread House Workshops… and a resort credit that can be used for the spa, food & beverage and activities.  With its three-story Woodlands Spa, extensive dining options, and two championship golf courses, the four-season resort is great for all ages. It has won numerous accolades such as Travel + Leisure's 500 Best Hotels in the World award. Receive a US$1,200 Resort Credit with Four-Night Stay- Thanksgiving Weekend Special!
Get Nemacolin Woodlands Resort's Pumpkin Body Scrub, do-it-yourself spa treatment recipe.
On Thanksgiving Day, the Fairmont Scottsdale is offering a Holiday Brunch Buffet with live music, complimentary champagne and world-class views. Surrounded by some of the most stunning scenery in the Southwest, The Fairmont Scottsdale Princess faces the rugged McDowell Mountains on one side and the magnificent Sonoran Desert on the other. The Willow Stream spa, inspired by the local environment, offers treatments such as the Arizona Aloe Eucalyptus Scrub. Many of the treatments make use of the Havasupai Waterfall on the spa's first level. The spa's extensive fitness center and programs can ensure a healthful vacation – and a happy Thanksgiving!
Give Thanks at The Westin Riverfront from November 23 – November 28. Enjoy the special Family Thanksgiving package, including a Thanksgiving dinner for four at Restaurant Avondale. Offer includes a one hour family photo sitting (don't forget the dog, the hotel is dog-friendly!) and registration in the 2nd Annual Riverfront Turkey Trot. Rates start at  $229 per night. A three-night minimum stay is required.
This  award-winning health spa in San Diego is celebrating Thanksgiving with a wellness retreat designed to kick off a healthy holiday season. The all-inclusive program includes Executive Chef Jason Graham's gourmet spa cuisine, therapeutic spa treatments, fitness classes, wellness lectures and more. Book your stay during this Special Rate Week and receive a complementary Pumpkin Wrap. Accommodating only 24 guests each week, this all-inclusive spa is committed to highly personalized service. The spa's fitness program is custom-tailored for each participant, and guests can stay three, four, or seven days. Savings of up to US$400 – Thanksgiving Week at Cal-a-Vie!
Although located in Mexico, Rancho La Puerta celebrates the U.S. tradition of Thanksgiving each year with a Harvest Table Dinner. The resort's massive Spanish Colonial dining room gains a baronial splendor as guests sit at one very long table to enjoy a feast. Meals feature many of the fall-season squashes, fruits and vegetables from Tres Estrellas Organic Farm. In addition, famed vegetarian cookbook author and restaurateur Deborah Madison of Galisteo, New Mexico, will be teaching this week at La Cocina Que Canta. This is the resort's cooking school set in the midst of the 5-acre farm. Deborah's classes will also feature some of the seasonal bounty fresh from the farm, picked only a few hours before. With her guidance, you'll learn to prepare your own harvest-season dinner at home.
The Lodge at Woodloch invites guests to experience a special Thanksgiving meditation class. The class inspires relaxation and integrates the body, breath and mind to focus on what we are thankful for.  It opened in June 2006 and is an exclusive 58-room luxury destination spa. It offers complete spa programming in a strikingly beautiful natural setting. The spa's programs, classes, and therapies encourage personal awakening and are geared toward lasting lifestyle changes. In Tree, the signature restaurant, gourmet organic cuisine is as tasty as it is nutritious. Dietary counseling is available to those seeking to develop a weight loss program or enhance fitness goals. A wide range of outdoor activities, including kayaking, hiking, and mountain biking, beckon guests to become one with nature.
Get Lodge at Woodloch's Whole Grain Cranberry Stuffing recipe.
Experience a unique Pueblo-Style Thanksgiving at The Tamaya Resort & Spas. This property includes local native American traditions like bread baking, traditional Pueblo dancing and story telling.  Rates start at $189 per night based on double occupancy, November 19 – 30, 2009.  Guests will be welcomed with Tamaya's homemade signature pumpkin cookies.  The Hyatt Regency Tamaya Resort & Spa sits on 500 acres in Pueblo of Santa Ana, New Mexico. It rests on the banks of the Rio Grande, just 20 minutes from Albuquerque and 40 minutes from Santa Fe. Tamaya is offering: On Thanksgiving Day Save US$30 on Hyatt Regency Tamaya's Pueblo-Style Thanksgiving!
Most recent from Recipes