Super Food Recipe: Phyto-Full Forbidden Rice Salad
---
Contrary to the mysterious nickname for Thai black rice – Forbidden Rice, this phytonutrient-rich food should never be forbidden from anyone's diet.
A sort of superman of super foods, black rice offers an abundance of vitamins, minerals, and antioxidants. With plenty of health-promoting phytonutrients, this Forbidden Rice Salad recipe from Active Center for Health & Wellness features three of the five super foods that the center's Carrie Kelly, RD, told us we should be eating, but probably aren't.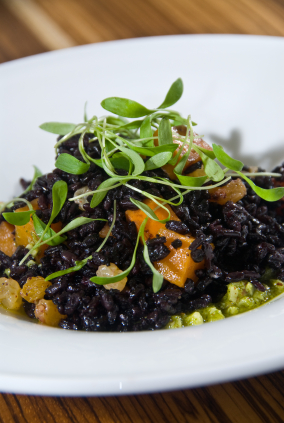 This healthy salad is brimming with vitamins, minerals, and antioxidants with its three super food superstars:
Black rice is rich in both phytonutrients and antioxidants. It also has more health-promoting anthocyanin antioxidants gram per gram than blueberries, and delivers them packaged with less sugar and more fiber.
Turmeric, usually sold in the spice aisle as a powder, or sold fresh as the root in the produce department, has strong anti-inflammatory properties and can possibly help fight diseases such as certain cancers and Alzheimer's.
Orange tomatoes are high in Vitamin C and have more lycopene, a powerful antioxidant, than its red relatives.
The recipe also calls for heart-healthy almonds and one of Kelly's tried and true super foods, broccoli. Broccoli is rich with iron and a good non-dairy source of calcium. It's also full of cancer-fighting phytochemicals. Whip up this simple and outstandingly nutritious rice salad to get a taste of Thailand and feed your mind and body the sustenance it needs and wants.
Active Center for Health & Wellness Forbidden Rice Salad Ingredients (

Serves 8

):
Prep time: 20 min.
Cook time: 20-30 min.
Total time: 40-50min.
1 cup uncooked Thai black rice (Forbidden Rice)PUT_CHARAR ½ cup garbanzo beans
2 tbsp soy sauce; PUT_CHARACTERS_HERsdgfddfgdfdfgsdfsd½ cup slivered almonds
2 tsp toasted sesame oil  PUT_CHARACTERS_HERsdgfdsdfsd1 orange tomato, diced
1 tbsp turmeric PUT_CHARACTERS_HERsdgfdfgdfddddsdfgfsd1 cup chopped broccoli (blanched)
2 tbsp lime juice (or the juice from 1 lime) PUT_CHARACTEdRS 6 scallions, sliced thin
1 tsp Sriracha chili sauce (or any other hot sauce)PUT_CHARAdSalt and pepper to taste
Instructions:
1.      Cook rice according to package, set aside
2.      Whisk soy sauce, oil, lime juice, and hot sauce in a bowl. Add nuts and veggies to the sauce.
3.      Toss rice into the sauce mixture and coat well. Serve warm or at room temperature.

Nutritional information per serving: 191 calories; 5 g fat; 250mg sodium; 30 g carbohydrates; 5 g fiber; 7 g protein.
Be sure to see what Wellness Week™ services Active Center for Wellness & Health is offering, or check in to find out what's being offered in your area! Get the full list of Kelly's recommended super foods.
Recipe type: Salad, side
Most recent from Recipes