Taste of Wellness Week: Recipes from 3 NYC Restaurants
---
Enjoy a range of healthy dishes from the well-regarded Bouley Restaurant, David Burke's Townhouse, David Burke at Bloomingdale's, Fishtail by David Burke, David Burke Kitchen, Bistro The Tea Set and Pizza Roma. Contact the restaurant for reservations and if you can't make it, or if you fall in love with a dish, here's one recipe from each restaurant. You might see a recipe absent from Bouley Restaurant, but that's because Bouley's Wellness Week menu is specially made for you based on the fresh seasonal ingredients that are in the kitchen that day!
Bistro The Tea Set: Fish Bouillabaisse by Executive Chef Miguel Flores ( Serves 8 )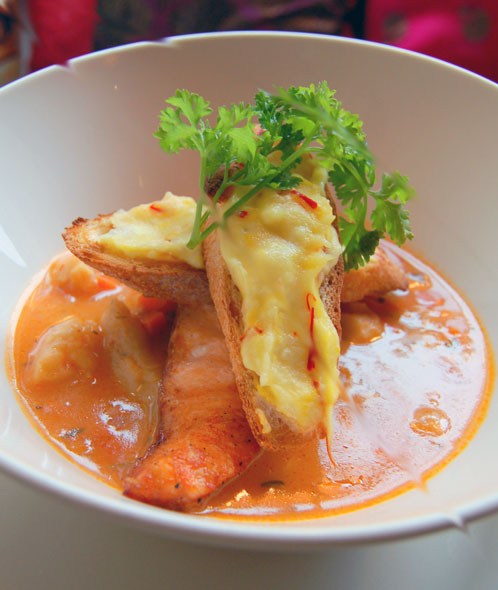 Ingredients:
3 garlic cloves, diced
2 organic onions, diced
1 fennel bulb, diced
1 lb. celery, diced
2 lbs. organic carrots, diced
1 lb. clam
1 lb. shrimps
1 lb. scallops
1 lb. salmon
1 gallon clam juice
1 tsp thyme
1 tsp parsley
1 tsp paprika
1 organic red pepper
2 bay leaves
2 cups white wine
Instructions:
In a pot, heat the olive oil and add onion, garlic and fennel; sauté for 3 minutes.
Add celery, carrots, thyme, parsley, bay leaves and peppers; sauté for 3 more minutes.
Add white wine, clam juice and paprika.
Add all the seafood, cover and cook for 30 minutes.
David Burke: Endive Salad (Serves 4)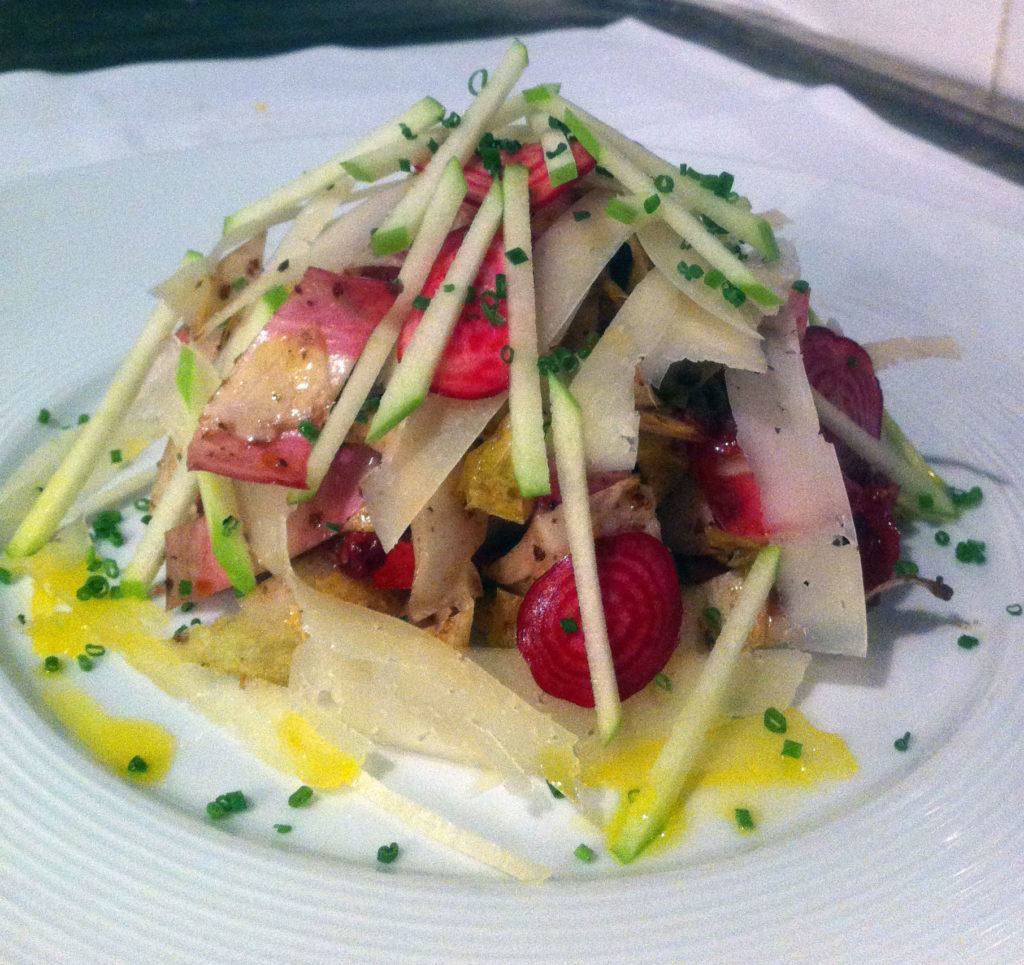 Ingredients:
4 white endives
4 red endives
2 baby candy cane beets
20 pitted kalamata olives
8 grape tomatoes
1 granny smith apple
4 oz. manchego cheese
For the dressing:
1 cup kalamata olives, dried and chopped
3 cups extra virgin olive oil
1 orange, zested
½ cup sherry vinegar
1 tsp zatar spice
1 tsp salt
Instructions:
Cut both red and white endives in quarters and cut out core.
Thinly shave candy cane beets, ideally using a mandolin. Cut grape tomatoes in half. Julienne the Granny Smith apple.
Arrange 1 red and 1 white endive on each plate and drizzle 1 tbsp dressing over endive leaves.
Garnish each plate with sliced beets, 4 grape tomato halves, and 5 olives each.
Drizzle another tablespoon of dressing over the top and finish with julienned apples and shaved manchego.
Pizza Roma: Bruschetta al Pomodoro by Chef Monika Lenk (Serves one)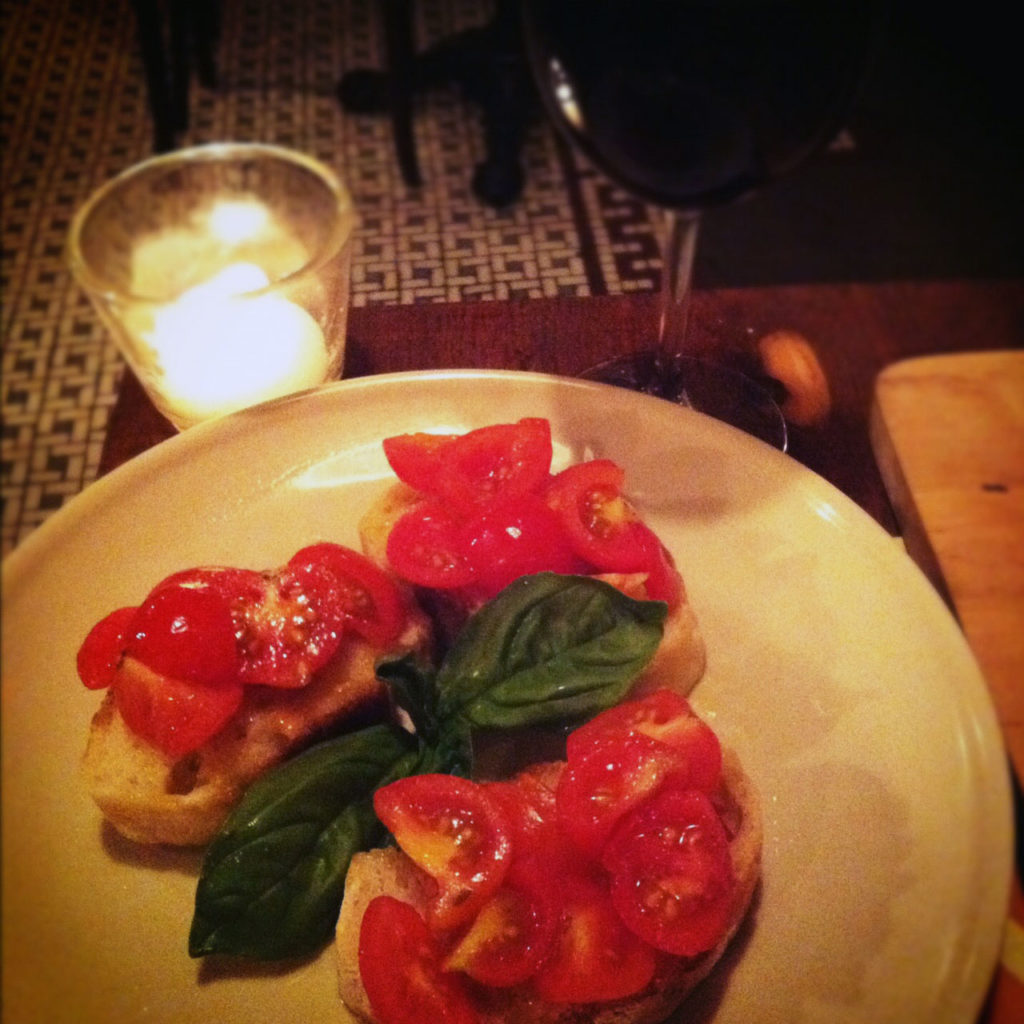 Ingredients:
Fresh Italian slice of bread, cut 1-inch thick
2 tomatoes, diced
1 tablespoon of extra virgin olive oil
2 basil leaves
Salt and pepper to taste
Instructions:
Toast bread and top with diced tomatoes.
Drizzle olive oil and add the fresh basil
Add salt and pepper and enjoy!
Our method (because we love the flavors of basil to come out!): Chop the fresh basil and toss it with the diced tomatoes, olive oil and salt and pepper, then place on bread.
Most recent from Recipes