Chef Anthony Healy's Recipe for Coral Trout Ceviche
Published: Friday, October 2nd 2015
in Recipes
---
"For me a career in culinary was never really a choice, I always just thought this would be something I did and never really considered or questioned doing much else." This sentiment and passion for a culinary path is why we're shining October's Top Resort Chef spotlight on Laucala Island's Executive Chef Anthony Healy. Creating signature cuisine by foraging for the freshest ingredients across the island and taking advantage of the island's plentiful indigenous produce and livestock, Chef Healy makes delicious and unexpected dishes at the private island all-inclusive resort set on 3,500 exclusive acres in the Fijian Pacific archipelago.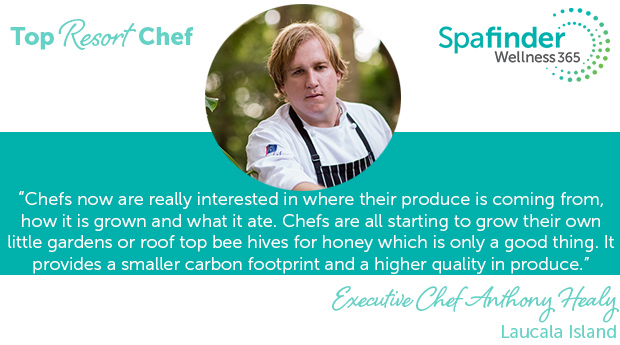 Chef Healy's start in the industry started practically from birth. "My father was a very well-recognized Chef Patisserie and my mother had come from a hotel background." When Chef was 5-years-old he and his family moved to a small town where his parents opened up a bakery which the family lived above. "When I wanted to see them I went to the kitchen. I would spend hours inside watching what they did and only on Sundays would I be allowed to cook something… usually apple turnovers or something with the left over pastry [dough]. Birthday parties for years were at the back of the bakery where dad would just pass out cakes and pastries from the shop and all the kids from school would come down for a party. I will admit, our birthday cakes growing up where a lot better than any other kids!"
By the time Chef Healy was 15 he realized his true passions in life were cooking and agriculture and took an apprenticeship with a local chef, leaving school with the blessing of his parents. "Lucky it worked out well and I fell in love with it," he shared. "A year later I left home, and with the help of my father, I started working for a very renowned chef Romain Bapst at Il-Centro Restaurant. This is really where I fell in love with the industry and became hooked, it changed everything working there."
Following this apprenticeship, Chef moved to London where he began working at a fine dining French restaurant where he spent two years working his way up from the bottom alongside some amazing chefs. "London gave me the adrenaline for the fast-paced high-end restaurants and opened a world to Michelin stars." After two years, Chef left to pursue a career in France and landed a job at the three Michelin starred restaurant, La Côte Saint Jacques.
When asked about trends that are up next and which have seen there time in the sun Chef Healy responded, "Everything changes and everything comes back into fashion again at some point, especially with cuisine. From food trucks, foraging, Korean cuisine, South American to Mexican food, it all has its place and all are trends which have stuck and will continue to be a part of the everyday food scene. Right now I can really see the high-end fine dining scene dropping off somewhat. The days of white table cloths, over the top stem wear, ridiculously expensive cutlery is slowing down. The trend of 'Paddock to Plate' is huge and only getting bigger. Chefs now are really interested in where their produce is coming from, how it is grown and what it ate. Chefs are all starting to grow their own little gardens or roof top bee hives for honey which is only a good thing. It provides a smaller carbon footprint and a higher quality in produce." This love for truly local produce is met by the island's 240-acre hydroponic farm with 15 different types of fruit, 35 varieties of vegetables and more than 50 Fiji Vanilla plants. What's more? 85 percent of the island's seafood is caught within a mile of the shore to preserve the natural offshore habitat of the South Pacific. Chef bases his menu at the resort's main main restaurant, Plantation House on these hyper-local foods.
Chef went on to share that "With all these shows on TV, guests now know, or at least think they know, more about food, so everyone really needs to be on their toes. Guest expectations are different, guests are interested in the kitchen, what's going on back there? Who is the chef? Can they meet them? Years ago the chefs stayed in the kitchen and the guest didn't want anything to do with going behind the scenes."
But it's what's going on behind the scenes that truly matters. This is likely why Chef believes in the integrity of chef-owned or partnered restaurants. "Chefs who are in their kitchens pushing the boundaries and lifting their teams to create amazing food. With all the social media as well, guests are connected with certain chefs and will follow them from place to place. Simple restaurants with uncluttered tables, amazing but relaxed and knowledgeable service with an owner chef will always be unbeatable. These are the chefs who are up and coming, working for the best chefs around the world, and who put all they have into starting their own place. These are the type of restaurants that you need to go to."
Get a taste of Chef Healy's cuisine with this recipe for coral trout ceviche.
200 grams of coral trout fillet skin off,
1 tbsp red onion
1 tbsp diced celery
1 tbsp diced tomato skin off
1 tbsp diced cucumber
1 tbsp diced pineapple
1 tbsp diced avocado
1 tbsp diced capsicum
1 tbsp diced coconut milk
2 tbsp lime juice
1 tsp chili diced no seeds
1 tsp coriander
1 tsp mint
For tostadas:
473 grams plain flour
2 grams salt
2 grams baking powder
59 grams of pork lard
177 grams warm water
Ceviche
Add lime juice to coral trout and leave to cook in juice for 2-3 min just until the edges go white, add all the vegetables and mix thoroughly, finish with fresh herbs, salt and coconut milk, serve immediately
Tostadas
Mix flour, baking powder, salt and lard in a mixing bowl, Add warm water slowly until smooth dough is formed, rest for 20 minutes in fridge, roll out to a thickness of 5mm, cut out dough with a ring cutter 15cm in diameter. Fry at 180 degrees Celsius until golden, season with salt and espelette pepper powder
Most recent from Recipes