Wellness Week Menu Day 1: The Standard Spa Miami
---
It's finally Wellness Week™ and we're mixing things up this year by offering you loyal readers and spa enthusiasts a week of menus from our premier getaway spas. In honor of Meatless Mondays, here's a menu of meatless breakfast, lunch, and dinner recipes from The Standard Spa Miami Beach, which is offering discounted treatments all week long!
Enjoy foods in their natural state with these recipes from Chef Mark Zeitouni, executive chef at The Standard Miami Beach (pictured, left). Chef Zeitouni draws culinary inspiration from the Mediterranean, focusing on healthy, wholesome preparations that feature the freshest ingredients available. His meticulously executed menus offer high-quality, organic meats and fish prepared using olive oils and fresh herbs.


BREAKFAST: The Standard Smoothie Ingredients (Serves 8):
3 cups frozen strawberries
1½ whole bananas
1½ tbsp Greek yogurt
¼ cup honey
Thin out with water (start with about ¼ cup of water and gauge desired thickness)

Instructions:
1.      In a blender, combine the frozen strawberries, bananas, Greek yogurt, and honey. Blend until fruit is pureed. Blend in the water, and freshen by blending in some ice, if needed. Serve in your favorite glass.

LUNCH: Mediterranean Flatbread Ingredients (Serves 2 as a meal, 4 as an appetizer):

2 flatbread shells, pizza shells, or wrap of your choice
1 cup hummus (recipe below)
1 ripe tomato, chopped
1 cup sprouts (alfalfa, pea, or other)
¼ cup chopped mushrooms
5 basil leaves
½ cup chopped olives
½ cup feta, crumbled
¼ cup olive oil
Sea salt
Cracked black pepper

Instructions:
1.      Start by making the hummus. Combine the following ingredients in a blender and puree until smooth. Adjust with salt and pepper to taste:
12-16 oz. of cooked garbanzo beans, drained and washed              1 clove garlic
1 tsp olive oil                                                                                                 Pinch of cumin
1 tsp of water                                                                                                Salt and pepper to taste
1 tsp lemon juice
2.      Pre-heat oven to 350 degrees F or use a panini press if you have one.
3.      Brush each shell or wrap with olive oil and toast in the oven at 350 degrees F or in panini press until crispy. Remove from heat.
4.      Spread hummus evenly leaving 1 inch around the sides. Spread sprouts on top of hummus and top with feta, tomato, mushrooms, and olives, and tear basil over top.
5.      Lightly season and cut into quarters and serve.
DINNER: Raw Living Lasagna Ingredients (Serves 12):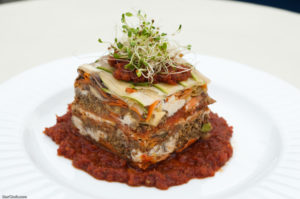 1½ large eggplants, thinly sliced, like pasta sheets
2 cups of cashew cheese (recipe below)
2 cups of raw tomato sauce (recipe below)
1½ cups of raw nut sausage (recipe below)
Carrot filling mix (recipe below)
9×13 baking/casserole dish
Assembly Instructions:
In the baking dish smear some tomato sauce on the bottom, just enough to barely cover base.
Make a layer of eggplant sheets and then top with a layer of vegan raw sausage, cashew cheese, carrot filling (rung out of any excess liquid), and finally a little more tomato sauce.
Add another layer of eggplant sheets and use a smaller pan to lightly compress and flatten the layers.
Repeat this process two more times and serve.
Tip: Make sure all items in lasagna have minimal liquid because all combined salts when pressed will cause this to leak at borders when stored.
Cashew Cheese Ingredients & Instructions:
2.5 lbs raw cashew nuts
Warm water
1 cup lemon juice
1 cup olive oil
4-5 cloves garlic
Salt and pepper

Raw Tomato Sauce Ingredients & Instructions:
2.5 lbs sun-dried tomatoes
Water
1 quart of fresh strawberries
2 cups fresh basil leaves
4-5 cloves garlic
1 cup olive oil
Salt and pepper
5 small Roma tomatoes
Vegan Raw Sausage Ingredients & Instructions:
1¼ lbs raw walnuts
1 tbsp garlic powder
1½ tbsp ground fennel seeds
2 cups of ground flax seed
Salt and pepper
¼ lemon, juiced
½ bunch fresh parsley
½ cup olive oil
1½ carrots, juiced, reserve pulp
1½ stalks of celery, juiced, reserve pulp
Raw Carrot Filling Ingredients & Instructions:
5 carrots, shredded
1 red peppers julienned
1 lb mushrooms, roughly chopped
1 medium fennel bulb, shredded
1 medium onion, shredded
¾ cup olive oil
⅜ cup red wine vinegar
1 garlic clove
1½ tbsp Herbs de Provence
Salt and pepper
Soak cashews in a container overnight. Once soft, strain and place them in a blender or food processor. Add lemon, olive oil, garlic, salt, and pepper and puree until smooth. If mixture is too dry, add water to achieve a smooth paste. Once ready, cover and leave out at room temperature to ferment for two days. Once ready, refrigerate immediately.


Take sun-dried tomatoes and add water to cover. Once reconstituted drain and place in a blender or food processor. Add strawberries, basil leaves, garlic, oil, salt, pepper, and whole Roma tomatoes. Puree into a smooth paste; if mixture is too thick add water at your discrepancy. Should taste just like marinara.


Ground the walnuts and mix in a bowl with garlic powder, ground fennel seed, and flax seed. Meanwhile, juice carrots and celery, and save the pulp. Add pulp and juice to the dry nut mixture, along with olive oil, lemon juice, and chopped parsley. Mix and adjust with salt and pepper; this should reach the consistency of Play-DOH. Shape the mixture into patties and place in a dehydrator at 115F for two days. Once ready, crumble and store in a cool place.



Shred carrots, fennel, and onion and place in a bowl. Add chopped mushrooms and julienne peppers and set aside. In a blender, blend on high the vinegar, garlic, and Herbs de Provence. Slowly add the olive oil until vinaigrette comes together. Add vinaigrette blend to shredded veggie mix. Toss with salt and pepper to taste. Allow to marinate chilled before use at least 2 hours.
Check out our other Wellness Week™ menus of recipes:
Most recent from Recipes