Wellness Week Menu Day 7: Green Valley Spa
---
This health and fitness-oriented spa is known for access to some of the best scenic hiking trails in the country, and has a spa cuisine program to match. Green Valley Spa in southwestern Utah prepares its healthy meals around the seasonal availability of vegetables, meats, and fruits.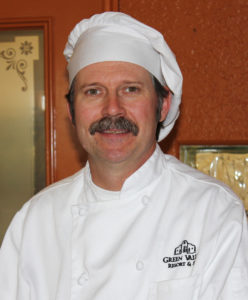 With a culinary philosophy based on the belief that food should not only taste great but be good for you too, Green Valley uses only traceable high-quality ingredients, usually from local farmers and producers. All herb mixes, as exemplified in the dinner recipe below, are custom blended and contain no added fillers or preservatives.
Green Valley Spa's chef, Frank Powell (right), has 25 years of experience combining classical culinary cuisine with a healthy twist. His extensive background includes a special proficiency in preparing seafood and wild game. After attending the Colorado Culinary Arts Institute, Chef Powell trained under fine chefs in Colorado and Utah including Chef Christopher Dejon of the Culinary Art Institutes of America.
Green Valley's knowledge of the fact that freshly harvested and prepared foods provide nutrient-rich fuel for the body, as well as savory satisfaction for the soul, ensures that the spa's guests not only feel better, lose more weight, and have more energy, but that they're not left wanting more, feeling deprived of calories and taste.
Give these healthy and tasty recipes a try before Wellness Week™ is over and let us know how you liked it!
BREAKFAST: Whole Grain Waffles Ingredients (Serves 20 – makes 20 4-inch square waffles):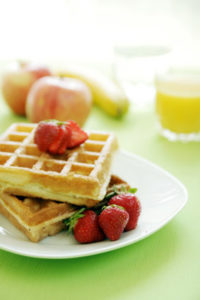 1 quart nonfat buttermilk
2 eggs, whole
⅓ cup honey
1½ cup rolled oats
1½ cup whole wheat flour
1¼ cup buckwheat flour
½ cup polenta cornmeal
2 tbsp baking powder
1 tbsp cinnamon
1 cup egg whites
Vegetable oil spray as needed

Instructions:
1.      Combine the buttermilk, whole eggs, and honey in a large bowl. Process the oats in a blender or processor until mealy.
2.      Combine the flours, rolled oats, polenta cornmeal, baking powder, and cinnamon in a separate bowl. Add the dry ingredients to the liquid ingredients and mix just until incorporated.
3.      Whip the egg whites to a soft peak and fold into the batter.
4.      Lightly spray a hot waffle iron with vegetable oil and ladle the batter into the waffle iron. Cook until the waffles are golden brown, about 3 minutes. Serve immediately.
Chef's tip: To keep waffle crisp, toss it back and forth between open-palmed hands.
Serving suggestions: serve waffles with fresh peaches, toasted pecans and maple syrup, or warmed fruit and yogurt.
Nutritional information per serving: 150 calories; 1.5 g fat (10% calories from fat); 7 g protein; 27 g carbohydrate; 25 mg cholesterol; 200 mg sodium
LUNCH: Soba Noodle Salad Ingredients (Serves 12):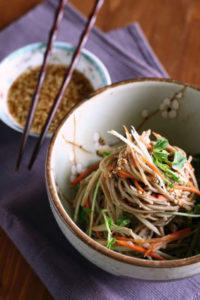 ½ cup apple juice, frozen concentrate
½ cup rice vinegar
1 tsp ginger root, peeled and minced
1 pinch cayenne pepper
⅛ tsp black pepper, freshly ground
½ tbsp sesame seeds
1 clove garlic, minced
8 oz. soba noodles
¼ cup almonds, slivered
½ cup red bell pepper, julienned
½ cup water chestnuts, sliced
1 head napa cabbage, shredded
½ cup green onions, chopped
½ cup celery, julienned
Instructions:
1.      For the dressing: mix together apple juice, rice vinegar, ginger, cayenne pepper, black pepper sesame seeds, and garlic and set aside.
2.      Cook noodles according to package instructions. Drain and transfer noodles to a large bowl. Roast almonds in baking dish sprayed with non-stick cooking spray at 400°F, tossing frequently, about every 3 minutes.
3.      Put cabbage, water chestnuts, onion, celery, red bell peppers and almonds in a bowl with noodles and pour dressing over. Toss and refrigerate.
Chef's tip: Do not overcook the soba noodles – they will break up.
Nutritional information per serving: 108 calories; 2g fat (13% calories from fat); 4g protein; 22 g carbohydrate; 0 mg cholesterol; 158 mg sodium
DINNER: Tuna with Hoisin and Sesame Seeds Ingredients (Serves 4):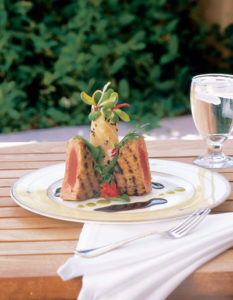 4 4-oz servings Albacore Tuna
1 cup hoisin sauce
¼ cup light soy sauce
2 cloves garlic
1 tsp Dijon mustard
¼ tsp fennel seeds
¼ tsp mustard seeds
¼ tsp coriander seeds
¼ tsp black peppercorns
4 tbsp sesame seeds
1 tbsp black sesame seeds
Instructions:
1.      Blend hoisin sauce, soy sauce, garlic, and mustard well in the blender. Add marinade and tuna to a Ziplock bag.
2.      Marinate in the refrigerator for 4 hours or overnight (turn several times).
3.      Toast fennel seeds, mustard seeds, coriander seeds, and black peppercorns over a hot burner, stirring frequently until fragrant. Grind the toasted spices in a spice grinder. Combine the regular and black sesame seeds and add sesame mixture to spice mixture.
4.      Dip each side of the marinated tuna into the seed/spice mixture. Spray pan with non-stick spray and cook over medium heat until medium rare.
Chef's tip: Toast and grind spices fresh each time you make this recipe to maximize flavor.
Nutritional information per serving: 198 calories; 6 g fat (23% calories from fat); 9 g carbohydrate; 27 g protein; 50 mg cholesterol; 430 mg sodium
Check out the other Wellness Week™ menus of recipes:
Most recent from Recipes