Wellness Week Menu of Recipes Day 4: Canyon Ranch Miami
---
The chefs and nutritionists at Canyon Ranch Hotel & Spa in Miami Beach work together to make sure guests are eating healthy and satisfying cuisine. Also, the renowned hotel and spa recently created a new menu focused on seasonal dishes sourced with local organic and biodynamic ingredients.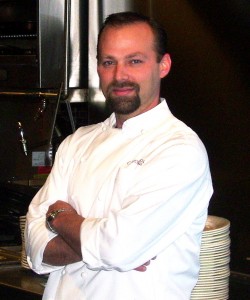 Along with this new focus came the hotel and spa's new executive chef, Giovanni Arias, who blends his taste for bold flavors and passion for experimentation with Canyon Ranch's savory award-winning cuisine. Considered a "flavor genius," Chef Arias melds Latin and Caribbean profiles with French and Asian cooking techniques to transform his dishes.
For Wellness Week™, Canyon Ranch shared three healthy recipes. The Alpine Muesli offers a balance of protein, carbohydrates, and fat, keeping you full and satisfied longer, while the Seared Salmon Salad is rich in omega-3 fatty acids, which help to lower inflammation and optimize cholesterol levels. And, eating brown rice with the Red Vegetable Curry helps to bind toxins, which aids in detox.
Get cooking and be sure to check out Canyon Ranch Miami's Wellness Week™ deals if you're in the area!
BREAKFAST: Alpine Muesli Ingredients (Serves 8):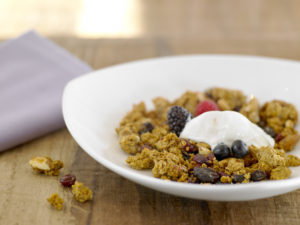 1 ¼ cups uncooked quick-cooking oats
⅔ cup 2% milk
⅔ cup nonfat plain yogurt
1 teaspoon pure vanilla extract
⅔ cup fresh orange juice
1 cup chopped almonds
¼ cup honey
1½ cups peeled and grated red apples
3 cups finely chopped mixed fresh fruit such as peaches, pears, and strawberries
Instructions:
1.      In a large bowl, combine oats, milk, yogurt, and vanilla. Let sit for 5 minutes to soften oats.
2.      In a small bowl, combine orange juice, chopped nuts, and honey. Grate apple and immediately add to orange juice mixture. Add remaining fruit. Stir into yogurt mixture and mix well. Serve chilled.
Nutritional information per 1 cup serving: 290 calories; 10 g fat; 45 g carbohydrate; 2 mg cholesterol; 8 g protein; 148 mg sodium; 6g fiber.
LUNCH: Seared Salmon Salad Ingredients (Serves 4):
For the Salad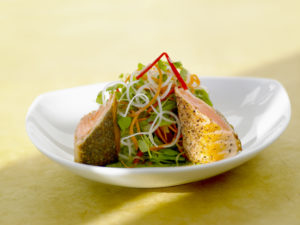 ½ cup julienned carrots
½ cup julienned cucumbers
½ cup julienned jicama
½ cup fresh pea shoots
¼ cup julienned red bell peppers
¼ cup julienned Daikon radishes
4 4-oz. salmon fillets
For the Horseradish Pea Sauce
½ cup fresh shelled peas                  ⅔ cup fresh baby spinach
1 tbsp fresh grated horseradish      ¼ tsp sea salt
1 tbsp canola oil                                  1 tsp fresh lemon juice
Instructions:
1.      In a large bowl, toss together carrots, cucumbers, bell peppers, radishes, jicama, and pea shoots.
2.      Preheat grill or broiler. Grill or broil salmon fillets 3 to 5 minutes on each side or until fish is cooked through.
3.      Combine all ingredients for Horseradish Pea Sauce in a food processor and puree until smooth. Add a small amount of water if necessary to increase smoothness.
4.      Evenly divide vegetable mixture into 4 bowls. Top with 1 salmon fillet and 2 tablespoons Horseradish Pea Sauce. Sprinkle each serving with a pinch of sea salt and ¼ teaspoon lemon juice.
Chef's note: Prepared horseradish can be substituted for fresh-grated horseradish.
Nutritional information per serving: 230 calories; 9 g carbohydrate; 12 g fat; 54 mg cholesterol; 21 g protein; 236 mg sodium; 4 g fiber.
DINNER: Red Curry Vegetables with Coconut Sauce Ingredients (Serves 4):
For the Vegetables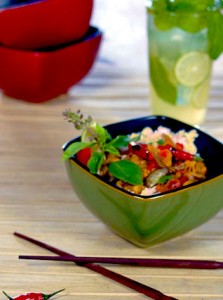 1 cup diced zucchini
1 cup diced yellow squash
½ cup diced yellow or red bell peppers
1 cup diced fresh pineapple
¾ cup seedless red grapes, cut in half
1 cup edamame kernels
For the Coconut Sauce
1 14-oz. can light coconut milk
1 cup water
2 tbsp low-sodium tamari sauce
2 tbsp evaporated cane sugar
3 tbsp fresh lime juice
¼ cup Thai red curry paste (recipe below)
4 Kaffir leaves
1⅓ cups cooked brown rice
½ cup toasted pistachios, chopped
For the Thai Red Curry Paste
1 medium red bell pepper, roasted                            1 tbsp chopped ginger
1 jalapeno pepper, roasted                                          1 tbsp minced cilantro stems
1 Thai chili, diced                                                            2 garlic cloves
1 green chili, roasted                                                     1 tbsp fresh lime juice
1 tbsp grated lime peel                                                  1 tsp sea salt
1 tbsp ground coriander seed                                     1 tbsp chopped lemon grass
Instructions:
1.      In a large bowl, toss together zucchini, squash, bell peppers, pineapple, grapes and edamame.
2.      In a medium bowl, mix together all ingredients for Coconut Sauce.  Set aside.
3.      Combine all ingredients for the Thai red curry paste in a blender container and puree until smooth. Store unused paste in an airtight container in the refrigerator.
4.      In a large sauté pan, over low heat, sauté ¼ cup Thai red curry paste until slightly caramelized. Add vegetable mixture and sauté until vegetables are slightly cooked.
5.      Increase heat to high and add coconut sauce and kaffir leaves. Bring to a boil, then reduce to a simmer, and continue simmering until reduced by half.
6.      Place ⅓ cup brown rice in the bottom of each of 4 bowls. Evenly divide vegetables and sauce into each bowl. Top each serving with 2 tablespoons toasted pistachios.
Nutritional information per serving: 490 calories; 68 g carbohydrate; 15 g fat; 0 mg cholesterol; 16 g protein; 659 mg sodium; 8 g fiber.
Check out our other Wellness Week™ menus of recipes:
Most recent from Recipes