Wellness Week Menu of Recipes Day 5: The Lodge at Sonoma
---
Located in beautiful Sonoma, California, The Lodge at Sonoma Renaissance Resort & Spa blends urban cuisine with a wine country setting. The getaway spa's Carneros Bistro & Wine Bar presents a thoroughly modern menu celebrating the best of fresh, seasonal, local ingredients sourced directly from small local farmers, foragers, and winemakers, or the 480-square-foot garden just outside the restaurant's doors.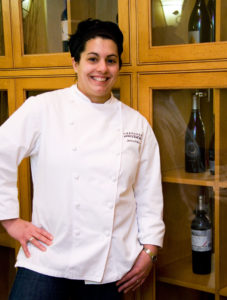 Behind the menu is Chef Janine Falvo, whose signature dishes highlight the distinct flavors and rich tastes of Northern California's wine country and complement the restaurant's extensive Sonoma County wine list. Chef Falvo's passion for food stems from a family deeply rooted in culinary tradition, which can be seen in the lunch recipe she graciously shared with us for Wellness Week™; her own grandmother's minestra soup. Made every single day by her grandmother, the soup would have slight variations according to season.
"In the summer when green beans were growing in the garden, she would make the same minestra with potatoes and green beans," Chef Falvo tells us. "During the winter she would use mustard greens, collard greens, or kale. The dish always had a variety of greens, typically one bitter green and one or two sweeter greens. Sometimes spicy sausage was added."
We know what we're making this weekend! Let us know if you give any of these recipes a try and what you put in Chef Falvo's Grandma's Minestra!
BREAKFAST: Healthy Egg White Burrito (Serves 2):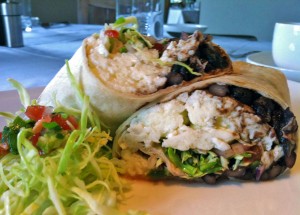 1 tbsp canola oil
4 egg whites, whipped with a fork
2 grilled chicken legs and 2 thighs, meat removed
1 cup black beans, cooked
2 large flour tortillas
1 tbsp sour cream
½ cup pico de gallo
¼ cup queso fresco, shredded
1 avocado, sliced
1 tbsp fresh cilantro leaves, sliced
½ lime, juiced
Instructions:
1. In a pan over medium heat, warm the beans and grilled chicken meat. Both can be combined to save time and a pan.
2. Preheat oven to 400°F. Meanwhile, in a non-stick pan, heat the canola oil over medium heat. When the oil is thin, add egg whites and stir with a rubber spatula. Season with salt and pepper.
3. Warm tortillas in the oven for 3 minutes.
4. Remove warm tortilla, spread sour cream on tortilla, add egg whites, chicken, beans, pico de gallo, queso fresco, sliced avocado, and cilantro. Squeeze lime on burrito stuffing. Roll burrito by folding sides in first and then roll lengthwise, and enjoy with corn salad, mixed greens, or tomatoes.
LUNCH: Grandma's Minestra Ingredients (Serves 6):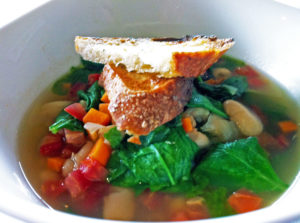 ¼ cup olive oil
2 cups cannellini beans, dry
6 cups vegetable stock
3 cloves garlic, minced
¼ cup salt
¼ cup olive oil
4 cloves garlic, minced
1 bunch escarole, washed, cut in small pieces
1 bunch dandelions, washed, cut into small pieces
1 bunch Swiss chard, washed, cut into small pieces
2 quarts chicken stock or vegetable stock
Salt and pepper to taste
Instructions:
1.      Pre-soak cannellini beans for at least 8 hours. Once soaked, strain beans and set aside.
2.      In a large pot, heat olive oil, add garlic, beans, stock, and salt over medium heat. Cook until beans are softened. Once beans are soft remove from flame, strain, and set aside.
3.      Heat a separate pot over medium heat. Add olive oil and minced garlic, sauté lightly. Add beans and greens. As greens are cooking, lightly smash the beans for a coarse puree. Add 2 quarts stock and simmer until greens are tender. Season with salt and pepper.
Variations: See introduction.

DINNER: Grilled Ahi Tuna with Garbanzo Salad Ingredients (Serves 4):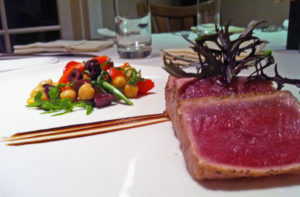 4-6 oz. tuna steaks
3 cups cooked garbanzo beans
2 red peppers, roasted, peeled, and diced
1 red onion, diced
1 cup kalamata olives, sliced
3 cloves garlic
6 large basil leaves, chiffonade
¼ cup minced parsley
½ cup balsamic vinegar
¼ cup extra virgin olive oil
Salt and pepper to taste

Instructions:
1.      In a small sauce pot, add oil and garlic cloves and simmer until garlic is soft.
2.      In a large bowl, combine garbanzo beans, peppers, onions, olives. Add balsamic vinegar, herbs, and olive oil with garlic cloves. Season with salt and pepper. Tip: Salad can be made a day ahead.
3.   Preheat grill, oil tuna and season with salt and pepper. Sear tuna on all sides. Serve over garbanzo salad. If cooking in a pan, heat oil over high heat until almost smoking. Place fish in the pan and sear until colored on one side. Flip and sear other side until colored. Chef's suggestion: Pair this with a Pinot Noir or Syrah.
Check out our other Wellness Week™ menus of recipes:
Most recent from Recipes