Wellness Week Menu of Recipes Day 6: COMO Shambhala
---
Inspired by the living foods tradition, COMO Shambhala Estate's cuisine keeps it simple and healthy, attempting to minimize cooking methods in order to help maintain all that nutritional goodness of the original ingredients. This allows guests to benefit from the 'life force' of specific foods, which in their raw state are rich with enzymes, essential vitamins, and minerals.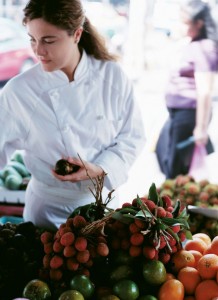 The premiere getaway spa operates with a vision encompassing healthy eating, exercise, and self-development with various inspirational locations worldwide. Wherever possible, ingredients are sourced locally and organically, and delivered from farm to table for optimal freshness. COMO Shambhala Cuisine also actively accommodates food intolerances and diabetics.
Executive chef of COMO Hotels and Resorts, Amanda Gale (left), is primarily based at the COMO Shambhala Estate in Bali, the center of COMO Shambhala philosophy with its cuisine that optimizes both taste and nutrition using organic ingredients. Originally from Australia, she trained with Neil Perry at a number of his Sydney restaurants, including the famed Rockpool Restaurant. Chef Gale oversees COMO Shambhala cuisine at all COMO properties in Bali, Bhutan, London, Bangkok, the Maldives, and Turks and Caicos (Parrot Cay). COMO Shambhala cuisine reflects local produce and regional flavors with Chef Gale's menus influenced by styles from Indonesia, Bhutan, Southern and Northern India, the Maldives, the Caribbean, South America, and Thailand.
COMO Shambhala and Chef Gale make a delectable art out of eating well and are sharing the wealth. Try these healthy and toothsome recipes that will make you feel as good as they look.
BREAKFAST: Healthy Muffins Ingredients: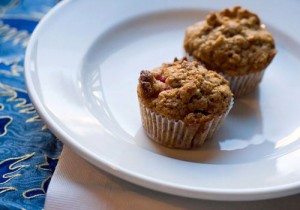 2 cups whole wheat flour
3 eggs
½ cup brown sugar
1 tsp cinnamon
1 ½ cups raw bran/wheat germ
1 ½ cups rolled oats
¼ cup canola oil
¼ cup applesauce
½ cup honey
2 cups rice or soy milk
1 tbsp baking powder
1 tsp sea salt
1 cup carrot juice
2 apples, shredded
2 bananas, mashed
1 cup chopped pecans
1 cup raisins
1 cup dried cranberries
Instructions:
1.      Preheat oven to 400°F and grease and flour muffin tin.
2.      Lightly whisk the eggs in a large bowl. In a separate bowl, mix together the sugar, flour, bran, oats, baking powder, salt, and cinnamon, and slowly add to the egg mix.
3.      Add the rest of the ingredients, and fold in the chopped pecans, raisins, and dried cranberries. Mix until combined.
4.      Spoon batter into muffin tin, and bake 18-20 minutes or until a toothpick inserted into a muffin comes out clean. Cool on a wire rack.
LUNCH: Zucchini Carpaccio with Crab, Pine Nuts, Chili, and Mint Salad Ingredients (Serves 4):
1 8-inch-long medium to large zucchini, sliced on the mandolin into 40 ⅛-inch thick, 4-inch-long ribbons
Lemon dressing (see below)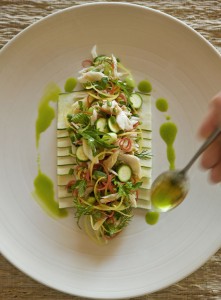 3 baby zucchinis, sliced into rounds and blanched.
1 cup of picked crab meat
4 green onions, chopped
1 cup mix of watercress, mizuna, mint, and dill
1 tsp chopped, preserved lemon
2 tbsp fresh soy beans, podded
8 slices of fennel, shaved on the mandolin
1 tbsp pine nuts, toasted
1 red chili, split, de-seeded, and finely julienned
For the Lemon Dressing
½ cup plus 2 tbsp lemon juice
1 tbsp lemon zest
6 tbsp sugar or stevia
50 ml (1/5 cup) white wine vinegar
½ cup plus 2 tbsp extra virgin olive oil
50 ml (1/5 cup) water
Instructions:
1.      For the dressing: Reduce the lemon juice, zest, and sugar in a pan to approximately 1 cup. Pour reduction into a bowl and whisk in the vinegar, oil, and water, then season with salt and pepper.
2.      To assemble: Lightly dress the zucchini ribbon, then lay the slices down on 4 plates, overlapping them as pictured.
3.      In a bowl, place all other ingredients except the red chili and the pine nuts. Dress the salad ingredients and season with salt and pepper.
4.      Divide into 4 portions and spoon each portion down the middle of the zucchini carpaccio.
5.      Garnish with the pine nuts and red chili.
DINNER APPETIZER: Prawn, Fennel, and Baby Carrot Salad with Chickpea Puree and Orange Blossom Dressing Ingredients (Serves 1):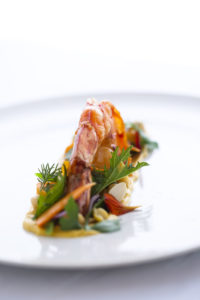 2 Tiger prawns, poached
3 pieces baby green beans, blanched, and bias-cut
3 black olives, pitted
3-5 cooked chickpeas
1 baby carrot, steamed
½ baby carrot, cut into ribbons
A couple pieces of shaved fennel
4 picked pieces parsley and dill
4 slices red onion
1 tbsp chickpea puree (see below)
4 tsp orange dressing (see below)
Chickpea Puree (Makes 1½ cups, approx. 20 portions)
10.5-oz. can chickpeas, or fresh cooked
½ cup cooked carrots
1-2 cloves of garlic
2½ tsp tahini paste
1 tbsp olive oil
2 tsp lemon juice
Salt and pepper to taste

For the Orange Blossom Dressing (Makes ⅔ cup, approx. 8 portions)
6 oranges, juiced and strained                                     1 tbsp orange blossom water
1 tbsp palm sugar                                                            2 tbsp extra virgin olive oil
2 tbsp apple cider vinegar                                              Salt and pepper to taste
Instructions:
1.      For the chickpea puree: Blend all ingredients except the olive oil. Gradually pour olive oil into the mix and season with salt and pepper.
2.      For the dressing: Combine juice of orange and palm sugar in a sauce pan over medium heat and reduce down by to ¼. Whisk in olive oil, orange blossom water and apple cider vinegar. Season with salt and pepper to taste.
3.      In a small bowl, lightly toss green beans, chickpeas, baby carrot ribbons, shaved fennel, parsley, dill, and red onion slices together.
4.      To assemble appetizer, spoon 1 tablespoon of the chickpea puree onto a plate. Lay salad mixture on the puree then place cooked baby carrot and 2 poached prawns on top of salad. Drizzle 4 teaspoons orange blossom dressing over the top and serve.
Check out the other five days of Wellness Week™ menus of recipes:
Most recent from Recipes