Wellness Week Recipe #1: Winter Citrus Salad
---
This delicious recipe from Chef Jeff Huntzinger at French Manor Inn and Spa in Sterling, Pennsylvania, satisfies a wide range of palettes with its sweet, tart and savory flavor profiles.
Full of winter citrus, baby arugula, toasted pistachios, dried figs and feta cheese, this salad is tossed in a tulip poplar honey and kaffir lime vinaigrette. We love the use of grapeseed oil since it's high in polyunsaturated omega-6 fats, which is believed to reduce bad cholesterol in the arteries. We're also huge fans of figs, which are a good source of potassium, a mineral that helps to control blood pressure. A little-known, but interesting fact: Fig leaves are also edible and have been shown to have antidiabetic properties, helping to lower the amount of insulin needed by diabetics who require insulin injections.
Wi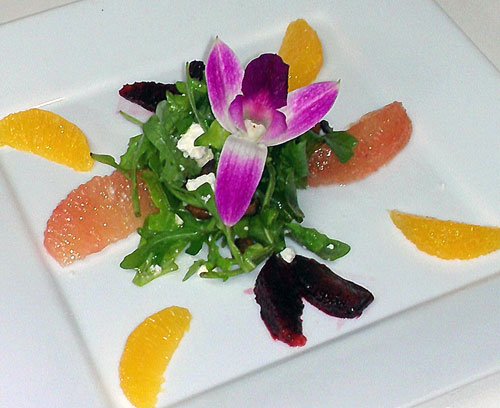 nter Citrus Salad (Serves 3)
Ingredients:
1 blood orange
1 navel orange
1 grapefruit
4 cups arugula
½ cup dried figs, sliced
⅛ cup pistachios
⅛ cup feta cheese
For the Tulip Poplar Honey and Kaffir Lime Vinaigrette:

1 tbsp grapeseed oil
1 tsp rice wine vinegar
Pinch salt and white pepper
½ tbsp tulip poplar honey (or your favorite honey)
1 kaffir lime, juiced
Instructions:
Peel and section the blood orange, navel orange and grapefruit. Remove the outer skin or keep it on if you'd like.
Artfully arrange 4 slices of the blood orange and navel orange on each plate, and 2 slices of grapefruit.
To make the vinaigrette, combine the ingredients and toss into the arugula, dried figs, pistachios and cheese.
Divide tossed mixture into three portions, plate and enjoy.
Nutrition information per serving: 186 calories | 7.5 g fat (mostly from the grapeseed oil, which is primarily polyunsaturated fats)
French Manor Inn and Spa is participating in Wellness Week 2012! Wellness Week, March 19-25, is your chance to look and feel your best with exclusive spa treatments, private training and more, all at $50 prices or 50% discounts. Learn more on Wellness Week 2012.
Most recent from Recipes