Wellness Week Recipe #2: Peak Performance Udon Bowl with Sweet Chili Mushroom Broth & Asian Vegetables
---
This udon bowl recipe comes straight from the Peak Performance Menu at Crystal Mountain Resort & Spa in Thompsonville, Michigan, which by design, supports the belief that an optimal meal plan provides energy balance utilizing gently cooked, minimally processed natural foods, served in appropriate portions.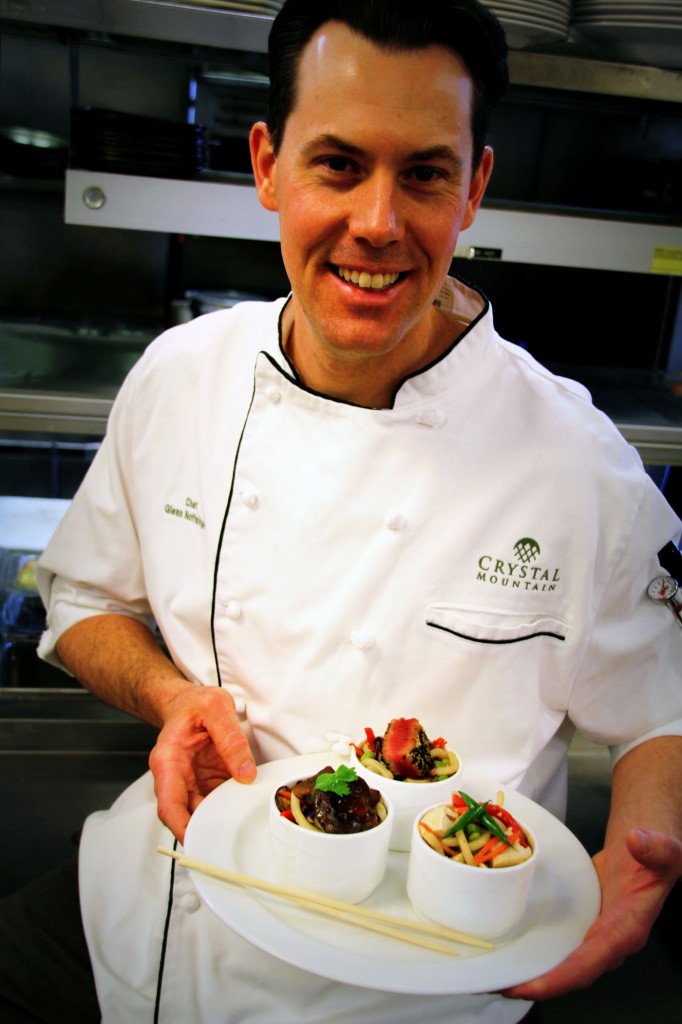 All dishes on the menu, including this udon bowl by Executive Sous Chef Glenn Noffsinger, are characteristically nutrient-dense but calorie-light, and emphasize vegetables, fruits, herbs and spices, whole grains, beans and peas (legumes) and starchy vegetables, along with modest amounts of lean meats, fish, low fat dairy, soy, nuts and seeds.  The menu is also rich in essential vitamins, minerals, beneficial phytonutrients and antioxidants with a healthy balance of omega-3 and omega-6 essential fatty acids, complex carbohydrates and protein.
We love that this recipe can be adapted to virtually any dietary guidelines simply by varying the ingredients.
Try these substitution suggestions from Chef Noffsinger:
Rice noodles and wheat free soy sauce can be used for gluten-free applications.
Soy sauce can be completely omitted for a low-sodium version.
Topping the udon bowl with a 4-oz. piece of seared tuna or salmon makes for a nice presentation and hibachi grilled chicken and shrimp offer even more options.
And here's a bonus to note: This recipe contains no oil and instead, gently cooks vegetables and noodles in an aromatic broth, a method that falls in line with the spa's Peak Performance Menu philosophies. Also driven by health and wellness, Noffsinger's approach as a chef combines a balance between personal health and environmental sustainability. He comes to food by thoughtful design, incorporating as many locally-grown, in-season, whole foods as possible into each dish.
Give this warming and relaxing noodle soup a try and let us know what you think!
Crystal Mountain Resort & Spa: Peak Performance Udon Bowl with Sweet Chili Mushroom Broth and Asian Vegetables (Serves 2)
Ingredients: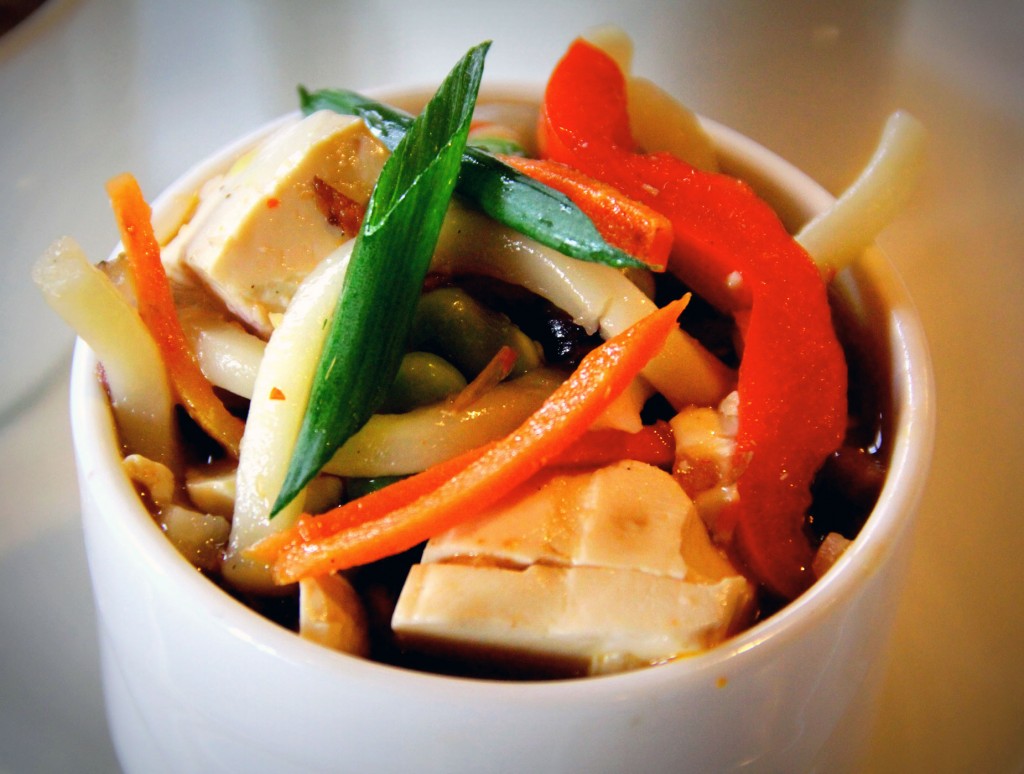 1 oz. dried Asian mushroom blend
2 cups hot tap water
½ tbsp light soy sauce
1 tbsp Mae Ploy Sweet Chili Sauce
8-oz. package ready-to-use udon noodles
6 oz. tofu, cut into cubes
1 tsp fresh minced garlic
1 tsp fresh minced ginger
¼ cup sugar snap pea pods
¼ cup julienned carrots
¼ cup julienned red onion
¼ cup julienned red bell pepper
¼ cup edamame (shelled soy beans found in the grocers frozen section)
Instructions:
Reconstitute the dried Asian mushroom blend by immersing mushrooms completely in hot tap water and covering with a lid or saran wrap for 30 minutes to an hour. During this soaking period, peel and julienne the vegetables and mince the garlic and ginger by using a garlic press or mortar and pestle.
Strain off mushroom broth and reserve liquid.
Slice the mushrooms ⅛-inch thick.
Add light soy and sweet chili sauce to the broth and stir the ingredients together.
In a medium sized sauce pan, heat the mushroom broth and reconstituted, sliced mushrooms to a simmer over medium-high heat.
Add the minced garlic and the minced ginger and cook for one minute.
Add the julienned carrots, red onion and red bell pepper. Simmer the vegetables for one minute. At this point the vegetables should be bright and colorful while slightly tender.
Add the udon noodles, cubed tofu, sugar snap pea pods and edamame. Stir gently and return to a simmer, cooking for an additional two minutes. Serve in an attractive bowl with bamboo chopsticks.
Nutritional information per serving: 169 calories | 1.7 grams fat |15.2 grams protein | 26 grams carbohydrates | 270 mg sodium
Crystal Mountain Resort & Spa is participating in Wellness Week 2012! Wellness Week, March 19-25, is your chance to look and feel your best with exclusive spa treatments, private training and more, all at $50 prices or 50% discounts. Learn more on Wellness Week 2012.
Most recent from Recipes