Wellness Week Recipe #3: Miso Salmon Salad
---
"Healthy eating is not about deprivation, but really about making better choices and learning how to moderate," says Executive Chef Steve Sicinksi of Topnotch Resort and Spa, Stowe, Vermont. "Rich and decadent ingredients should be limited as treats, not staples, and portions should be controlled considering as a culture, we tend to overeat and base value on portion rather than the quality of a dish."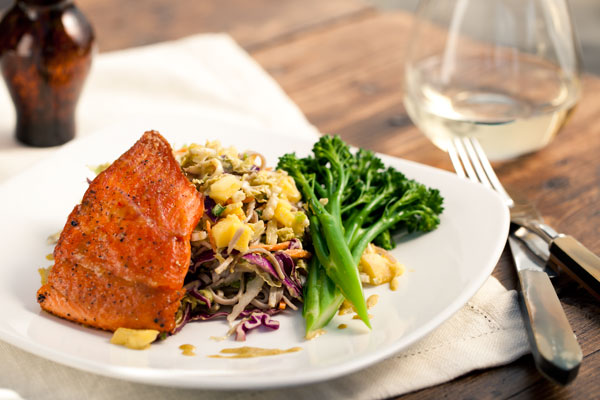 In line with Chef Sicinksi's food philosophy of subtle sophistication through transforming simple and easy-to-work with ingredients into big flavors through ingredient selection, time and understanding, we love how this recipe takes a variety of healthy and wholesome ingredients to make one harmonious dish.
Besides being uniquely delicious, the peppery bite of fresh watercress also comes with plenty of beta-carotene. The small intestine converts beta-carotene  to vitamin A, a nutrient vital to growth and development. Not only can vitamin A contribute to vision health, it also helps with bone development, healthy skin and mucous membranes, like the ones that line the nose and mouth, aids cell regeneration and helps to regulate the immune system.
And, believe it or not, buckwheat is actually a fruit even though it's often categorized and used as a grain. Because of this, it is safe for gluten-free eaters. Buckwheat is said to be good for your cardiovascular system; diets that contain buckwheat have been linked to lowered risk of developing high cholesterol and high blood pressure.
Chef Tip: For this recipe, making sure the pan gets really hot before adding the fish will ensure you develop a nice crust on the salmon, giving you that awesome crispy to moist and tender texture contrast that is so pleasing.
Topnotch Resort and Spa: Miso Salmon Salad (Serves 4)

Ingredients:
4 5-oz. salmon filets
2 cups cooked buckwheat (soba) noodles
1 bunch watercress
2 cups julienned napa cabbage
1 cup shredded or julienned carrots
1 ripe mango, peeled and diced
1 cup broccoli, slightly blanched if desired
4 oz. ginger lime vinaigrette (recipe below)
2 oz. miso marinade (recipe below)
1 tbsp canola oil
For Miso Marinade:
3 cloves garlic-
½ small onion
¼ cup tamaria or soy sauce
½ cup miso paste
¼ cup seasoned rice wine vinegar
1 tbsp Sriracha or hot sauce
1 tbsp mustard
¼ cup sweet chili sauce
2 cups oil or thickened water
For Ginger Lime Vinaigrette:
Zest and juice of 3 limes
1 clove garlic
8 green onions
½ bunch cilantro-
3 oz. peeled fresh ginger-
1 tbsp mustard
½ mango or ½ cup mango puree
Salt and pepper
2½ cups canola oil or thickened water
Instructions:
For the miso marinade: Blend all ingredients except oil. Slowly add oil in blender to emulsify. Set aside.
For the ginger lime vinaigrette: Blend everything except oil. Slowly add oil to emulsify.
Preheat oven to 400°F.  Heat oil in large sauté pan over high heat and sear salmon filets on both sides. Place in oven for approximately 6 minutes.
Remove salmon filets, coat with miso marinade, put back in oven 30 seconds, remove and rest 2 minutes.
In large bowl combine cold ingredients with dressing and toss, evenly distribute between 4 plates.
Top with warm salmon filet. Serve and enjoy!

Nutrition information per serving: 330 calories | 9 g fat | 33 g protein | 35 g carbohydrate
Topnotch Resort and Spa is participating in Wellness Week 2012! Wellness Week, March 19-25, is your chance to look and feel your best with exclusive spa treatments, private training and more, all at $50 prices or 50% discounts. Learn more on Wellness Week 2012.
Most recent from Recipes