Wellness Week Recipe #4: Citrus-Scented Angel Food Cake
---
While bundt cakes sometimes make us think of baking in the '60s, we think the fancifully shaped dessert cakes are here to stay. And, with all of this warm weather we've been having lately in New York City, a light and fluffy bundt cake with the refreshing zest of orange sounds like a delicious dessert to us!
Made by La Costa Resort & Spas's Pastry Chef Jaimie Hileman in Carlsbad, California, this almost-no-fat recipe for angel food cake uses simple ingredients, plus, it's fairly easy to make – a win-win!
And even though it's just a little bit of orange zest, did you know that more health-promoting phytonutrients are found in the peel and inner white pulp of the orange than in the actual orange itself?
We suggest trying to use organic oranges for the orange zest to avoid the pesticides and herbicides used on conventionally grown oranges. And, since organic oranges are not covered with a wax coating (used on conventionally grown oranges to improve appearance and increase shelf life), you'll also be avoiding wax in your zest.
Also, vanilla paste is used because it's made of pure vanilla with natural vanilla bean seeds and is of higher quality than vanilla extract, Pastry Chef Hileman says. In addition, she recommends using granulated sugar instead of the usual confectioner's sugar seen in other recipes because it builds structure of egg whites.
La Costa Resort & Spa: Citrus-Scented Angel Food Cake ( Makes 1 bundt cake, serves 8 )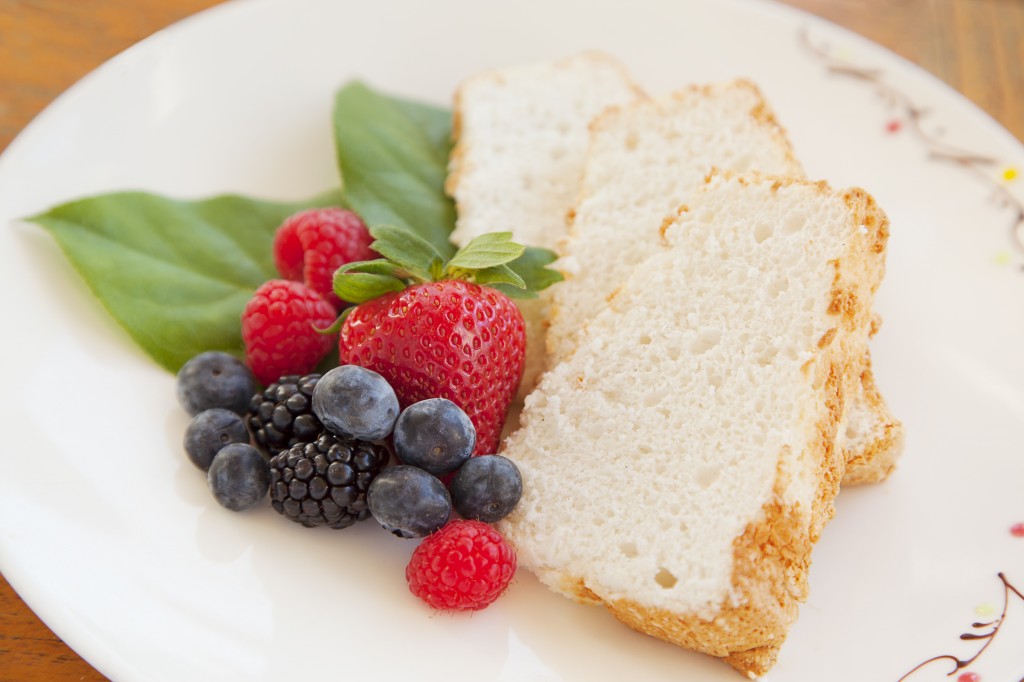 Ingredients:
1 cup cake flour
½ cup sugar
1 tsp orange zest
7 egg whites
2 tbsp  water
1½ tsp cream of tartar
1 tsp vanilla paste
½ tsp salt
½ tsp lemon extract
1 cup sugar
Instructions:
Sift cake flour and first amount of sugar three times. Add zest making sure it doesn't clump.
On medium speed, whisk egg whites, water, cream of tartar, vanilla, salt and lemon extract, adding the second amount of sugar gradually. Whisk until whites are full and firm, but not dry. Transfer whites to large bowl.
Fold flour mixture into whites in 4 stages being extremely gentle.
Bake at 325°F in an ungreased bundt pan until top is golden, and all visible batter looks dry, approximately 30–35 minutes.
Remove from oven and invert pan until completely cool.
Nutrition information per serving: 225 calories | .13 g fat | 0mg cholesterol | 198 mg sodium | 51 g carbohydrate | .25 g dietary fiber | 40 g sugar | 28g protein
Note: Calorie count is slightly higher due to larger serving size – most angel food cake recipes refer to a smaller serving size. To reduce the calorie intake, simply make your slices a little smaller.

Most recent from Recipes