Wellness Week Recipe #6: Bucatini Pasta with Wild Mushrooms, Black Garlic & Lemon Zest
---
Have you ever tried bucatini pasta? We did for the first time about a year ago and fell in love with the unique, thick spaghetti-like pasta with a hole running through the center (also labeled as perciatelli). We're also huge fans of fiber-rich whole wheat pasta, which this recipe by Chef de Cuisine Erik Schuster at The Langham Huntington, Pasadena in Pasadena, California, calls for. And, if you buy 100 percent whole wheat products, you'll reap the benefits of magnesium, a mineral that can play a role in substantially lowering your Type 2 diabetes risk. Not to mention, it's great for gastrointestinal health and women's health.
As for the black garlic – we were first introduced to this unusually tasty food  last year at Nita Lake Lodge in Whistler, BC, and we're hooked now. Never heard of it? Basically, it's fermented garlic; since garlic contains sugars and amino acids, when the garlic ferments, melanoidin is produced, making the garlic dark, pasty, sweet and a little bit sour. Black garlic can also reduce cholesterol and has twice the amount of antioxidants as fresh garlic, Huntington Spa says. You can find it at Whole Foods, online or at most specialty stores.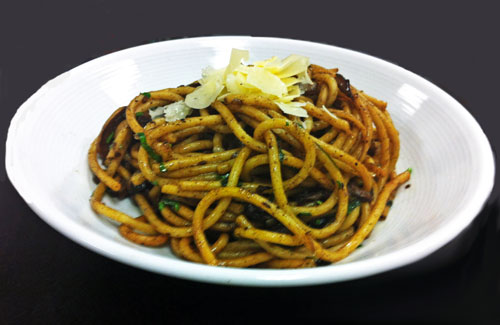 Bucatini Pasta with Wild Mushrooms, Black Garlic & Lemon Zest (Serves 1)
Ingredients:
2 oz. of bucatini whole wheat spaghetti
½ oz. peeled black garlic, sliced
½ oz. minced peeled shallots
1 tsp lemon zest
1 tbsp lemon juice
2 oz. Crimini mushrooms
½ tsp of chili flakes, optional
1 tsp minced parsley
1 tsp of minced fresh tarragon
1 tsp of minced fresh chives

Instructions:
Cook the bucatini pasta according to the instructions on the packet.
Once cooked, drain thoroughly and set aside.
In the same pan over medium heat, steam the black garlic, shallots, mushrooms and chili flakes (if using).  Stir.
Quickly toss in the Buccatini and mix together.
Season with salt, black pepper, herbs, lemon zest and juice.
And, if you don't mind a little cheese, feel free to sprinkle some on top of the dish!
Nutritional information per serving (without Parmesan cheese): 261 calories | 12.6 g fat | 0 mg cholesterol | 19 mg sodium |54 g carbohydrates | 3 g dietary fiber | 10 g protein