Beauty To-Go: Braid Bars
Published: Thursday, August 16th 2012
in Beauty
---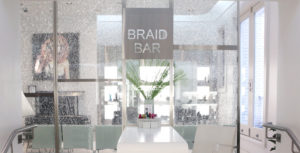 Braids have come a long way since play dates and Pippi Longstocking. In fact, braids are now so haute couture, they've appeared as nearly every A-list starlet's red-carpet hairstyle at least once. While most of us are pros at the three-strand braid of our schooldays, styles have gotten way more intricate over time, leaving most of us just staring in envy at the girls that can rock a fishtail or milkmaid look with effortless style. But our days of jealous glares are over with the newest beauty to-go trend at a salon near you – braid bars (perfect for back-to-school, too!).
Maxine Salon, 712 N. Rush St. Chicago, IL
Chicago's Maxine Salon Braid Bar lets girls experience custom braids for $30 and up. "Braids stylishly work for any occasion, from simply going to the gym, to taking a vacation, to an evening out," touts Maxine's. Make an appointment and show up with freshly dried hair, and in less than 30 minutes, you will look as hot as your favorite braided celeb!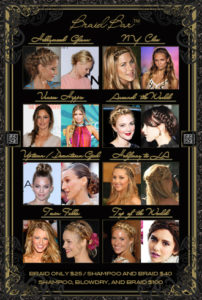 Nine Zero One Salon, 901 Westbourne Drive, West Hollywood, CA
The Hollywood go-to salon for celebs like Demi Lovato and Selena Gomez (just to name a few) Nine Zero One Braid Bar offers braids in styles like Hollywood Glam, NY Chic, Around the World and more, for just $25! For a shampoo, blow dry and braid, it will cost $100.
The Ivy Salon, Eastside Greenville 3728 Pelham Road Greenville, SC
The Ivy Salon, Downtown Greenville 19 South Main Street Greenville, SC
The Braid Bar at Ivy Salon in Eastside and Downtown Greenville, South Carolina, has "Braid Baristas" serving up styles from the Braid Book, starting at $25. Girls can get their braids done on wet or dry hair for any occasion. The salon even offers special adornments and accents for an added cost.
John Barrett Salon, 754 Fifth Avenue New York, NY
Barrett's Braids at the John Barrett Salon have been featured in the mecca of all things trending – Vogue. Braids start at $50 and go up to $100 with clip-in extensions. Girls can chose from an undone braid, pigtails, whimsical milkmaid braids, fishtail braided side ponytails, small French braided updo's and more! Also, Barrett's Ponytail Bar just opened as well – hairstyles start at $50.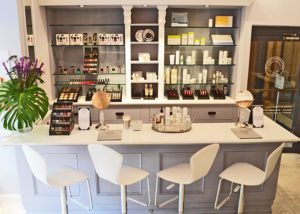 Gotham Beauty Lounge, 32 West 40th Street (Lobby), New York, NY
Gotham Beauty Lounge, a one-stop beauty shop in NYC, offers Friday Fun-Day Specials, where ladies can hop in and get a flirty braid for just $20! Check out other offerings from the new Bryant Park beauty shop.
Looking for more hair happenings? Read More:
Mane Mission: Hair Nutrition
Stacy Keibler Goes Blonder to Benefit the Children's Hospital Boston
From Frizzy to Flawless at Fekkai Fifth Ave
6 Hair-Raising Summer Styles
8 Tips for Making the Most of Your Haircut