HydraFacial: Get a Kick Start on Moisture
Published: Friday, October 28th 2011
in Beauty
---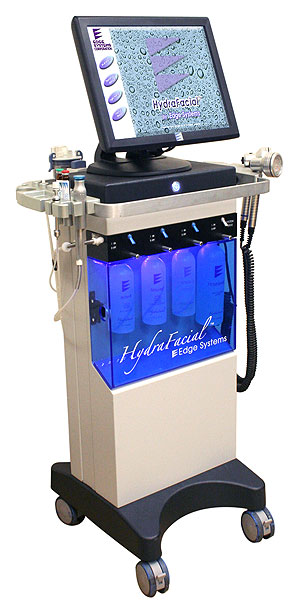 After watching a recent episode of the Real Housewives of Beverly Hills, I found myself lusting over the amazing in-house spa party Adrienne Maloof hosted for the girls. But what really made me stop and rewind was Kyle Richards' face after receiving a HydraFacial (Adrienne has her own machine at home, perks of marrying a plastic surgeon, and being a bazillionaire!)
Now, toss aside the fact that Kyle had a full face of flawless makeup on, but after the short treatment her skin was seriously glowing and dewy – hello dream skin. With winter on the way, the harsh cold and the dry skin that comes along with it, I think everyone would benefit from the amazing benefits of HydraFacial this season, real housewife or not!
HydraFacial by Edge Systems Corporation is a skin-resurfacing procedure that removes dead skin cells and extracts impurities while it washes new skin with cleansing, hydrating and moisturizing serums.  The system is non-irritating, designed for all skin types, and effects can be seen immediately, though six sessions are recommended for lines, wrinkles, hyperpigmentation, acne and oily skin. Prior to starting the treatment, a consultation should take place to discuss the specific serums that will be used during the procedure.
Kristen Haines, owner and esthetician at Euphoria Spa, NYC, gave me further insight on why this treatment is ideal for the upcoming chilly months.
"The HydraFacial is an excellent treatment for the fall and winter seasons because it gently combines exfoliation with hydration," Kristen says. "The cooler weather can cause the skin to lose much needed moisture, and elements such as wind lead to sensitized, dry and irritated skin. A common complaint we get at Euphoria during the winter months is that our client's skin is sensitive, dry and flaky but at the same time clogged from heavy moisturizers. HydraFacial gently exfoliates dead cells and deeply cleans the pores while infusing vitamins and hyaluronic acid into the skin. It is painless and refreshing as the vortex tip glides over the skin. Clients see an immediate difference in fine lines, texture and tone. Flakes are gone, and the skin is balanced again."
Perhaps the best thing that Kristen told me was that after the HydraFacial, your skin is restored to a state where it will be better penetrated by at-home moisturizers since it is clear of dead skin cells, making it a great option to kick off a colder climate skincare routine.
HydraFacial was first introduced at the American Academy of Dermatology Annual Meeting in 2005; the following year it won the industry's "Best of the Best."  The HydraFacial was just voted as LNE & Spa's Best Machine of 2011.