Maldives Lifts Ban on Spas
Published: Friday, January 6th 2012
in Spa 101
---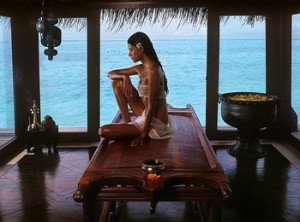 Maldives President Mohamed Nasheed has ordered that all luxury spas and massage parlors across the island nation reopen immediately, reversing an earlier ban this week that stemmed from a staged demonstration by opposition groups objecting for stricter enforcement of Islamic values, several media outlets report.  The president said he expects the verdict from the island nation's Supreme Court to follow suit.
While the opposition rally's demands had included a "crackdown" on massage parlors in the capital city of Male, the government instead ceased operations of all massage businesses and spas throughout the island nation. The hotel industry refused to take the ban lightly, pursuing a temporary court injunction in retaliation and requesting the government excuse major hotel/resort properties from the order; it was even reported the hotel industry ignored the ban, CNN says.
Now, the president's office states that Nasheed is "confident all the institutions of state will realize [sic] the importance of placing national development first and will not act in a way that would damage the tourism industry." The president "reasserted his view that the vast majority of Maldivians reject religious extremism and want to continue the moderate form of Islam the Maldives has followed for the past 800 years."
The Maldives, made up of 1,190 islands in the Indian Ocean, has a robust tourism industry, attracting more than 700,000 visitors in 2010, who, in large part, flocked to the country's exquisite white-sand beaches, vibrant coral reefs and luxury resorts.
Updates to come!