Get the Midas Touch with a Golden Glow Facial
Published: Monday, September 12th 2011
in Beauty
---
For everyone from Cleopatra to the modern spa girl of today, gold has been a super sought-after beautifying agent and key ingredient in the most rejuvenating facials. Metamorphosis Day Spa, a longtime partner in the heart of NYC is a go-to for cutting edge facials, especially their Golden Glow Facial.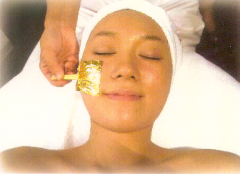 Metamorphosis offers a soothing atmosphere, expert estheticians and innovative Emerge Labs skincare. But I was decidedly going for the gold. The wildly popular Golden Glow Facial utilizes Israeli Anna Lotan skin products (derived from the Dead Sea).  Soon after cleaning my skin with a cleanser infused with gold oil from seaweed, a layer of pure gold extract is painted on the face (my wonderfully knowledgeable therapist joked that my face resembles the tin man, but in gold) and I enjoy scalp, feet and hand massage while the ingredients penetrate my skin.
The gold extract is said to reawaken the skin's natural defense and anti-aging mechanisms while increasing the circulation, accelerating cell renewal and improving skin's elasticity.  Anti-aging brilliance.
Later, a cold gold spoon is used following extractions − gold has also long been used as a remedy for acne and skin inflammation. Pure gold is one of the most mineral-rich and easily absorbed substances −a beauty secret Cleopatra and the Mayans kept under wraps.  Now, SpaFinder is letting the shiny secret out.
Golden Glow Facial $150: Metamorphosis Day Spa, 127 E. 56th Street, 5th Floor, New York, NY 10022; 212-751-6051