A Montage Mountain Surrender
Published: Thursday, December 29th 2011
---
A Wellness Weekend at Top Ski Spot Montage Deer Valley
An outdoor-lover's dream, the one-year-old Montage Deer Valley recently unveiled a true destination spa experience at its expansive, luxury resort in the northeast corner of Utah. The dynamic "Surrender" program is an integrative, individualized approach that draws on the idea that "from powerful land comes powerful healing."

Stunning alpine terrain envelops the resort, already regarded as a skier's paradise and attractive as well for accessibility; airport hub Salt Lake City International is a mere 40-minute drive away. And, the property's altitude – perched 8,300 feet above Park City, benefits the lungs and heart, as they must work harder. Perfect for the start of a wellness journey amidst a mountain landscape.
Ready, Set, Tune-Up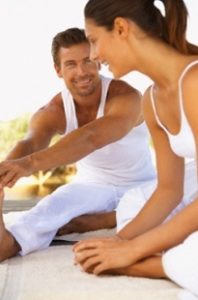 Earlier this fall before the powder snow had arrived in Deer Valley, I spent a weekend of wellness in the majestic Wasatch Mountains, as I was "reset" from sluggish to whole by partaking in the Spa Montage "Surrender" program, created by spa guru Anne Bramham. I gave my self over indeed, to my extraordinary therapist Brandon, who would become my wellness mentor for the next three days.
Beginning with an evaluation of my body type and personal constitution, done through a personal lifestyle profile and a good deal of friendly dialogue, Brandon and I collaborated to understand how to best support my body's needs and establish my wellness goals. I was deemed an "ectomorph," and Brandon created my optimal wellness program, including customized holistic therapies that, in combination with other activities and indigenous botanicals, were catalysts in achieving balance.
A Vision in Spa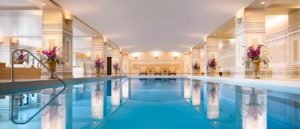 The bright and beautiful 35,000-square-foot Spa Montage is the largest spa in Utah and offers resort guests a brilliant finale to a day on the slopes. The indoor mosaic lap pool captures breathtaking views and was, hands down, my favorite place to be in all the resort. There, throughout the weekend, I enjoyed private relaxation time on a chaise lounge, ate several of my locally sourced meals poolside (a smoothie breakfast, a hearty turkey omelet and an Asian-inspired salad lunch) and slipped outside onto the terrace sundeck, in just my robe, to enjoy the brisk mountain air. A large, inviting, coed hot tub was also accessible in the lap pool area.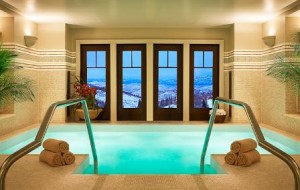 I felt uniquely at home at the spa, where I came to spend close to a dozen hours during the weekend, and it became my own temple of wellbeing. In addition to the mosaic lap pool, Spa Montage has men's and women's locker rooms, each complete with steam room, sauna, whirlpool and deluge shower, as well as large but cozy relaxation areas where a fireplace warms the space. With nearly 30 treatment rooms, including two couple's, hydrotherapy and Vichy shower rooms, a state-of-the-art fitness center and movement studio, a full-service salon and large spa retail boutique, I recognized, this was a spa to soak in.
Snapshot of Surrender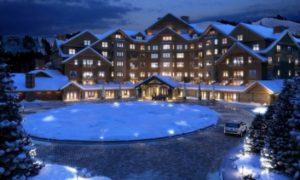 With a stunning spa to set the stage, I experienced remarkably therapeutic spa treatments performed by Brandon. Until then I had largely come to know classic spa touch therapies, mostly invigorating, deep tissue or Swedish massage modalities, which provide intense pressure and instant gratification. Connective tissue massage, on the other hand, is like "untangling cobwebs," Brandon said. This modality is about balance and realigning the body as opposed to creating reactions or shifts. By moving the interstitial fluid through this gentler technique, he was getting my body moving. Rather than manipulate the muscle, he would reteach it and help it "remember" where to go.
Here's a snapshot of the bodywork I experienced, which employed indigenous herbs and elements for my body type, from grape seed to lavender oil:
Day 1 Wholeness & Connection – an aromatherapy combined with reflexology and connective tissue therapies. The purpose of this treatment was to provide relaxation through the use of a specialized blend of essential oils with the use of touch strokes to interpret and release stress patterns in the skin and underlying connective tissue. Throughout the treatment and hours following, the constitutional (ectomorph) essential oils continued to penetrate into tissues providing improved physiological balance.
Day 2 Manual Lymphatic Drainage was selected to improve circulation in the blood and lymphatic system and to continue to deepen the body's connection to, and improve the function of, the parasympathetic. This allows organs to function in an increased balance with each other and supports the rejuvenation of tissues.
Day 3 Hydrotherapy was used to further reinforce the improved blood and lymphatic circulation, as well as introduce, cutaneously, nutrients specific to your needs through the use of a combination of salts, clays, algae, herbs and essential oils.

Besides the innovative spa therapies, my daily schedule was designed with activities including gentle group yoga classes, nearby hikes, a fitness evaluation complete with practical take-home regimens and sublime gourmet meals in accordance with my body type. Lastly, I eagerly adopted a new wellness practice, or "self-treatment," that offers powerful healing effects: the "Art of Spa" ritual. Each morning of my stay at 7:30 a.m., dressed in my bathing suit and spa robe, I meandered through the "refined mountain craftsman" resort, down to the spa level to experience the Art of Spa ritual in the hydrotherapy area within the ladies locker room. The practice is as follows: heat up the body for about 10-15 minutes, and then cool the body down quickly for about one minute. Then rest for about 5-10 minutes. When heated, the blood moves outward toward the skin's surface and when we're cold, blood is drawn inward toward the core. The result is the dilation and constriction of the blood vessels; this back and forth change gets things moving inside. In addition, the ritual helps release toxins, stabilize the body and stimulate the lymphatic system, which ultimately optimizes the benefits of other therapies.
The herbal steam room, sauna and whirlpool were means to experience heat. To cool down, I stepped under a cold deluge shower, making sure to directly wet my feet soles, underarms, wrists and back of my neck, as I had been guided. Two or three cycles of the Art of Spa Ritual are recommended in order to achieve maximum benefits. And, the benefits are great – done three times consecutively and it's said to mimic the cardio benefits of running a mile.
Nature and Nurture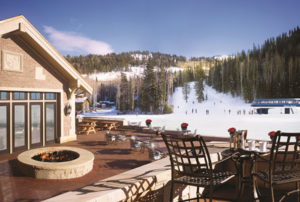 Over my weekend stay at Montage, I got a wellness education of a lifetime from the most knowledgeable, patient and passionate wellness experts. With their help I learned transformative practices like eating for my body type, proper breath work on a hike, basic tai chi moves (one-on-one instruction in the pool!), Anusara yoga (about opening up the heart), the art and importance of body scrubbing (the point is not exfoliation!), finding a fitness routine that I find fun (so I'll actually do it) and how devoting a weekend to wellness exploration is profoundly beneficial. I returned to New York with a revitalized spirit and a new energy that was immediately obvious to my travel companions and the warm staff I befriended. The rugged splendor of Deer Valley's landscape, herbs and elements combined with inventive therapies has Surrender destined to become an epic wellness experience.
See Montage Deer Valley's overview page on SpaFinder.com, including details about the accommodations, dining and more.
Most recent from Editors' Picks