The Royal Pampering: Gold Facial and Beyond
Published: Wednesday, April 27th 2011
in Beauty
---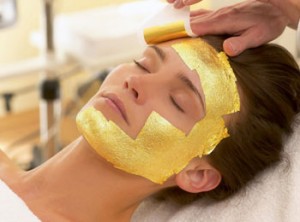 Before Kate Middleton walks down the aisle, you can be sure she's indulging in some serious beauty treatments to get ready for the big day. (With an estimated two billion viewers around the world predicted to tune in, we'd be indulging in all-things-beauty too!) Now you can treat yourself as well: The Royal Wedding may be across the pond, but you can celebrate with exclusive spa treatments befitting a prince or princess at spas in select cities nationwide — SpaFinder's SpaRahRah! invites you to say "I do" to 24-karat gold and caviar facials, a chocolate and fig moist heat massage, and others!
When it comes to luxury (at an affordable price!) these spa treatments reign supreme.
Boston: La Residencia Spa's Coveted Gold Facial –40% Off!
Los Angeles: Carasoin Day Spa's Deluxe Oxygen Facial and Full-Body Massage –49% Off!
Los Angeles: Vida Emanuel's Organic Diamond Peel and Slimming Body Wrap – 70% Off!
Miami: My Derma Clinic's 75-Minute Royal Caviar Facial & 30-Minutes of Hydromassage – 57% Off!
Miami: The Betsy Hotel Spa & Wellness Garden's 80-Minute 24-Karat Gold Facial – 56% Off!
New York: Just Calm Down's 60-Minute Chocolate & Fig Moist Heat Massage – 50% Off!
New York: Skintology's 24-Karat Gold Facial – 57% Off!
Philadelphia: Lux Spa & Fitness's 80-Minute Four Hands Therapeutic Massage – 38% Off!
Plus, schedule an oh-so-romantic trip with your sweetie to one of these SpaRahRah! Travel Deal destinations. Take your pick from a four-night, all-inclusive stay at the Paradisus Palma Real Resort in the Dominican Republic (at a 45% savings!) or a three-night couple's package at Hotel Madeline in charming Telluride (50% off!) — either way, you're going to have a royally romantic time!
In addition, enter for the chance to win the ROYAL GETAWAY SWEEPSTAKES! Wedding Central, the only 24/7 network for all things bridal, wants you to win a five-day/four-night Royal Spa Vacation at a luxurious Champneys Spa Resort in the UK, brought to you by SpaFinder.com, and more! Enter at WeddingCentral.com.
And tune in to Wedding Central's spectacular royal wedding special Will and Kate Forever, hosted by Perez Hilton and NeNe Leakes, on-air and online at WeddingCentral.com, which starts at 7 p.m. on April 29th. Don't get Wedding Central? Call your cable or satellite provider and check out what you're missing.