Welcome to the Mask-erade
Published: Wednesday, August 5th 2009
in Beauty
---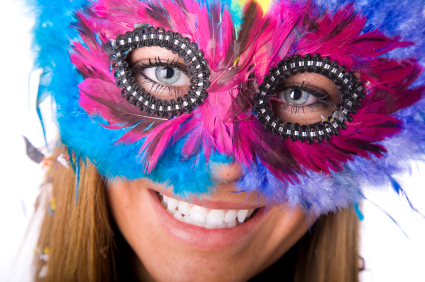 Masquerade revelers conceal themselves behind dazzling masks, to hide their true identity. At the spa, masks are also worn to enhance beauty but only so that stunning skin can take center stage. Facemasks are a vital part of skin care, so determine the right one for your skin type.
Nourishing the skin, or essentially, feeding it, by putting it in contact with beneficial ingredients, will enhance your complexion.  Before using a mask, always discuss your skin type with your esthetician.
Finding the right mask sounds tricky, but this easy guide will get you started. Before you begin, ask your esthetician to recommend and use a product after you see how your skin reacts to it. Inquire about the frequency of usage if you plan to continue this regiment on your own.  There are highly diverse substances in the ingredients of masks, so learn some basics so you can put your best face forward:
In your arsenal of skincare, use what's right for you.
"The Thirst Quencher"
Skin Type: Dry
Antidote: Hydrating Masks
"The Smooth Operator"
Skin Type: Blotchy
Antidote: Lightening Masks
"A Delicate Balance"
Skin Type: Sensitive
Antidote: Calming Masks
"The Refinery Job"
Skin Type: Oily
Antidote: Absorbent Masks
"A Bright Future"
Skin Type: Dull
Antidote: Exfoliating Masks
"In Your Prime"
Skin Type: Aging
Antidote: High-tech masks
Learn more about facials treatments.