4 Wellness Do's In San Francisco
---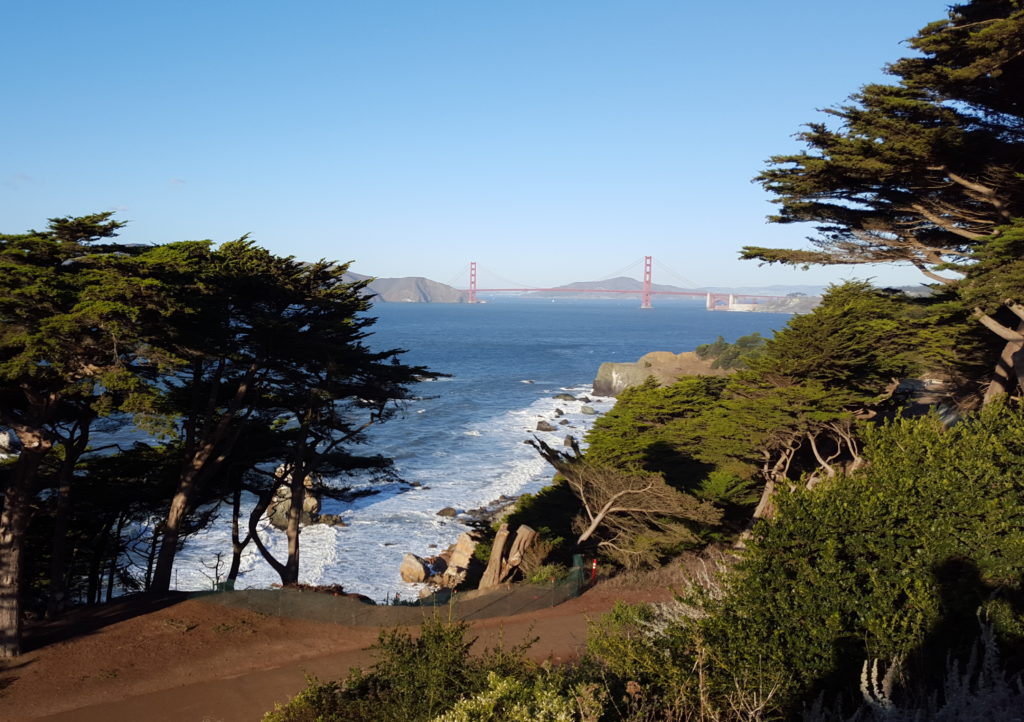 The view of Golden Gate Bridge from Lands End on the City Sightseeing Hop On – Hop Off bus tour.
Stay & spa: The InterContinental San Francisco offers the best bang for your wellness buck, providing enough lifestyle variety to meet wellness-seekers needs without compromising the brand's business-driven reaches. At the hotel's I-Spa, jet-lagged travelers can arrive to a Traveler's Tonic Massage, complete with eucalyptus scents and a head and scalp rub. I-Spa also features hard-to-find back facials and decollete treatments.
A visit to San Francisco usually means a lot of good eating, so InterContinental's gym is a life saver for indulgent foodies. Free weights and standard machinery are met with an indoor lap pool and jacuzzi hot tub. If the weather is nice, the gym's outdoor terrace is a great space for open air yoga or stretching.
For an upgraded stay, consider Club Floor accommodations: These rooms provide access to the hotel's Club Lounge which serves meals and snacks around the clock.
Eat in the Mission: If there is one place where you can get plant-based anything, it's San Francisco. Throw Mexican flavors into the mix, and you've got yourself a must-eat musing. At Gracias Madre, black bean and pesto tortas and butternut quesadillas are served alongside tempeh "chorizo" bowls and smoothies. Across the street at Mission Chinese, guests can get carnivorous or savor spiced-up Asian veggies like "smashed" cucumbers and Mongolian long beans.
See the Redwoods: There are many ways to get to the Redwoods, but since I was short on time and did not rent a car, I opted for the City Sightseeing Hop On – Hop Off bus tour. The inclusive ticket option allowed me to experience the entire metro and coastal area, and also cross the Golden Gate Bridge over to Sausalito and Muir Woods. Once at Muir, visitors can go off to the trails or walk the paved circular loop: The air is wonderfully crisp, and the statuesque Redwoods are a humbling sight. Muir is also a lovely spot for a meditative moment or sensory forest bath.
Pop into the SF Wellness & Art Pop-up: At the SF Wellness & Art Pop-up, creatives, therapists, and thought-leaders gather to foster a community around health, wellness, and art. Situated above the All Star Cafe, the collective invites guests to explore physical and mental healing through massage, hypnotherapy, nutrition, and artistic expression. Since it is a pop-up, be sure to check their website's ongoing calendar for monthly and weekly events and announcements.