A Mother-Daughter Spa Day: My New Beauty Ritual
Published: Friday, March 19th 2010
in Beauty
---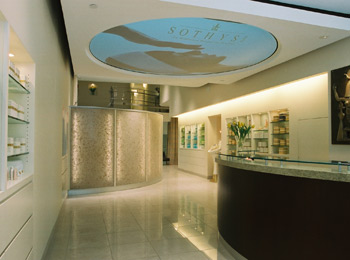 When it came to my beauty routine growing up, mom always knew best—stand up straight, make sure to wash your makeup off before bed, always apply sunscreen, etc. Now that I'm an adult, I'm eager to share a bit of my own beauty wisdom with mom about the spa industry.
When mom called to say she booked a flight from our home state of Ohio to New York during the weekend of SpaFinder's Deal Days event, I knew a spa trip was to be on the agenda amid the touristy things like Times Square, the Statue of Liberty, and the Empire State Building. A visit to L'Institut Sothys New York for mother-daughter spa treatments was the perfect way to pamper mom and take advantage of Deal Days' $50 spa offerings—luxury services in the big city with small-town price tags. I immediately booked two appointments for Eau Thermal facials.
From start to finish, the spa experience at Sothys Spa was a truly flawless one, for both mom and me. We enjoyed tea in the small café prior to our treatments, our therapists—Janni (mine) and Zina (mom's) were knowledgeable and pleasant, and the hydrating Eau Thermal facials helped our skin beat what was left over from the winter blahs. Post-treatment (and for the remainder of the afternoon), Mom was glowing from the inside out—she even decided to indulge in more services—a peel and collagen mask—than originally booked. After our facials, we lingered longer in the café for conversation and cappuccinos.
Spa-ing was the ideal solution to spend time together and reconnect, and we both agreed it was one of our favorite activities during the weekend. Mom asked me to schedule reservations for a spa trip during her next visit, insisting it become a mother-daughter tradition. What can I say? Mom still knows best.