Autumn-Inspired Spa Treatments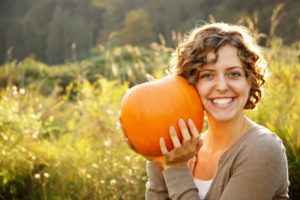 Once the heat of summer dissipates, the bounty of fall begins to grow. Pomegranates, plums, and pumpkins flourish, emanating the rich seasonal colors of fall. Not only are these seasonal fruits and vegetables delicious to eat and fun to grow, they can also be an effective way to nourish your skin in spa treatments, allowing you to fall into the new season relaxed and rejuvenated.
In addition to plums, cranberry, and pomegranate, a tried and true popular seasonal spa ingredient is pumpkin. Pumpkin is a rich source of nutrients and antioxidants like vitamin C, vitamin E, vitamin A, potassium, alpha-carotene, zinc, beta carotene, and lutein. When applied topically, it can help your skin achieve a healthy glow throughout the season. From facial treatments to invigorating body treatments and wraps, pumpkin and other seasonal ingredients are being featured in a variety of indulgent treatments at spas around the country!
Cal-a-Vie Health Spa, Vista, CA
This seasonal feature combines a Lemon Sugar Body Polish and Cranberry Shower Gel, followed by a spicy Purifying Pumpkin Masque, and concludes with an application of scrumptious Cranberry Body Balm. Elements such as age-fighting antioxidants and vitamin A comprise this treatment, which was created by Peter Thomas Roth Clinical Skin Care. 80 minutes, $245.
American Indian Enzyme Peel
Skana Spa at Turning Stone, Verona, NY
This nourishing American Indian Enzyme Peel incorporates pumpkin fruit enzymes and beta carotene for deep cleansing and sun protection.
Pomegranate and Pumpkin Enzyme Peel
Simple Serenity Spa, El Dorado Hills, CA
Simple Serenity Spa is offering this service for a steal this season – for just $90 (a $125 value), you can get a Deluxe European Facial with a Pomegranate and Pumpkin Enzyme Peel!
Cal-a-Vie                   Skana Spa                  Serenity Spa
Serenity Pumpkin Enzyme Facial
Serenity Spa, New York, NY
The spa's most popular treatment, this 15% acid peel treatment is rich in pumpkin nutrients and is a great facial for anyone, improving skin and assisting skin conditions with large pores.
Signature Treatment – Pumpkin Spice
The Spa at Woodstock Inn & Resort, Woodstock, VT
Each season, a featured signature treatment takes center stage among the sizeable array of year-round spa offerings at this spa – for fall it's pumpkin spice. Mirroring the four seasons of Vermont, each treatment draws upon natural outdoor elements to apply deliciously restorative ingredients to the task of soothing, rejuvenating, and healing the body, inside and out.
This 100-minute treatment starts with a gentle exfoliation followed by a hydrating body masque with one of the seasonal botanicals. As the skin soaks up the emollient rich mixture, experience a luxurious scalp massage with wild lime oil and a relaxing foot massage. An application of hydrating body lotion and full body massage completes the service.
Susan Ciminelli Day Spa & Salon, New York, NY
An all-natural organic peel that dramatically boosts skin texture, evens skin tones, and brightens up the dullest complexions, this peel is safe enough to use on the entire body.
Most recent from Beauty