Belize 2012: Land & Sea Adventures in the Year of the Maya
Published: Tuesday, April 3rd 2012
---
Home of diverse cultures and thriving, preserved ecosystems, Belize has recently gained great popularity for sustainable tourism and outdoor adventure, particularly for honeymooners, divers and snorkelers.
Our senior editor toured parts of Belize earlier this year (2012 is the much-buzzed-about Year of the Maya) for a land and sea adventure.  During Earth Month we're spotlighting this tiny nation, home of lush tropical rainforests, breathtaking marine life and rich Mayan culture.
Belize's history comes alive through the spectacular ancient ruins left behind by the Mayans who inhabited the land thousands of years ago. Central America's only English-speaking nation is tucked beneath Mexico, east of Guatemala and borders the Caribbean Sea.  While a variety of cultural influences have lingered after the small country gained independence from Great Britain in 1981, the ancient Mayan tradition is especially present, a notion I particularly felt during my spa tour.
Welcome to the "Jungle"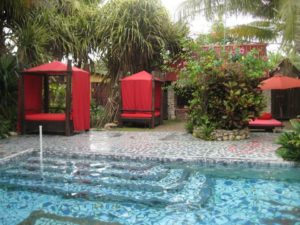 My adventure began 40 miles north of Belize City at the eclectic Maruba Resort & Jungle Spa, a family-run, 18-room, boutique hotel located in the tiny village of Maskall. The property, the only resort in the region, had artsy and whimsical decor with Mayan, Creole and African influences, as well as a hippie-vibe throughout – red hibiscus flowers were scattered all over the resort and guest rooms, and colorful glass bottles were peppered into walls, floors and ceilings, forming vibrant prisms of light. Mosaic tiles dappled the two swimming pools, the Japanese mineral pool, hookah bar and patios, all in the midst of a landscaped jungle of tropical plants and Central American splendor.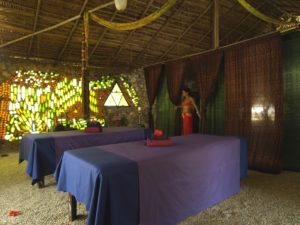 A long and winding stone walkway through the leafy scenery led to the indoor-outdoor spa. I meandered there in just my robe to experience several inventive treatments, including Maruba's signature and "wildly" popular Mood Mud Therapy (US$100).  A natural, yellow mud was massaged all over my body in a Swedish style (face and hair were optional), and white and black muds were then painted atop the first layer in ornamental patterns all over my arms, legs, abdomen and face.  This therapeutic, Mayan-inspired treatment used the native mud to draw heat and toxins from the body.  Impurities are said to become magnetized by the mud minerals, helping to restore equilibrium.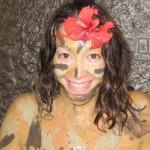 I rose gingerly from the massage table to pose for a theatrical photo op by my travel companion, my boyfriend, and we laughed at how amusingly tribal I looked (see pic). Next, I bathed the mud off in a large ceramic outdoor tub, and my skin was left glossy and smooth.
More active pursuits on site included horseback and bicycle riding − good first-day activities for the opportunity to take in the surroundings, as well as visits to the nearby Bomba village to buy handmade zericote and mahogany carvings. Excursions can be arranged by the friendly and helpful Maruba staff, including visits to the Mayan ruins at Lamanai or Altun Ha, or cave tubing.  We opted to explore the majestic temples and monuments of Lamanai in the jungle.
Seaside Adventures and Beach-y Chic
For a Belizean experience by the sea, the next part of the adventure took me to relaxing Ambergris Caye (pronounced "key"), an island off the northern coast popular for snorkeling, diving and fishing. From Belize City, travelers can take an easy 15-minute, small plane ride, or a two-hour ferryboat ride to San Pedro. A short water-taxi ride further lied Matachica Resort & Spa, a hip beach hideaway (12 and up only), with 25 vibrantly colored casitas, most for one- or two-person occupancy.  All of the thatched-roofed accommodations were beachfront, beach-view or pool-facing, with well-appointed but minimalistic, elegant interiors and original, modern art.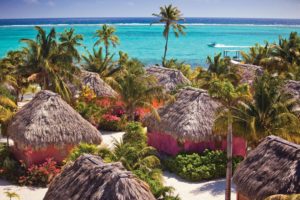 The resort's Jade Spa, housed in a 3,000-square-foot mansion high above the resort, had a homey, island ambience as tropical scents wafted through the airy space.  I experienced the stimulating yet relaxing Coffee Scrub and Chocolate Body Wrap (US$95) complete with an intoxicating aroma and heavenly scalp massage.  Raw cocoa is a precious ingredient said to slow down the natural aging process while returning a natural radiance to the skin. The warmed ingredients in this delightful Mayan-inspired treatment (and others) are locally sourced from the Belizean jungles, mountains and sea.  The spa menu included authentic, rejuvenating offerings, including the also-scrumptious-sounding Papaya and Banana Facials.  Spa guests can relax in private screened-in porches off each of the three treatment rooms or on the top floor sundeck for sweeping views of the island.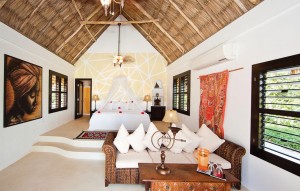 Relaxation continued beachside on the white-sand shores of the pristine Caribbean Sea.  Plus, all accommodations have hammocks on their private patios. Guests can enjoy the infinity pool and large Jacuzzi, complimentary use of sea kayaks, snorkel gear, fishing gear and bicycles. One of the best advantages of this small luxury resort is that it faces the second largest barrier reef in world, showcasing an incredible underwater scene – over 100 different species of tropical fish and over 40 species of coral.  The surreal scene here beneath the sea draws divers as well, for the famous Blue Hole and other enchanting spots.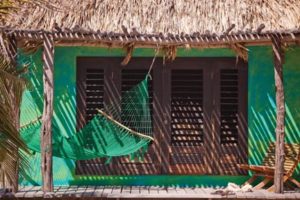 Cuisine at Matachica's award-winning and romantic Mambo Restaurant, with Italian influences derived from the resort's owners, showcases homemade pastas and local seafood. Highlights included the local grouper ceviche, seafood salad burrito and a complimentary  continental breakfast daily.  The pool table and Moroccan-styled cinema lounge offered mellow after dinner activities.
Taste of San Pedro, A City by the Sea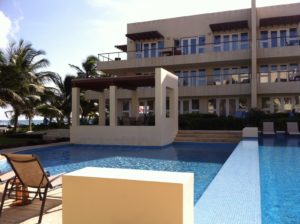 In the heart of San Pedro, The Phoenix Resort combined city-centeredness with modern, luxurious, beachfront accommodations. The walkable streets were alive with character – golf carts are everywhere! – and souvenir shops, flea market, shops and nightclubs were found throughout this seaside city.
This condo resort provided a home-away-from=home experience, with its 30 spacious one-, two- and three-bedrooms, crowned with resort amenities like a large, saline, infinity pool and separate lap pool, a pool bar, business center, gym and, most notably, a modern spa/yoga studio with highly trained staff.
Private or group tours around the island could be arranged for snorkeling, diving, fishing, scuba, sailing and more.  My boyfriend and I decided on a private fishing expedition. Call it beginner's luck, but I caught a 25-lb barracuda that fed us for lunch and dinner.  Our good-humored captain, "Biggs," cooked up the fish for us, Belizean style, on a private beach.  He also took us to delightful snorkel areas like Tres Cocos, a gorgeous reef less traveled by the bigger tour groups.
We took the remaining barracuda meat and three Caribbean lobsters that Biggs had harpooned back to The Phoenix, where for a nominal fee, the chef at the on-site, gourmet, Caribbean/American Red Ginger restaurant prepared it two different styles per our tastes: grilled and blackened.  Reinforcing the outstanding service at The Phoenix, room service delivered my catch of the day, and we ate the feast (including sides and a bottle of wine we'd bought steps away in town) in our palatial guest room's dining room.  My boyfriend enjoyed his Cuban cigar (legal in Belize) on our wraparound verandah, and I savored my favorite evening of our trip.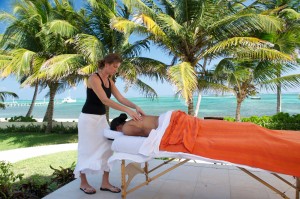 The resort's full-service three-treatment room spa and yoga studio, Sol Spa, was founded in 2002 (before The Phoenix was around) by American sisters Carrie and Charlene Tengler.  I found the expertise and warmth of Carrie, owner, lead therapist and yoga instructor, was what made the spa a standout in quality of service.  The spa's signature treatment, the Maya Abdominal Massage (US$130), requires at least two hours for the first consultation and treatment.  This is a non-invasive, uniquely indigenous spa offering for both Belize and abroad.  Carrie studied Maya Abdominal Massage for years with its founder, Dr. Rosita Arvigo, carried down through direct lineage of the Mayan Goddess Ix Chel.
IF YOU GO:
Rojo Lounge: Adjacent to Matachica, with blue-lit conch shells in the sand, this hip restaurant/lounge with low chairs, beach-y vibe and cool music offers guava ribs, lobster poppers, watermelon martinis and more.
Waraguma: Friends back home recommended this authentic hole in the wall for the biggest, tastiest tacos, with an El Salvadorean twist. The lobster taco was an explosion of deliciousness and big enough to share.
Most recent from Editors' Picks