Caudalie's Beauty Under an Hour Treatment Menu
---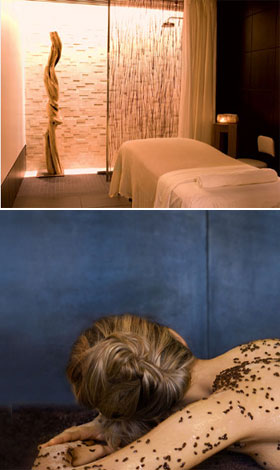 In a hurry? After the creators of Caudalie, Mathilde and Bertrand Thomas, made the move to New York City with their three children, they saw just how time-starved Americans are. And so, Caudalie has implemented a series of on-the-go luxurious treatments at its Vinotherapie spa in NYC: in less than an hour, you can renew your body and your sense, and get back in time for the next big meeting or that dinner date downtown.
We went to try out the Vine Express treatment and were amazed at how much you can fit into 50 minutes! Sure, there are plenty of 80-minute, and above, treatments out there, but somehow, Caudalie manages to make you feel as though time has stopped during its Beauty Under an Hour services. Beginning with a body exfoliation and polish under the Vichy shower using Caudalie's exquisite Merlot Scrub (which features raw brown sugar, grape seed oil and firming concentrate), I then moved to another room where a warm body wrap awaited. As I lay in the heated cocoon, my face was cleansed and moisturized and my scalp was massaged at the end of the treatment. By the time I made it back to the changing room, it had felt like hours had passed with how relaxed I felt, but low and behold, it was not even one hour.
Perfect for frenzied New Yorkers who are constantly on the go, Caudalie gets a lot done—and done well—in true New-York-minute fashion. Here is the well-appointed spa's new Under an Hour menu, so you can hurry up and get to it, too!
Vine Reset – detoxifying wrap + scalp massage + body massage + moisturizing treatment
New Yorkers are great at multi-tasking, and anyone can take on multiple spa treatments at one. Detox and unwind with a detoxifying wrap that sets while the scalp is indulgently massaged for 20 minutes. The body will then be massaged and nourished via a 20-minute body moisturizing treatment.  Priced at $230
Vine Express – body polish + body wrap + petit facial + scalp massage
Make an executive decision to de-stress in luxury with a refreshing Body Polish or Body Wrap and while skin is smoothed and nourished, enjoy a Petit Facial to brighten your complexion followed by a soothing scalp massage to treat your senses.  Priced at $285
Vine Power – grand facial + manicure + petite pedicure
For the time crunched beauty connoisseur, let a Caudalie Vinotherapist to get you ready for the next event on your list with a Caudalie Grand Facial, accompanied by a Manicure and Petite Pedicure.  Priced at $275
Vine Flash– petit facial + brow shaping + bikini line waxing + polish change
Before you jet off to your weekend getaway, ensure your look is flawless from head-to-toe with a Petit Facial, accompanied by a Brow Shaping, Bikini Line Waxing and Polish Change – all in the amount of time it takes to calculate the currency conversion at your next destination.  Priced at $200
Caudalie Vinotherapie Spa is located at The Plaza Hotel: One West 58th Street, 4th floor, New York, NY 10019