Cheers! 3 Holiday Spa Cocktail (& Mocktail!) Recipes
Published: Wednesday, December 18th 2013
in Recipes
---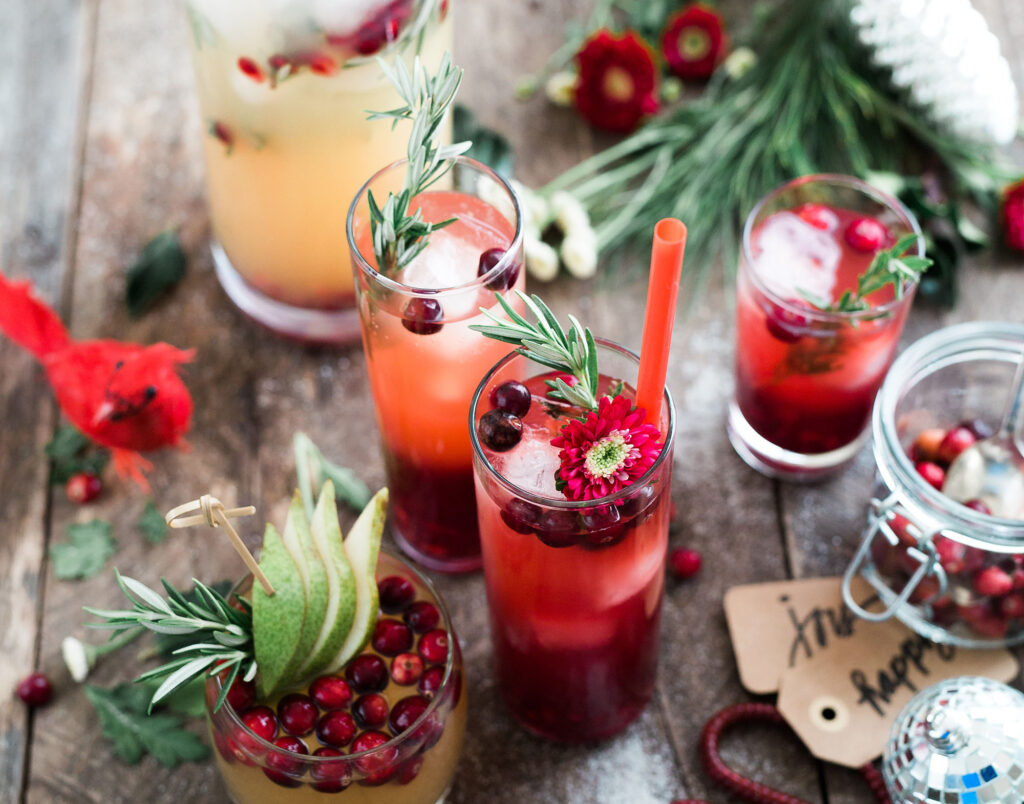 Holiday parties aren't complete without a fun and festive holiday cocktail (or mocktail!) We love these 3 recipes and know you will too!
Orange-Pomegranate Cinnamon Holiday Cocktail
from Shane Diet Weight Loss & Fitness Resorts
1 cup 100% pomegranate juice
½ cup 100% orange juice
1 (750-milliliter) bottle dry sparkling wine or champagne, chilled (can substitute with Sparkling Cider for a fun mocktail!)
6 orange slices
Pomegranate seeds (about ¼ cup)
6 small cinnamon sticks
Combine pomegranate juice and orange juice in a glass measure. Divide the juice mixture evenly among 6 champagne or wineglasses. Top each serving evenly with wine; drop one orange slice, a few pomegranate seeds, and 1 cinnamon stick into each glass for garnish.
124 Calories | 0g fat | 2mg sodium | 9.5g Carbohydrate | 7g sugar
Caribbean Snowflake
from Sanctuary on Camelback Mountain
2oz. Cruzan Single Barrel Rum
¼oz. St. Elizabeth All Spice Dram
½oz. freshly pressed lime juice
1oz. freshly pressed grapefruit juice
½oz. simple syrup
1 small egg white
Dry Shake/Shake/Up/Light dusting of silver flake
Apple Cider Martini
from Mirbeau Inn & Spa
1oz. vodka
2oz. apple cider
0.5oz. Calvados or any apple brandy
Brown sugar simple syrup
Raw brown sugar mixed with cinnamon and nutmeg
Depending on desired taste, you can make equal parts vodka and cider. Makes one cocktail to be served up or on the rocks.
1. To make brown sugar simple syrup: in squeeze bottle or container that can withstand hot water, mix equal parts brown sugar and simmering to boiling water. Stir until sugar is dissolved, let cool.
2. Mix liquor and cider in martini shaker with ice. Add simple syrup to taste, average 2 tablespoons.
3. Prepare glass by taking a wedge of desired citrus (we recommend orange) and rub around rim. Pour raw brown sugar mixture evenly on a plate or saucer.
4. Shake drink mixture until martini shaker becomes cold and almost frosty on the outside.
5. Using strainer pour into glass. If enjoying on the rocks, add ice cubes after you pour to control ice to cocktail ratio. Garnish with apple slice or cinnamon stick.
Most recent from Recipes