3 Days in Jamaica: Spa, Reggae & Island Hopping
Published: Tuesday, January 24th 2012
---
"Out of many, one people" is the Jamaican motto, and from that stems this Caribbean paradise's spa industry as well: Out of many diverse rituals and settings found at lavish resort spas to intimate boutique hotel spas comes one concept — the art of relaxation, revitalization and indulgence to grant visitors an authentic, isle-style experience.
Recent travels to some of the finest Jamaican spas and resorts proved that island-hopping and spa-ing here, combined with the inviting spirit of the Jamaican people, is truly a soulful experience. Bob Marley versed it best: "One love, one heart" – not coincidentally, but fittingly, a tune used in Jamaica Tourist Board commercials, and it's an anthem I've been singing since I returned.
Here's just a little taste of a big island called Jamaica (and no, I'm not talking about the incredible jerk shacks found on every corner here).
Day 1: The Friendly City
Round Hill Hotel & Villas, Montego Bay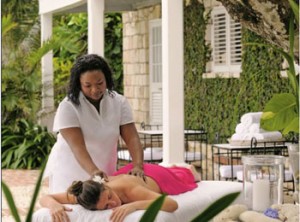 Montego Bay, located between Ocho Rios and Negril, is the epicenter of Jamaica's tourism, and once the playground for the rich and famous. Round Hill Hotel and Villas, with its fusion of Caribbean elegance and island low-key casualness, follows suit, catering to an international clientele — and an A-list crowd that included legends like Jackie Kennedy and Elizabeth Taylor. Set on a tropical 110-acre peninsula, Round Hill is also a haunt for Ralph Lauren, who owns a villa there and redesigned 36 tropical-style guest rooms in the resort's Pineapple House, as well as the Grill Restaurant (fresh herbs and vegetables used in dishes are sourced from the resort's organic garden). Rooms, with four-poster mahogany bamboo beds and louvered windows, mix rustic-chic with couture while white stone floors and interiors mingle with vibrant splashes of blue and pink; lavish villa accommodations are cushioned in the hillside. A private stretch of beach, double infinity-edge pool assembled into local stone from an 18th-century sugar works and classic afternoon tea service add a glamorous touch.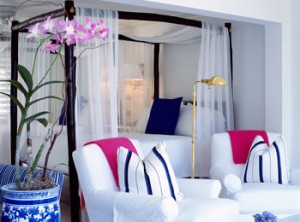 Down a lengthy, rock-lined pathway, against the backdrop of lush greenery on one side and turquoise sea on the other, away from the hubbub of the rest of the resort's activities, lies the Spa at Round Hill. Housed in an 18th-century plantation building, surrounded by 10 acres of expansive emerald lawns, the spa is a gentle throwback to times past, and a menu of body, skincare and beauty/salon services use Elemis products or indigenous natural blends. The Jamaican coffee bean body scrub (which includes a chamomile cleansing, lavender scrub and apricot toner facial) and Remedy massage tempt me, and in true Round Hill fashion, the treatment, taken in a room overlooking the sea (services can also be taken seaside or in the hydrotherapy garden loft), awakens my senses – complete with the vivid smell of aromatherapy oils, the quick rubs and kneading of my therapist and the ocean as my soundtrack. Also enticing? The invigorating yoga class, held on the spa's porch, or a healthful lunch, enjoyed on the lawn.
Other area attractions to soak in: Doctor's Cave Bathing Beach, arguably the most popular beach on the island, known for its curative mineral properties
Day 2: Spa on the Rocks
Rockhouse Hotel, Negril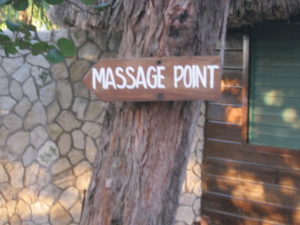 The "capital of casual," Negril has a laidback, unhurried vibe, evoking a great interaction between locals and tourists. Marveling at the town's cliff-side and seaside juxtaposition, listening to live reggae music and slipping away to the famed Seven-Mile Beach all come into play here, and as Negril offers luxury all-inclusive resorts like Beaches, Sandals and Moon Dance Cliffs to family-owned cabin-like accommodations, there's something for every type of traveler. These include Rockhouse, a jungle-chic boutique hotel perched on the craggy cliffs of Pristine Cove; added touches like thatched-roof villas and wooden signs with words like "Massage Point" painted freehand create a nonchalant charm and natural environment, while sunbathing decks at the cliff's edge and stairs carved into the rock that lead guests to the reef act as a constant reminder of the dramatic jagged-rock setting. Rockhouse's storied past involves being one of the first hotels on the cliffs and was an escape for those who liked to live on the edge, including Bob Marley, Bob Dylan and the Rolling Stones.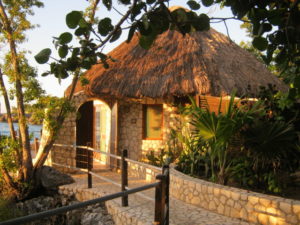 The Rockhouse Spa complements the resort's bohemian feel and rocky interior/exterior atmosphere; some of the first things noticed at the spa are a bronze Buddha-type statue and koi pond, complete with turtles. A lovely presentation of essential oils and blends is a precursor to the Signature Tropical Massage, which incorporates my chosen blend, as well as a slathering of the all-natural, chakra-oriented Caribbean Essentials line. While my holistic spa treatment — designed to keep my chi in balance with my natural equilibrium — is taken in the eight-treatment-room spa, services, like the Caribbean Drench, can also be held in cabanas on the cliff's edge. After the spa, the hotel's Pushcart Restaurant and Rum Bar, with fantastic regional street food and authentic home-style cooking, provides an added treat.
Also in the neighborhood: Rockhouse is less than three miles from Negril's West End Road, a resort-heavy district known for being a cave-and-diving-area by day and bar-and-dining-hotspot by night. Rick's Café lures in visitors to watch cliff jumpers (the highest platform jump is 35 feet) and stunning sunsets.
Day 3: Rhythms and Smiles
Ritz-Carlton, Rose Hall, Montego Bay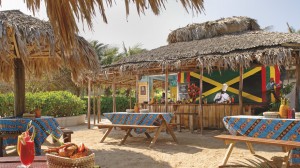 Returning to MoBay means returning to the Friendly City, and checking in to the alluring Ritz-Carlton Golf & Spa Resort, Rose Hall, Jamaica. Christened the "sanctuary of rhythms and smiles," the Ritz-Carlton sits on 5,000 acres in an exclusive part of the Rose Hall plantation on Jamaica's north coast, not far from downtown MoBay. Defined Old World luxury is evident here, down to every meticulous detail (including the Appleton Rum-infused cold towels handed to you to refresh after an outdoor stroll), though the sophisticated vibe intermingles with spirited charm. My ocean-view suite was graciously accommodated with double French doors, two private balconies to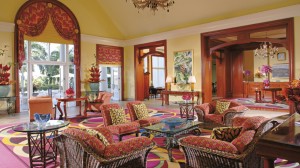 take advantage of the sea and full parlor, styled in brightly hued accommodations that epitomize the vibrant spirit of the island. Entertainment captures the lively mood in all five restaurants, even at breakfast (Horizon, with a guitar soloist), and the on-site Jerk Center, a culinary tour de force of Jamaican flavors.
The resort features myriad activities, including the par 71 championship White Witch Golf Course, designed by Robert von Hagge and Rick Baril – 16 of the 18 holes offer sea views –the White Witch Restaurant and the Ritz-Carlton Spa®. The all-encompassing spa has a full host of steam and sauna areas, a cold plunge, salon, fitness center and highly trained therapists to boot.
Off of the Caribbean-inspired treatment menu, I'm able to indulge in the Island Aromatherapy Massage, a rich cascade of Swedish techniques, textures and scented Jamaican aromatic oils.
If you venture off the resort: The allegedly haunted Rose Hall Great House, which tells the legend of "The White Witch" and inspired the Johnny Cash song, the "Ballad of Annee Palmer," is a popular attraction, as is Scotchies jerk center and bar, where the credo is carefree attitude and great dry-rubbed jerk dishes.
Most recent from Editors' Picks