Did you see our Deal Days girls wearing Spa robes in NYC?
Published: Thursday, March 4th 2010
---

On our national promotional campaign for SpaFinder Deal Days, our "Robe Girls" hit the streets of NYC this past Tuesday.  These spa-loving, robe-clad ladies got the word out  – and caught a lot of attention.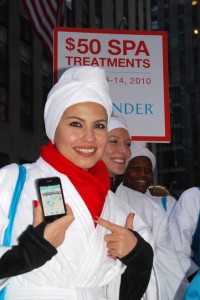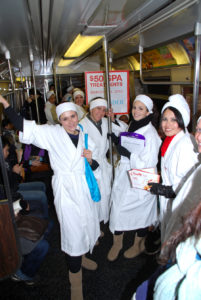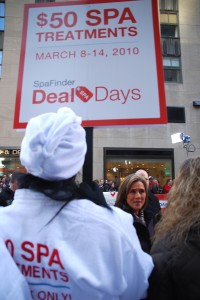 Check out all of the awesome photos on Flickr of the girls' escapades at the NBC Today Show, at Union Square, on the subway, at the Apple Store, as well as pounding the pavement in Times Square!

The word is out!  So book your appointments now because $50 spa treatments won't last long!  SpaFinder Deal Days is a weeklong event in cities all over the U.S.  Search, book and spa!

Just enter your email and zip code to find Deal Days spas in your area.

And, in case you missed it, there's a new – free! – SpaFinder iPhone App so you can search, book, and spa – on the go!  Download now.