Seaside R&R at Elbow Beach Bermuda
Published: Wednesday, November 16th 2011
---
Seeking an uncomplicated weekend getaway at a beachfront spa resort, our senior editor hopped a two-hour flight from NYC to beautiful Bermuda to enjoy Elbow Beach and its celebrated spa, part of the luxurious Mandarin Oriental collection – creating the perfect romantic escape.
Bermuda shorts, Bermuda triangle, Bermuda onions. All quintessential Bermuda. Surely, I should have known more about this nearby vacationers' island less than 600 miles off the coast of North Carolina, evidently not a part of the Caribbean, as many assume. The flight to island paradise is a mere two hours from New York's JFK airport, so it's not a big surprise that, at some point, celebs like New York Mayor Mike Bloomberg, actor Michael Douglas and model Iman, have all had homes here.
The soft pink sand, warm waters, fantastic food, modern accommodations and premier spa make Elbow Beach a standout boutique hotel — the first hotel on the island's South Shore, just minutes from happening Hamilton, the capital and heart of Bermuda.
Popular activities at this intimate, luxury destination in the parish of Puget range from renting mopeds for adventuring from the island's end to end, or discovering the wonder of salt caves, shopping the local tchotchke vendors at the dockyard or partaking in a range of watersports (boogie boarding, diving, snorkeling and kayaking). My own whirlwind Bermuda weekend with my boyfriend was spent mostly vegging on the beach (precisely what we urbanites sought), and what time remained, I spent at the distinguished spa.
A Mandarin Oriental Spa by the Sea
The Spa at Elbow Beach is a secluded sanctuary on the hotel's garden level, tucked away near the fresh water pool. Warm colors and organic textures create an interior with a sophisticated island feel, along with hints of Asian influences. All six treatment rooms are private suites, including two couple's suites, each outfitted with a handcrafted granite tub, a pebble-lined personal rain shower and an ocean view balcony.
Signature Mandarin Oriental treatments and full- and half-day programs are offered on the spa menu, along with about half a dozen authentic Bermudian treatments like the Bermuda Pink Sand Scrub and the antioxidant-rich (yes, seriously!) Rum Swizzle Ritual. Spa products used in treatment and available at retail include ESPA skincare (found in the Spa Suites as well), Spa Ritual and Mandarin Oriental's signature line.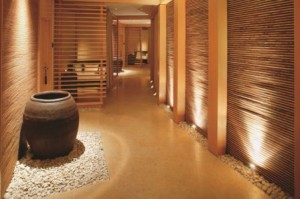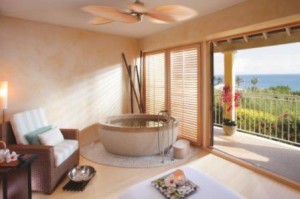 I experienced the Mandarin Oriental Time Ritual, the brand's signature treatment, which simply epitomized customization. It began with a therapist consultation, as she performed a foot ritual bath, so we could discuss my body's current state, what areas required additional attention, how much pressure I enjoyed and how I wanted to feel after the massage. (Why can't every massage in the world begin this way?) The essence of the Time Ritual is for the spa guest to book time, not a specific treatment, so that the highly trained therapist can tailor an experience (down to the oils) to an individual's special needs on that given day, in an effort to create a holistic balance of mind, body and spirit.
Post-Treatment Tranquility
The massage technique utilized modalities across Ayurvedic, Chinese, European and Thai cultures. My heavenly two-hour escape concluded as I relaxed on a cozy daybed just outside the suite, sipping tea and nibbling on oranges while gazing out at the pristine, far-reaching Atlantic Ocean, giving me a deeper sense of "ah." I felt peaceful and far away, and embraced the calm. In the next moment I recalled what a cinch it was to make the trip and how not far this getaway actually was from home. We're talking less time in the air than a drive from Manhattan to the Hamptons.
My contemporary and comfortable accommodations, appointed with a private patio in lush gardens, showcased stunning sunsets. A total of 98 recently renovated guestrooms and suites are peppered throughout the 50 acres of landscaped gardens along a winding path leading to the beach. Impeccable service is reiterated beachside where uniformed attendants provide chilled towels, ice water and food and beverage service from nearby Mickey's Beach Bistro.
And, while not relaxing at the spa or lounging on the half-mile stretch of private beach, I sampled more of the fresh, island cuisine (an eclectic mix of seafood, sushi, tapas, Mediterranean and more) at almost all five restaurants at Elbow Beach. The made-to-order breakfast at Lido, perched above the beach, was a delicious morning feast that had me starting each beach day, belly full, ready for tranquility at the quiet beach.
If You Go:
A night on the town in Hamilton could start with dinner at Barracuda Grill − pricey but best known for fresh, local catches (rockfish and wahoo, among them) and a VIP crowd. It was a recommendation we enjoyed.
Most recent from Editors' Picks