Fall Into Autumn Treatments
---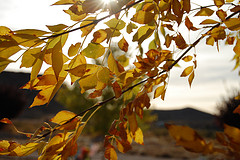 With fall under way, spas across the country are getting seasonal and savoring the powerful and antioxidant-rich ingredients of autumn treats like pumpkin, cranberry, pomegranate and more. With pumpkin offering over 100 beneficial ingredients including retinol (Vitamin A), ascorbic acid (Vitamin C), beta-carotene, and a natural form of salicylic acid,  nourish your skin with these fall-inspired spa treatments for a fresh new outlook on this invigorating season!
Spa Toccare at Borgata Hotel Casino & Spa and Immersion Spa at the Water Club, Atlantic City, NJ
Pumpkin Spice Facial – 50 minutes, $110 Pumpkins are not just for picking! Naturally rich in Vitamin A and other beneficial nutrients, pumpkin helps to promote   smoother, younger looking skin. Your skin will be soft with a renewed glow as a result of this facial.
Hydrating Vanilla Spice Wrap – 50 minutes, $100 A full body dry brush exfoliation preps the body for the hydrating vanilla lotion wrap and scalp massage.
Caramel Apple Pedicure – 55 minutes, $85 Enjoy a moisturizing vanilla soak followed by a sugar vanilla-based scrub, all while you relax with a caramel mask. The treatment finishes with a sweet apple body lotion.
Bella D'ora Spa and Salon, Carlsbad, CA
Pumpkin Glycolic Body Souffle – 50 minutes, $100 You will be cleansed then covered from neck to toe with an enzyme loaded Glycolic Pumpkin Peel. After the enzymes have done their quiet work and the peel is removed, you will be covered with a rich Shea body butter to moisturize and repair skin.
The Lodge at Woodloch, Hawley, PA
With natural cranberry bogs located within its private 15-acre lake, The Lodge at Woodloch is launching two new cranberry treatments this weekend!
Cranberry Bliss Body Treatment – 50 minutes, $120 Perfect for fall, the comforting and warming scent of cranberry is blended with uplifting citrus notes in this hydrating body polish. A scrub rich in antioxidants gently exfoliates while a warm oil locks in moisture and nourishes the skin! Offered October 1, 2011 – December 31, 2011
Cranberry Bliss Manicure & Pedicure; Manicure – 50 minutes, $65; Pedicure – 50 minutes, $85 These Autumn-inspired treatments begin with a refreshing citrus foot soak followed by a gentle exfoliation and moisturizer loaded with the anti-oxidant properties of cranberry. Complete this warming experience with cuticle care and the perfect polish! Offered October 1, 2011 – December 31, 2011
The Carlyle, A Rosewood Hotel, New York, NY
A complimentary pumpkin peel is being offered from Oct. 1 to Nov. 30 to those at The Carlyle who purchase any of the spa's luxurious facials including Hydratation Intense, Confort Pureté, Réparateur, Hommage Gentlemen's Black Diamond Facial, and the Sense Signature Facial.
The light, gentle peel is designed to soften the outermost layer of the skin, eliminating impurities and dead skin cells. Ideal for promoting circulation and healing, this peel exfoliates and nourishes the skin with hydrating botanicals while introducing vitamins, enzymes, and nutrients.
JW Marriott Desert Springs Resort & Spa, Palm Desert, CA
Pumpkin Oatmeal Body Scrub – 60 minutes, $99.00 An exfoliating blend of oatmeal and pumpkin that is sure to leave your skin silky soft. This ultimate body scrub will nourish your skin with nature's finest ingredients. Natural apricot seeds are used to gently scrub away dead skin cells, while vitamin-rich pumpkin and oatmeal nourish the skin and work together to build up natural defense barriers.
Pumpkin Body Wrap – 60 minutes, $99.00; 90 minutes, $159.00 (90-minute version includes 30-minute oatmeal, pumpkin and walnut body scrub) This pumpkin wrap exfoliates dead skin cells and provides the ultimate in stimulating cellulite-reduction therapy.  Pumpkin is rich in minerals and high in Beta-Carotene and Vitamin E––two powerful antioxidant agents to help combat the effects of aging. Once the wrap portion of the treatment is completed, an application of Pumpkin Body Butter will be applied to the skin to complete this "autumn renewal."
JW Marriott Camelback Inn Resort & Spa, Scottsdale, AZ
Camelback Signature Facial – 60 minutes, $155.00 With a seasonal blend of pumpkin, grapefruit, mandarin orange, cranberry, and pomegranate, this facial is the ultimate in aromatherapy. The therapeutic pure plant extracts are accompanied by a June Jacobs pumpkin enzyme mask that's customized to your skin type.  The live pumpkin enzyme literally digests dead cell protein off the skin's surface. The experience enters pure relaxation mode with a gentle hot-stone hand and foot massage. The Camelback Signature Facial is offered exclusively at The Spa at Camelback Inn.