Festive Lower-Calorie Holiday Cocktail Recipes
---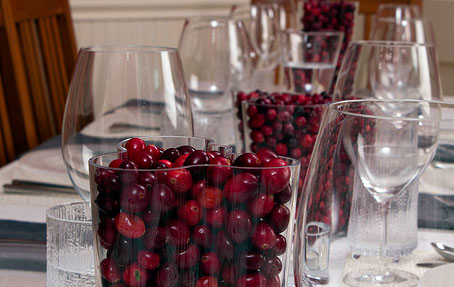 Who doesn't relish in a good cocktail when the holiday season rolls around? While we love festive cocktails, we don't love the extra calories that some of them bring.
One serving of liquor (about 1.5 fluid ounces) can contain at least 60-100 calories on its own, even before you add the mix-ins. So, as with everything, to keep excessive empty-calorie intake at bay and for the sake of your health, drink in moderation and keep it to a minimum. Try alternating your drinks with water, or even just a non-alcoholic beverage; your waistline—and your head—will be thanking you the next day.
Here, the Ritz-Carlton Orlando's director of food and beverage, Brian McHugh, shared with us a few festive, lower-calorie holiday cocktails. While these recipes aren't low-calorie per se, they're lower calorie versions since they have less sugar than most cocktails due to relying more on natural fruit sugars and flavors, rather than syrups, McHugh says.
Festive Old Fashioned (Serves 1):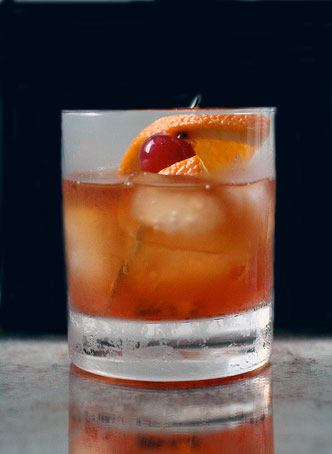 Ingredients:
1½ oz. bourbon whiskey (Buffalo Trace or Maker's 46)
3 dashes Bitter Truth's "Jerry Thomas own Decanter Bitters" (lots of winter spices)
1 slice orange cut into two half moons
1 tbsp Drunken Cranberries (recipe below)
Instructions:
Muddle the half-slice of orange with the cranberries and bitters until well combined and aromatic.
Add the bourbon, stir well.
Add ice and stir again until the glass frosts, adding ice as it melts
Garnish with the other orange moon, a small spoon of cranberries and rosemary dusted with powdered sugar (if desired).
For the Drunken Cranberries:
2 cups frozen or fresh cranberries
½ cup of sugar
½ cup of water
1 cinnamon stick
½ orange peel
1 cup silver rum
Boil the cranberries with water, sugar, cinnamon and orange for 5 minutes or until cranberries start to pop.
Remove from heat and allow to cool to room temperature before adding in the rum.  Refrigerate for up to one month.
(To cheat, find a good whole berry cranberry sauce and add Captain Morgan or other spiced rum in equal portions to cranberry sauce.)
***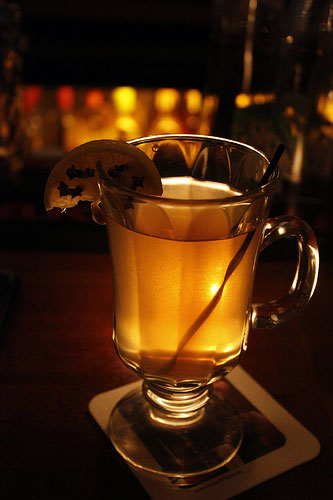 Sleigh Bell Cider (A variation on Hot Toddies, Serves 16)
Ingredients:
1 gallon apple cider
1 orange sliced
2 cinnamon sticks
1 lemon, sliced
Sleigh Bell blend (mix 4 oz. Maker's 46 Bourbon, 3 oz. Laird's Applejack Brandy, 2 oz. Tuaca (Tuscan Orange Liqueur) and 1 oz. Canton Ginger Liqueur. Pour into flip-top glass bottle for storage.)
Instructions:
Combine all ingredients except for the Sleigh Bell blend in a medium to large sauce pan. Bring all ingredients to a simmer. Keep it hot on the stove for your guests.
To serve, place 3 tbsp of the Sleigh Bell blend into a warmed 6-oz. coffee cup. Ladle hot cider into cup, garnish with a quarter slice of orange studded with two cloves and enjoy!
Most recent from Recipes