Happy National Massage Therapy Awareness Week!
Published: Monday, October 25th 2010
by Amy Sung
---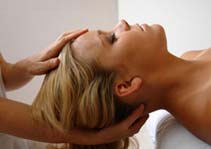 It's National Massage Therapy Awareness Week (Oct. 24-30, 2010), and spas throughout the country are celebrating.
According to a recent consumer survey by the American Massage Therapy Association®, massage therapy is on the rise as a method of improving personal health. Whether you're new to massage therapy, or have been a massage junkie for years, knowing what to expect from your massage therapists, and what they might be expecting from you, helps make sure the experience is as stress-free as it should be for the both of you.
These tips, released by the AMTA for National Massage Therapy Awareness Week, cover issues of respect and privacy between the massage therapist and client, and promote dialogue to help maximize the benefits of massage.
"These are important tips as massage therapy use continues to rise, especially with people who see a massage therapist for health benefits and stress relief," says Kathleen Miller-Read, AMTA president.
Studies have in fact shown that there are in fact positive biological changes that occur after receiving a massage. Read more about the study.
The AMTA offers the following expectations for the massage recipient and the massage therapist. SpaFinder's Susie Ellis also gave some tips on what to do if and when you are unhappy with a treatment or service.


What Should Someone Expect From Their Massage and Massage Therapist?
A clean, safe, and comfortable environment before, during and after the massage.
Respect, courtesy, confidentiality, and dignity.
Privacy while changing and right to remove clothing only to their level of comfort for the massage.
Draped appropriately by a sheet, towel, or blanket, with only the area being massaged exposed.
A licensed/registered/certified professional massage therapist, working within their scope of practice and in an ethical manner.
Option to ask questions of the massage therapist and receive professional responses.
Determine if there will be conversation, music or quiet during the massage.
An explanation of the nature of the massage and techniques to be used in advance of starting the massage.
The right to consent to the massage techniques and approaches, including manual pressure, used in the massage.
What Should a Massage Therapist Expect From Their Client?
Respect, courtesy, and dignity.
Treated as a health care professional.
Timely arrival at massage therapy appointment.
Complete and accurate disclosure of health/medical conditions during intake process.
Communication of expectations of and concerns about the massage.
Payment at time of service.
Reasonable notice (usually 24 hours) in canceling a massage appointment.
Most recent from Travel & Play