An Insider's Look at The Umstead Hotel & Spa
Published: Monday, January 20th 2014
---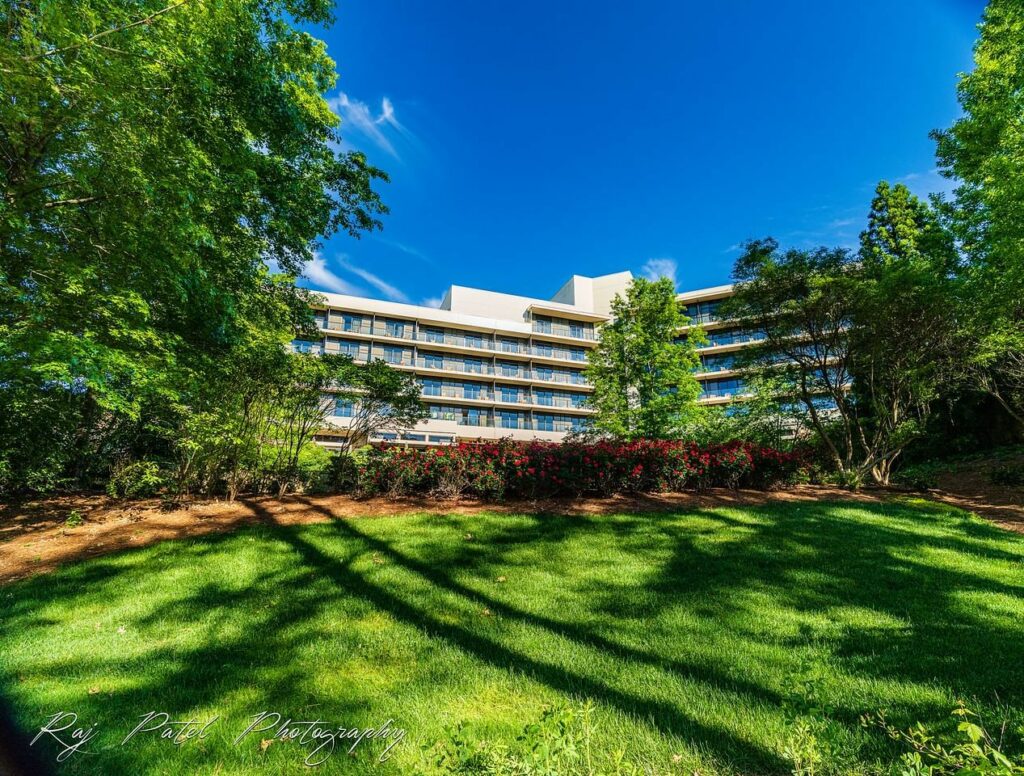 Just an hour and half flight from New York and a short 10 minute drive from the airport and you've arrived at one of the most hospitable, well-appointed, and luxurious destinations in The Research Triangle of North Carolina. The Umstead Hotel & Spa in Cary, North Carolina is more than simply a place to rest your head while you tour the area – it's a place where you can spend every moment of a long weekend and leave feeling refreshed, well-fed, and taken care of as though you spent a weekend at home – that is, if your home is a Leading Hotel of the World with a newly renovated spa, and your mom is a Forbes 5-Star chef.
How do I know that you can spend all of your time over two days at this amazing hotel and not ever feel an ounce of anything other than taken care of? Simply put, while my husband and I went with a list full of sights to see and places to check out, Mother Nature wasn't so keen on our plan. The area was experiencing torrential downpours, tornado warnings, and massive wind and so after a short trip to Barnes and Noble to pick up some reading material we settled back into our beautiful room and enjoyed all this hotel had to offer!
Flashback to arrival – which was at night during a rainstorm – and despite the conditions pulling up to the hotel can only be described as regal. Valet eagerly waits to greet you and you are welcomed to the hotel with a smile – check-in was a breeze, we passed the lounge area where live music and cocktails were being enjoyed, and we headed up to our room – which was truly lovely. I'm a sucker for a good soaking tub in a hotel bathroom and The Umstead didn't disappoint, pair that with a rain shower, balcony overlooking the lake, and perhaps the most comfortable bed I've slept on apart from my own – and I was immediately smitten.
The following day was when the real adventure began. We started out day off right with breakfast at Herons the hotels' AAA Forbes 5 Star restaurant (although I'm currently on a "healthy eating only" kick I have to recommend you order the doughnut holes with apple butter – unreal!). We enjoyed breakfast here Saturday and Sunday and each day was delicious with little added bonuses like a small smoothie-of-the-day shooter to start you off on a fun note! We finished up and hopped in our little rental car and tried to beat the rain…but alas.
Frankly, I'm a planner – to a fault – and we headed out to check out some spots that were "recommended" to my husband by hours of research on the internet – sure "someone told me," really translates to "I read it in a forum" … but I digress. About 20 minutes into the drive the rain started coming down sideways, phones started blazing and alerting us of tornado warnings so myself and my amazing husband who somehow manages not to pull his hair out when I change my mind on a whim (or when I feel the need to say "be careful" and "watch out" every 5 seconds as he drives) decided that our best plan of action would be to head back to our beautiful hotel (why had we even left in the first place?!) with a few good books in tow (Sharper Objects by Gillian Flynn – amazing, disturbing, couldn't put it down – literally finished it that day).
We caught a moment of relief and took a small walk around the lake – it was really beautiful, regardless of the weather. Even though you know there's a highway behind the trees, the lake's two fountains drown out any possible noise and you're blissfully unaware as you take your peaceful walk. We headed inside to read a bit and then went downstairs to enjoy a bite to eat in the lounge – the butternut squash soup is a must have (especially on a rainy day!).
We took a walk around and enjoyed the hotel's carefully curated art collection, featuring work from well-known local and national artists, including glass artist Chihuly, checked out The Gift Shop which featured pottery by local artists Ben Owen III and Mark Hewitt, beautiful jewelry, clothing, and unique pieces to take home (including the most adorable squirrel candle-holder), and meandered by a group enjoying Afternoon Tea, which is served Wednesday-Sunday from 2:30-4 pm in the lobby (reservations required) and is complemented by a live harpist. Needless to say – no matter what the weather conditions there is plenty to do at The Umstead – and I haven't even gotten to the spa!
That night we enjoyed an amazing 3-course dinner at Herons with wine pairings – to say that the work that Executive Chef Scott Crawford and Chef de Cuisine John Childers have created is delicious wouldn't do it justice. With the help of Culinary Farmer Maggie Lawrence, who grows fresh vegetables on an acre of land a mile away from the hotel, the team has created a menu featuring local farm partners, seasonal ingredients, and a refreshing and new way to enjoy American cuisine. The restaurant is intimate with just 98 seats, has a full-view kitchen so you know exactly what's happening with your meal, ornate decor, and beautiful artwork. My husband and I both left saying that the roasted monkfish prepared with crispy oysters, fennel, pumpernickel and ale butter was easily the best fish we've ever had. Hai, our sommelier, picked the perfect wine pairings for each course which truly brought out the flavor and the hidden notes in the dinner and let me just say – don't skip dessert!
Now to the truly fun part – the spa! In July of 2013 the already vast two-floor, 14,000-square-foot spa was renovated and expanded (to an additional 1,400-square-feet of relaxation and treatment space). From new decor, artwork, and fixtures, the entire spa was revamped from top to bottom in order to more fully immerse the guest into their experience, creating a deeper connection with nature and fostering an environment of mindfulness. With a total of 11 treatment rooms there is something for everyone on the menu – with treatments ranging from mani-pedis, to body treatments using the spa's own line, to facials featuring many wonderful local brands. I experienced an amazing Couple's Retreat which began with a milk bath soak and was followed with a 50-minute Swedish massage as well as a 75-minute Skin Perfecting Facial which included an amazing glycolic peel and Vitamin C mask that left me glowing! Sunday was apparently the "it-day" for couples – and the spa has lots of great areas you can relax with your sweetheart! From the new coed wet lounge with a heated whirlpool tub that has an open air concept to the new upstairs coed relaxation lounge perfect for enjoying a cup of tea post treatment – a day here leaves you feeling completely brand new!
If you're still feeling extra high-strung from the holiday season, I would highly recommend The Umstead Hotel & Spa for a perfect long weekend away with someone special or even solo just to relax and unwind!
Most recent from Editors' Picks