Introducing the SpaFinder iPhone App
Published: Friday, February 26th 2010
by Matthew
---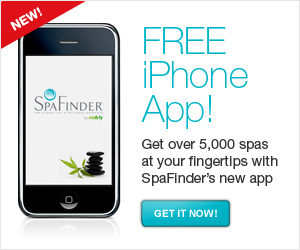 We're excited to introduce the SpaFinder iPhone app, which finally puts SpaFinder's leading directory of spas at your own fingertips.  Using our comprehensive database, this app can help you find the best spa treatments and exclusive SpaFinder deals wherever you are (literally).
Not only will this app help you find spas nearby and read our customer reviews, but you can search for specific spa treatments and at any price point. Once you find the spa you want to visit go ahead and book an appointment within the app!
Here are a few more details about how you can use the app:
It works on any iPhone or iPod touch (and even on the iPad)
Find spas close by, wherever you go
Discover deals and last minute special offers near you
Read descriptions, customer reviews, and browse treatment menus
Book treatments within the app (using the SpaBooker Network)
Get directions to the spa
Visit SpaFinder.com/iphone to learn more
Try it out for yourself and be sure to tell your friends –
Download the SpaFinder app from the App Store.