Celebrate Kohler Spa's 10th Anniversary
Published: Tuesday, August 3rd 2010
---
For its 10th anniversary, Kohler Waters Spa at The American Club in Kohler, Wisconsin, is tapping into the hydrotherapy healing traditions for which the spa has long been celebrated, and is also enhancing its presence with new signature offerings and treatment areas—and invites guests to soak in the experience.

All you bathing beauties out there won't want to miss out on this Forbes Four Star-awarded spa's trio of new wet treatment rooms—dubbed Harmony, Acoustic, and Riverbath and styled in blue and natural-slate hues and the latest KOHLER bathing and showering products, these treatment rooms evoke a soothing retreat.

Photo(s) Courtesy of Kohler Co.

Acoustic Room
High-tech and tranquil all at the same time, the Acoustic Room highlights the KOHLER Fountainhead VibrAcoustic bath. This bath and its high-tech DTV® Bath Digital Interface offers a blend of sound vibrations from underwater music for a not-so-typical bathing experience. A KOHLER Custom Vichy Shower and Laminar Flow from the ceiling to fill the bath complete this unique treatment space.

Riverbath Room
Chromatherapy takes precedence in this room, where eight soft-color hues combine with invigorating whirlpool jets designed to represent the flow of a river. The spa proves that spa-ing isn't just for the ladies—for the first time, Kohler Waters has debuted a couples' bathing experience in this particular room, which features a walk-in shower that includes a KOHLER Ambient Rain with chromatherapy and KOHLER Flipside Handshower, so your significant other can relax too.

Harmony Room
In the Harmony Room, guests can be treated to a cleansing exfoliation with a Vichy hydromassage, using the new, customized KOHLER Custom Vichy Shower. The treatment concludes with a KOHLER Tea for Two Bath.

The spa doesn't water down its treatment menu either, with new signature offerings destined to make a splash. Immerse yourself in one of these staples, showcased on the spa's menu through May 2011: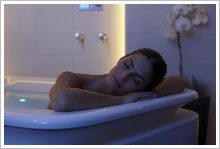 Riverbath: A service in the Riverbath Room includes an exfoliation and massage along with time to enjoy the KOHLER Riverbath and shower experience with chromatherapy. Enjoy alone or with your significant other.

50 minutes; $120 per person, Saturday $140 per person

Photo(s) Courtesy of Kohler Co.

Acoustic Bath: Featuring KOHLER Fountainhead VibrAcoustic Bath, this treatment includes a body exfoliation, Vichy hydromasssage, and bath in a blend of music and sound vibration—relaxing and invigorating!

50 minutes; $100, Saturday $120.


Lavender Rain: A combination of a lavender-and-eucalyptus exfoliation, a warm Vichy shower, lavender-infused wrap, and foot and scalp massage makes for a calming (and sweet-smelling!) time.

50 minutes; $155, Saturday $175

Additional treatments not to be missed include the Stretch and Flex Massage, Sinus Massage Treatment, and the Antioxidant and Acu-Lift Facials.