L'Occitane Brings the Essence of Provence to You!
Published: Thursday, December 1st 2011
in Beauty
by
---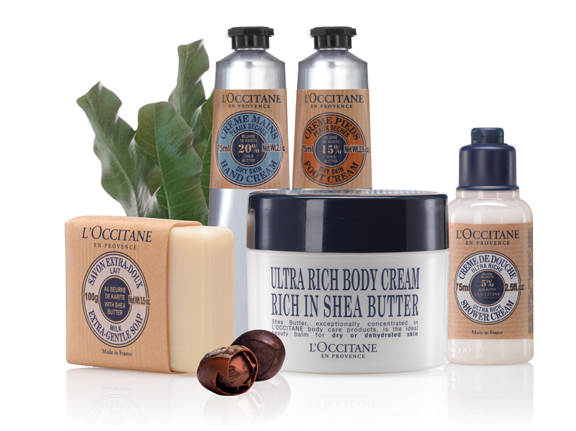 Today, the spirit of Provence is coming to the Big Apple.  L'Occitane, a brand rich in French tradition, has unveiled its latest addition in the form of a first-ever flagship store in the historic Flatiron District of New York City. This brand new 2,500-square-foot space will be filled with Provençal decor, an oversized mural of L'Occitane's iconic product labels created by the brand's founder, Oliver Baussan, and of course, all of the amazing products.
Delight in a world-exclusive greenhouse-within-boutique, showcasing L'Occitane's dedication to providing the best of the best, from the seed to the bottle. Here, guests can truly experience the ingredients that are used to make some of the most popular products, perfect for sampling holiday gifts! Customers can also enjoy a mini-facial and consultation from a L'Occitane Skincare Expert at the skincare bar outside of the greenhouse, equipped with a sink and consultation area.
Visitors can be transported from the concrete jungle to the south of France by using the on-site iPad photo booth; snap a photo in front of a green screen and then select your perfect French setting! With this new store, the brand hopes to bring visitors the essence of the birthplace of the brand, sharing with them the beauty of Provence.
If you can't make it to the new store, be sure to not miss out on L'Occitane's products at your local boutique. Beginning with soaps and essential oils in 1976, the brand has grown to include the incredibly popular and best-selling shea butter line, which benefits the women of Burkina Faso, a landlocked country in western Africa. Right now most of the boutiques are decked out for the holidays, with colorful boxes in orange and pink (inspired from the candy shops of Provence) hanging like garland from the ceilings, and equally colorful displays showing off the brand's products. My favorite of this season's gifts is the Delice de Fleurs –Rose and Violet Collection, priced from $10-$42. The scents are made to capture the aromas of sugar-coated, crystallized flowers with a base note of vanilla and sandalwood – one whiff and I was in love.
Whether you can come to New York City to check out the new flagship store or if you can just stop by your local L'Occitane, this is the place for luxurious and well-received holiday gifts. Between the new collections and the best-selling staples, like the Hand Cream Bouquet and the Star Gift Kits, both already boxed, ready to be tied with a bow and given out this holiday season, there is something for everyone on your list at L'Occitane.