Empire State of Spa: 4 NYC Spas We Love
Published: Tuesday, May 24th 2011
---
These spas will make you feel brand new.  Let's hear it for New York.
Like fashion, many hot trends in spa are born in New York City. We recently sampled four of some of the best of what's around in the city that never sleeps, but knows exactly how to melt away stress.  Here's our take on a few of NYC's most luxurious and distinctive: Spa at Mandarin Oriental New York, the Setai Spa Wall Street, Sphatika and Spa Martier. Learn more about these SpaFinder partners.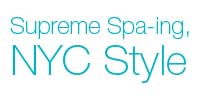 Best in Class
On my figurative "bucket list" of NYC spas, Mandarin Oriental, New York, as well as the Setai Spa Wall Street, were high on my catalog, so recent visits to each left me wholly fulfilled. Becoming acquainted with the sophisticated Mandarin Oriental brand made a personal impression, even before stepping foot in the New York spa.  Service is incomparable; style is modern, minimalistic Eastern luxury.  SpaFinder President Susie Ellis recently said, "There are few spa brands where all of their locations have great spas−the exception is Mandarin Oriental."
The Spa at the Mandarin Oriental, New York is on the hotel's 35th floor, the same as the stunningly grand and sometimes scene-y Lobby Lounge with huge windows overlooking Columbus Circle and Central Park, offering a slice of city life in motion in a New York minute.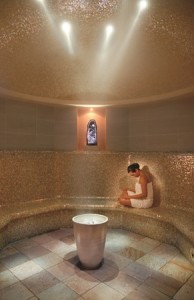 Upon arrival at the spa, a journey into sheer relaxation begins (and my awe of the city speed leaves my consciousness).  I am immediately given spa slippers and a tour. The thermal area comprises external therapies including an experience shower that combines color therapy, a dazzling amethyst crystal steam room and a vitality pool with hydrotherapy body jets, that was recently oxygen-infused with 20 times more oxygen than normal water– the first of this kind in North America. (Many of the brand's innovations, therapies and programs are launched first in the New York spa, and later adopted at some of the dozens of Mandarin Oriental spas around the world.) The latest signature treatments include the three-hour Himalayan Salt, Sea & Chakra Therapy and the Clearing Factor experiences, available among an expansive and customizable menu that embraces wellness philosophies and exotic therapies from all over the world.
The Time Ritual treatment embodies the level of personalized service imparted to guests. My massage incorporated elements of acupressure, shiatsu, Swedish, Thai and even cupping, so that my therapist could cater to my body's unique needs and areas of concern that we'd earlier discussed.  Only a highly trained therapist with incredible talent could perform so many modalities with such skill.
Wall Street Wonder
The Spa at the Setai Wall Street in the heart of the Financial District, merely steps from the New York Stock Exchange, is a go-to spa for stressed-out finance guys and gals, for schmoozers seeking to make an impression on clients and for group affairs like bachelorette and bridal parties.  The luxury spa, which opened just over a year ago and is a sister property to The Setai, South Beach, is 12,000 square feet of chic, dimly lit space with dark walls and ceilings and Asian décor that evokes a serene atmosphere.
In the Tea Lounge, guests can linger before or after treatments, sipping exotic teas or fine wines, and sampling truffles by the celebrated chef at SHO restaurant on the Setai's main level. The beautiful AquaGrotto, in both the men's and women's locker rooms, lets guest indulge in a revitalizing hydro Jacuzzi, an aromatherapy steam room and a Finnish sauna.
The distinctive DayNa Decker Clementine Body Renewal is a new treatment crafted by the Setai team and product creator Decker herself.  The signature Botanika Collection is used − amazingly velvety with scents like a sweet, exotic nectar.  DayNa Decker, whose products and treatments are found at Montage Laguna Beach and the new Montage Deer Valley, devised this treatment as a multi-sensory experience.
The sumptuous ritual begins with a bath in an oversized tub infused with essential oils and mineral-rich salts, within a beautiful, dimly lit spa suite.  My attentive therapist checked on me as promised after about seven minutes, (some guests are antsy), and I, a bath-lover, declared myself quite contented. I sipped delicious red wine, ate slices of fresh and dried citrus wedges and relished in the moment.
Next, I would lie upon a heated massage table for a full-body exfoliation with pumice lava crystals − exceptionally fine granules within a buttery-thin product rich with orange blossom.  This was followed by a revitalizing massage with a Clementine emulsion, leaving my skin baby soft.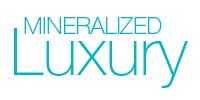 Crystals in the City
Sphatika is among the local faves of SpaFinder senior staff so I anticipated excellence. Verdict? Absolutely! The bright, white space is an oasis-in-the-concrete-jungle near active Columbus Circle.  Inside the spa, beautiful crystals are placed throughout, suggestive of the spa's treatment and product philosophy, which embraces the restorative powers of crystal and other holistic principals.  Founder Janet League-Katzin discovered the benefits on her own journey into wellness and later created a one-of-a-kind natural skincare line that blends luxury with botanicals and aromatherapy, and naturally, the elixirs of quartz crystals. (FYI, the Pearl Night Cream is exceptional.)
Before my treatment, I spent about 15 minutes in a personal pod-sized infrared sauna, a great way to detox and relax mentally beforehand.  High-quality speakers inside (with individual volume control capabilities) play music specially created by a shaman for the unique space.  My Sphatika Signature Treatment commenced with a lymphatic drainage massage, including gentle rocking and body brushing; later, a steam canopy was lowered from the ceiling and cocooned my body so that the Sphatika Orchid Mineral Mask applied would penetrate my skin through the steam captured beneath.  My body felt like it was on vacation somewhere sunny and warm.  While the steam was at work, my particularly knowledgeable therapist Gina gave me a wonderfully gentle mini-facial.  The two-hour treatment was a spa day in Upper West Side heaven.  Like all guests, I was given a special crystal keepsake of my own to remind me of the experience.  Sphatika is full of heart and soul, which makes for a very special, unparalleled wellness experience.
Day of Spa…and Elective Extras
Spa Martier is a new medi-spa and salon in Midtown East with advanced beauty and Japanese-inspired offerings on its expansive and ultra unique spa menu.  Services run the gamut from massage and peels to luxurious silver and gold treatments to results-driven medical spa treatments.
The spa menu is also chockfull of options when it comes to nail care and offers the latest innovations like Nail Art and Acrylics, including gels that are made-to-order nail sculptures based on the size and shape of the nail.  The Gold Leaf Treatment, developed by a Japanese beautician, utilizes gold to stimulate cell growth. Other royal treatments embrace the element of gold such as the 24-kt Body Treatment, Pedicure or Facial; the Nano-Silver Facial also has become popular as silver gains recognition as a natural anti-bacterial agent.  Several medical-grade peels are available, promising dramatic results.
Innovative body treatments include the Infinity Massage, which has no definitive end.  Also, the Lava Shell Massage utilizes stones that are handpicked from the South Pacific.  Finally, the Medicure includes a footbath with a detoxifying agent, where marine algae are used to invigorate and improve circulation.
A visit to Spa Martier can yield a full day of activities − upstairs is an upscale women's boutique, and next door is an organic cafe (both of the same name: Martier), creating plentiful options if you're spa-ing with gal pals, mom or another someone special.
True, we at SpaFinder are already in NYC, so we're biased, but we're sure you will want to "be a part of it" at these urban escapes that go far beyond the traditional.  The best part?  These four gems are ALL SpaFinder partners and accept SpaFinder Gift Certificates and Cards!