NewBeauty SpaFinder: The Guide to Global Spa, Wellness & Beauty
Published: Tuesday, November 15th 2011
in Beauty
by
---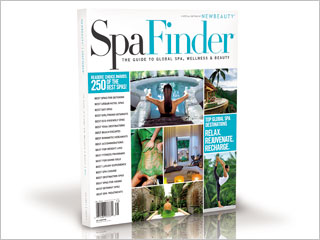 SpaFinder: The Guide to Global Spa, Wellness & Beauty, a special edition of NewBeauty, is on newsstands now! NewBeauty and SpaFinder have teamed up again to create a comprehensive publication that serves as the world's largest spa reference. Not only will you get a great introduction to the world's finest resorts, hotels and getaway spas, but there is also in-depth beauty content and a wealth of wellness information that benefits everyone.
In this year's edition, there are features on the up-and-coming spa innovations and trends for 2012, the science behind salt therapy and seaweed treatments, makeup with benefits, extensive overviews and gorgeous photos and the winners of SpaFinder's 2011 Readers' Choice Awards! Looking to get away? More than 100 spas are listed by location for you to plan your perfect vacation.
Available at more than 20,000 newsstands worldwide and in 12,000 of the world's leading hotels and spas, this annual guide serves as the definitive source for all things spa and beauty related. Pick up an issue or order online for $9.95 (shipping is free!) and enjoy a complete reference guide to luxury spas and in-depth coverage of wellness experiences, destinations, resorts, products and treatments in the global spa marketplace.