Om Away
---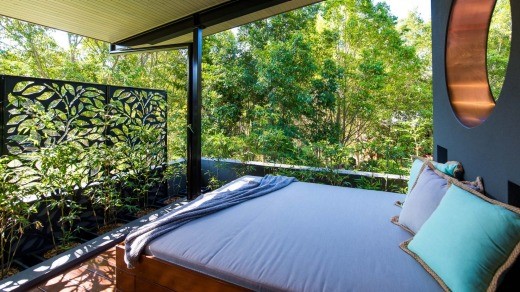 OM AWAY FROM HOME – there's a trilogy of mind-soothing reasons to check into Gwinganna Lifestyle Retreat in Australia.
Could these be the first meditation-centric suites in the world? We think so!  With meditation going mainstream named as one of the biggest wellness predictions of the year, then the new Meditation Villas unveiled at Gwinganna Lifestyle Retreat  are so on trend.
Each of the villas feature a meditation corner equipped with yoga mat, a meditation cushion, IPOD with an endless choice of bespoke 5, 15, 30 and 60 minute guided meditations – with mind-soothing views over native trees and a billabong.
On the topic of green, Gwinganna have also launched what may well be the very first 'learn to create your own organic garden' as a spa treatment. Created by resident organic gardener and Chef, Shelley Pryor, 'Home Grown Organic' not only inspires time-poor city folk how can grow their own veggies and medicinal herbs at home but encourages mindfulness as the practice of gardening is all about slowing down and being patient.
With digital overload, there's probably never been a better time to explore new ways to cure a busy mind. Some go as far to predict that meditation is the new yoga (there's are meditation studios popping up all over New York and LA including MDFL  not to mention that the Headspace meditation APP  has been downloaded over 3 million times in 150 countries. Back in 2013, Spa Finder featured Mindfulness Massage In their 2013 trend report. With mindfulness defined by expert Dr. John Kabat-Zinn (founder of the Center for Mindfulness, University of Massachusetts), as "paying attention in a particular way; on purpose, in the present moment."
Seek more zen?  Another meditative offering is their 'Equine Assisted Meditation' where by working with horses you are encouraged to be in the moment. The instant non judgmental feedback from the horses is unique.
What else?  Earlier this month, Gwinganna also opened a new wing dedicated to emotional well being that is all about honoring that intangible part of ourselves that also needs nurture and guidance.  The dedicated menu consists of offerings like 'Tranquil Mind' and 'Marma Point Relaxation Therapy'.  I am still benefiting from the rather radical Soul Path Reading session.  It was a deeply profound journey (not without moments of pain) that helped me move through and resolve perceptions I developed in the past that may not have even been that 'real' in the first place…hmmm.
On the health front, when it comes to nutrition and fitness guidance, Ayurveda, TCM or stress management, Gwinganna have got it all covered.  Year-round retreats include 'Gwinganna Detox',  'Women's Discovery' and 'Triple S – sugar , stress and sleep' to name a few. I'm rather obsessed about their apothecary-style Herbal Clinic where Naturopaths mix up your herbal concoctions on-site.
Whether you seek to soothe your mind or need some earthing in the organic garden, spending time at a retreat or in a treatment is an amazing opportunity to unplug and become more present. Gwinganna has been a digital-free environment since it opened and is of the reasons I personally benefit from checking into this retreat time after time – having that time away from tech with more space to breathe is sacred.
The Kicker: Founder of Gwinganna Lifestyle Retreat is Tony DeLeee who has recently launched a new brand, The Yoga Bar, a New York Style studio blending yoga, barre and Pilates. More about this expanding fitness business another time!