Everybody's Talking about Deal Days
Published: Thursday, August 19th 2010
---
Extra, extra, read all about it! SpaFinder Deal Days, the Wellness Week™ , September 20-26th, is fast approaching, and this amazing event ($50 prices or 50% savings) is gaining a ton of press coverage. Check us out in media outlets nationwide, across the airwaves and in your favorite newspapers or magazines, when you tune in to top programs like the Real Housewives series, while you read your Wall Street Journal, as you surf the Internet, and everything in between. And, of course, be sure to sign up for a treatment at participating spas in your area!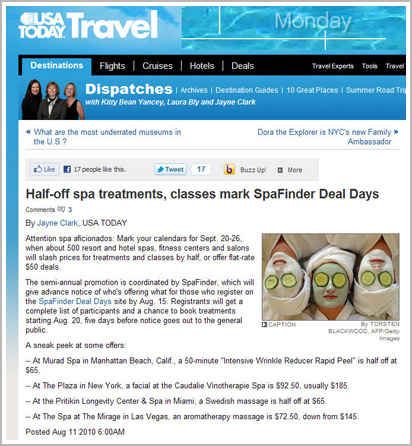 Happy reading and happy spa-ing!
Desert Living Today
Fit & FabLiving
Indulge Blog
Where have you heard about Deal Days?