The Red Door Spas Brand Comes to Times Square
Published: Wednesday, July 25th 2012
---
With 31 locations nationwide, Elizabeth Arden's Red Door Spas has certainly expanded since its start in 1910. From day spa locations to resorts, clients know what to except when they step through that iconic red door. Based on Ms. Arden's belief that beauty should be "an intelligent union of nature and science to develop one's finest natural assets," the brand continues to provide high-quality service and an up-to-date results-oriented specialty treatment menu, from amazing blowouts and manicures to rejuvenating spa packages.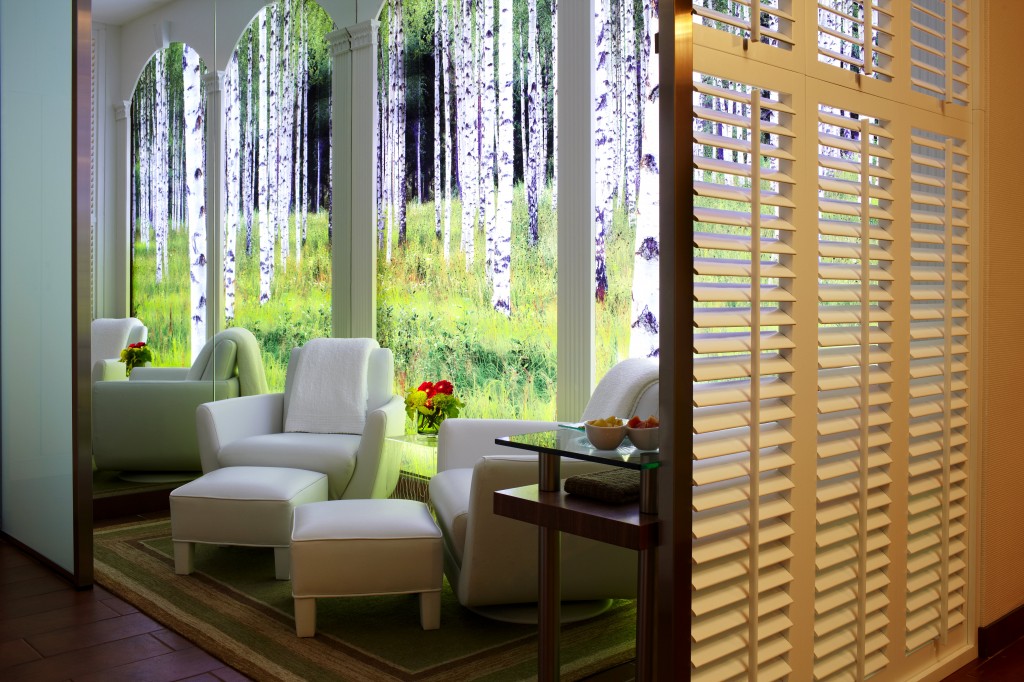 With two prior experiences with the brand below my belt, I was thrilled to be invited to its newest New York City location at The Chatwal, the onetime hotspot for some of Hollywood's icons. Upon entering the legendary hotel, I was warmly greeted and escorted down to the spa. If you've ever been to any of the other hotel spas in Manhattan, you know how helpful it can be to have someone show you exactly where to go. Once I arrived at Red Door Spa at The Chatwal, I knew that a relaxing experience was ahead of me.
Within the 2,400-square-foot boutique-esque space, guests will find three treatment rooms, three private changing suites with steam showers, a two-person manicure and pedicure studio behind a sliding door (so cool!), a gorgeous relaxation lounge and a small pool and whirlpool area decked out with lit walls picturing a quiet forest and waterfalls. The spa menu includes the brand's signature services, including skincare, massage and body treatments, as well as nail care and Elizabeth Arden's famous waxing services. Special occasion hair and makeup treatments are available to hotel guests upon request.
Given that it was a Monday and I have always wanted to say I participated in #ManicureMonday (who can blame me?), I naturally opted to sneak behind the sliding door and enjoy an Olive Oil Manicure using my favorite Essie nail polish Turquoise and Caicos. Zoya, my nail technician, got right to work explaining every step and ensuring I was happy and comfortable the whole way through. When it came time for the olive-oil infused scrub and moisturizer, I was in heaven ─ pair that with a paraffin wax, and my skin has never felt so hydrated and soft. After giving me my requested three coats for the perfect opaque finish, Zoya suggested jazzing it up with a swipe of gold glitter on my ring fingers, which really made the manicure extra special.
Next time you're looking for a spot to have a "Manicure Monday," or want to enjoy a relaxing signature service from Red Door Spas, I suggest you stop by the brand new Red Door Spa at The Chatwal.